Most people are familiar with coleslaw as a cabbage dish, and it certainly can be that, but there are plenty of variations that apply the same concept to other vegetables for variety in taste and texture.
In this case, broccoli and carrots take the place of cabbage in an easy side salad that goes well with almost anything. To shred the vegetables, you can use an ordinary grater or a food processor, or to make it even easier, buy pre-shredded vegetables and just dump them into the pan.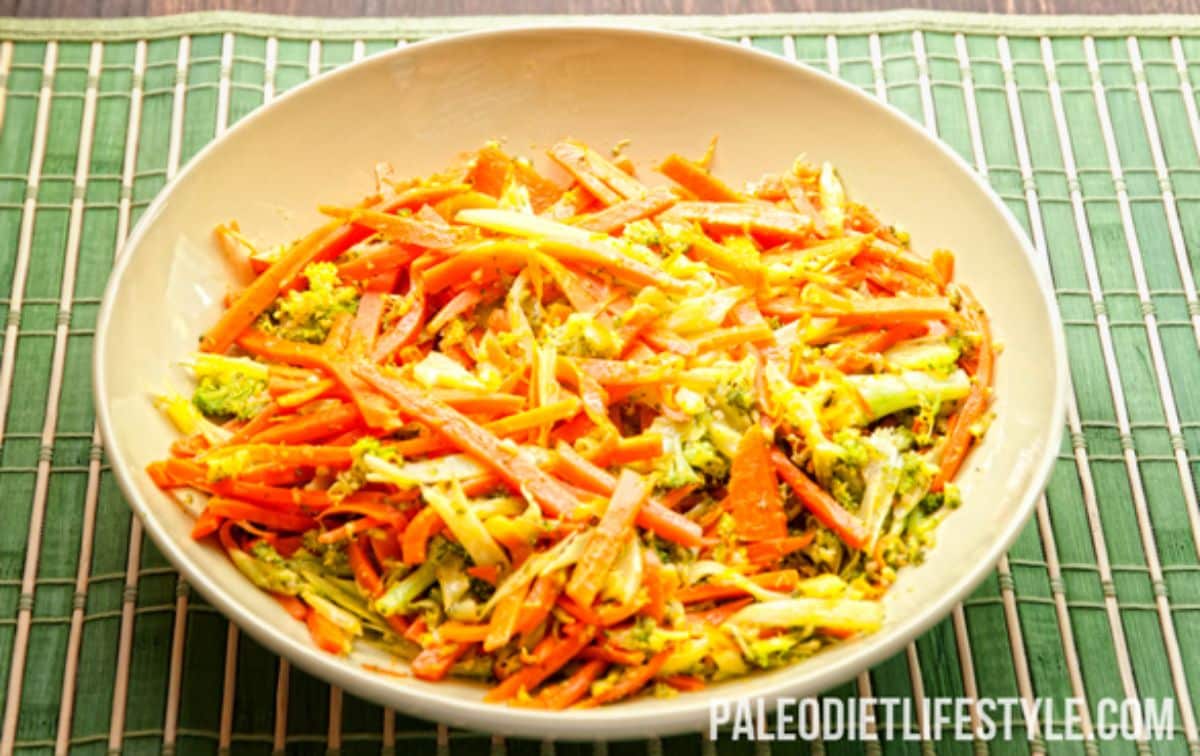 Because it's so simple, this slaw is the perfect base for any tastes you'd like to add to your menu. Add some nuts or raisins if you like a heartier salad.
A little ginger would give it an Asian flavor, or some cumin and turmeric would complement an Indian-inspired meal like chicken masala. To go with a milder meat course (like fish cakes), go a little heavy on the pepper and sprinkle the finished slaw with some lemon juice and vinegar for a slightly sharper flavor.
On the other hand, for a spicier recipe like jerk chicken, you might just keep the seasonings at salt and pepper and let the main dish speak for itself.
Another way to change the flavor of slaw is the sauce; mayonnaise is the traditional dressing, but if you're pairing the salad with a grilled dish, why not throw some barbecue sauce on your vegetables, too?
Horseradish could also be an exciting addition, especially if the slaw is served alongside a roast beef dish. As you can see, there are really endless variations, so even though it's simple to prepare, it's a dish that won't get boring in a hurry.
Warm Broccoli and Carrot Slaw Recipe
Serves: 4 Prep: 5 min Cook: 6 min
Ingredients
2 cups shredded broccoli;
2 cups shredded carrots;
2 cloves garlic, minced;
1 tbsp. Paleo cooking fat;
Sea salt and freshly ground black pepper to taste;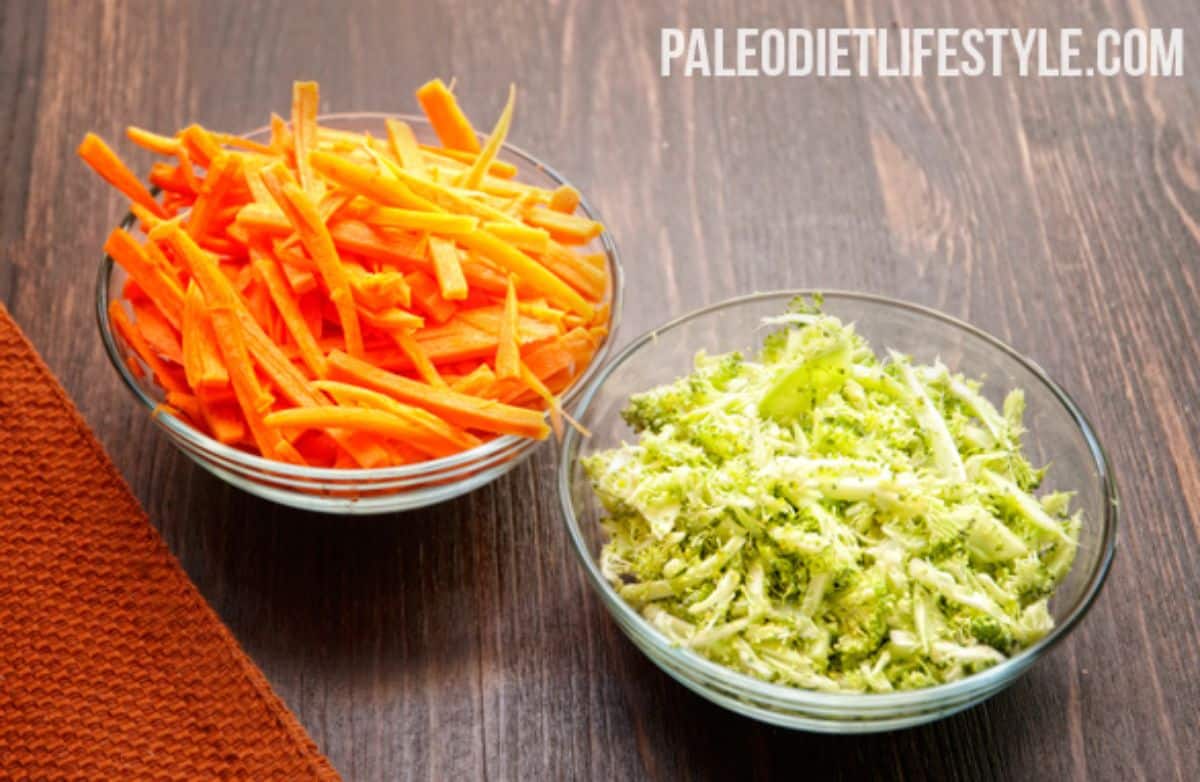 Preparation
Heat the cooking fat in a skillet over medium-high heat.
Add the garlic to the skillet and cook until lightly golden, about 1 or 2 minutes.
Add the broccoli and carrots and cook until soft but still crunchy, about 5 to 6 minutes.
Season to taste with sea salt and freshly ground black pepper, and serve.
📖 Recipe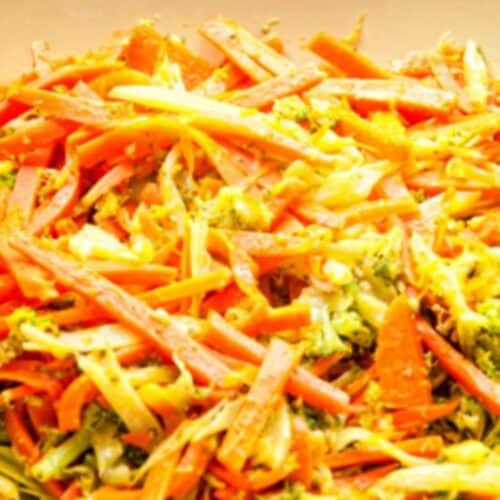 Warm Broccoli and Carrot Slaw Recipe
The easiest vegetable side you'll ever make, but versatile enough to serve with almost any main course.
Ingredients
2

cups

shredded broccoli

2

cups

shredded carrots

2

cloves

garlic

minced

1

tbsp.

Paleo cooking fat

Sea salt and freshly ground black pepper to taste
Instructions
Heat the cooking fat in a skillet over medium-high heat.

1 tbsp. Paleo cooking fat

Add the garlic to the skillet and cook until lightly golden, about 1 or 2 minutes.

Add the broccoli and carrots and cook until soft but still crunchy, about 5 to 6 minutes.

2 cups shredded broccoli,

2 cups shredded carrots

Season to taste with sea salt and freshly ground black pepper, and serve.

Sea salt and freshly ground black pepper to taste
Nutrition
Calories:
79
kcal
Carbohydrates:
9
g
Protein:
2
g
Fat:
5
g
Saturated Fat:
0.4
g
Polyunsaturated Fat:
1
g
Monounsaturated Fat:
3
g
Trans Fat:
0.01
g
Sodium:
59
mg
Potassium:
349
mg
Fiber:
3
g
Sugar:
4
g
Vitamin A:
10975
IU
Vitamin C:
44
mg
Calcium:
43
mg
Iron:
1
mg