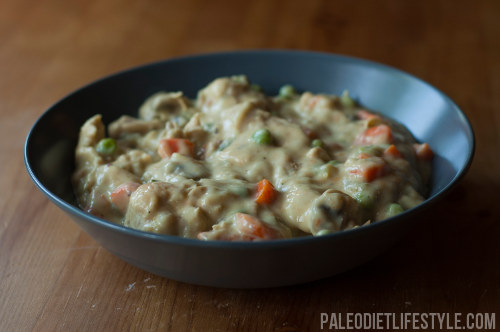 I have been wanting to make a nice stew for a while now, but stews usually cook for a long time and need some thinking ahead to have the food ready at the right time. Also, now that summer is on the horizon, my objective is to spend the least amount of time in the kitchen. Despite this, I did commit myself to creating a stew that was simple and easy to prepare. It was a success! What I loved most about doing this is that you can really create something based on whatever you have in your fridge. As you will see in this recipe, I did not include a huge variety of vegetables, but rather only used the staples, like carrots, celery and green peas. Even though I chose the simplicity route, never limit yourself, as there is so much more that you could include in this dish.
Here the stew is made creamier with the addition of some coconut milk or heavy cream. Both give a nice taste, but the coconut milk gives a quite distinctive coconut taste that not everybody loves. Also remember that heavy cream has the same composition as butter and that not all sources of dairy are necessarily detrimental, especially now that we know that Paleo is not merely about imitating our ancestors, but more about building a framework with our ancestors likely behaviors coupled with the best science on food, biology and biochemistry, or Paleo 2.0. In other words, heavy cream from pastured and grass-fed animals is highly beneficial for most people and a great source of energy.
In traditional Western and French cuisine, wheat flour is often used as a thickener for sauces, stews and soups, but other means of thickening liquids are usually equally good. For example, adding some good quality saturated fat or reducing the liquid a bit more by boiling it are two popular and great options. Another option, and the option I used in the following recipe, is to thicken the liquid with a flour made from healthy and non-toxic food sources. Cassava flour, almond flour, chestnut flour, potato starch, and coconut flour are five good choices. You don't have to use this route in the recipe, but simply know that thickening a liquid with any one of those choices is perfectly healthy.
What you do want to make sure to play close attention to is the meat, as good quality meat will make the meal so much more nutritious and tasteful. My local butcher provided me with a fresh chicken of about 4 lbs. I cut the chicken myself and in the end realized that there was more than enough meat left on the skeleton to make a broth. I recommend you throw this on the stove right away and prepare the broth while the meat is still fresh. As opposed to regular stock, broths are usually prepared with some meat still attached to the bones. This gives a nice and distinctive taste to the final liquid. It also means that a broth usually takes less time to prepare because the meat on the bones will render its taste to the liquid much faster than only bones.
Quick and creamy chicken stew recipe
Values are per portion. These are for information only & are not meant to be exact calculations.
Ingredients
One 4 lbs whole chicken;
½ cup of clarified butter, butter or other Paleo fat;
2 onions, chopped;
4 cloves garlic, minced;
1/4 cup cassava, almond or coconut flour, or any other paleo flour (this is optional, as its only purpose is to thicken the stew);
2 cups of homemade chicken broth or stock (you may decide to add more if you find the stew too thick);
2 carrots, chopped;
2 celery stalks, chopped;
5-6 white button mushrooms, sliced or whole;
½ cup full-fat coconut milk or heavy cream;
2 green onions, sliced;
¾ cup of fresh or frozen green peas;
Sea salt and freshly ground black pepper to taste;
Preparation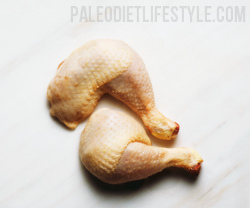 Cut the whole chicken into pieces. Divide it into two thighs, two drums, two wings and two breasts.
In a large saucepan placed over a medium heat, melt the cooking fat. Add in the chicken pieces and cook until golden brown on all sides. Remove the chicken and put aside until later.
Add the onions to the same saucepan and cook in the remaining juices. Once they have sauteed and begun to brown, add the garlic and cook for a few minutes together.
If you wish to add a thickening paleo flour, do so now.
Whisk in the chicken broth. At this point you will be able to tell if the stew is too thick. If so, feel free to add more broth or stock, or even just water. Do so slowly while continuing to mix.
Add in the vegetables and chicken, along with any juices from where the chicken was resting.
Season to taste with salt and pepper.
Allow the stew to come to a simmer, and then cook on low, but still maintain the simmer.
Cover and cook for approximately 30 minutes.
Stir in the cream or coconut milk, green onions and peas.
Cook for just about another 2 minutes and serve.
This recipe makes about 6 servings. I found it to be a lot; however, it freezes quite nicely. Enjoy!