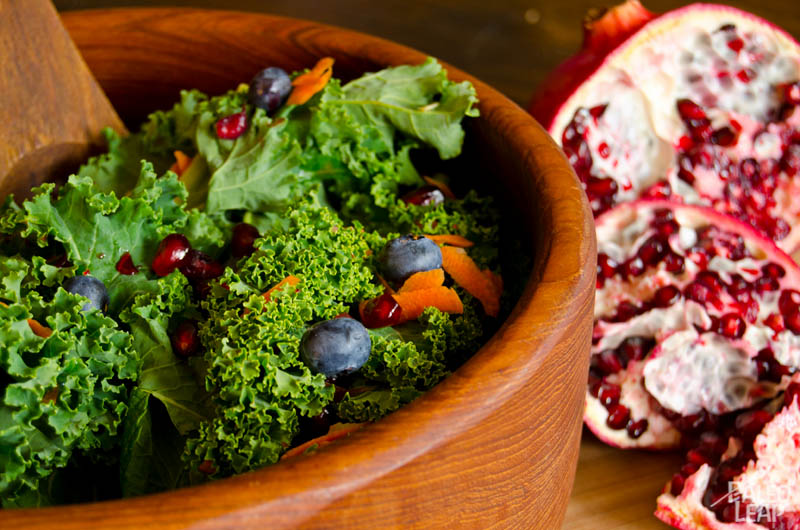 Other than with kale chips, it's very rare that I eat raw kale on its own and I think this is also probably true for most people. Those who do eat raw kale tend to love its rough and distinct taste, but for others, this is what keeps them completely away from the strong tasting vegetable. It's interesting because cooked kale tends to be completely different in taste than when it's in its raw form. When cooked, it's a lot like spinach in that it wilts and compliments strong flavors well. I can assure you that you're going to get a whole different taste profile from this salad recipe.
I got intrigued to make a salad just from the simple fact that pomegranates happen to be fresh and plentiful and I enjoy them most when tossed in a salad. They're sweet in taste and I love the texture they give no matter how you eat them with the flavors bursting in your mouth when you eat them. Their sweetness, combined with that of the blueberries really help counter the bitter bite of the kale. It's the more neutral and nutty taste of the almonds and pumpkin seeds that make all these flavors blend even better together.
You can be quite adventurous with your choice of vinaigrette; however, I would recommend staying away from using any bitter ingredients. For example, combining raw kale with a lemon based dressing would probably make the whole thing difficult to eat. I took a balsamic vinegar based vinaigrette from the Paleo Recipe Book and it matched up perfectly. Perhaps the best part about this salad is that you can dress it and stick it on the table when dinner is being served and not have to worry about the kale leaves getting soggy from the vinaigrette. Because they're so hardy in nature, it takes them a long time to absorb the dressing. This means that any leftovers will keep well.
Kale is a powerhouse of nutrients. It's high in vitamin C, vitamin B6, calcium, potassium, copper and vitamin K, among others. It's good to remember though that, while highly nutritious, raw kale can be hard to digest and some or most of the nutrients can be hard to absorb. What's more, kale is also high in oxalates and is a goitrogenic vegetable. For all of these reasons, people with digestive issues or IBS type symptoms might be better off staying away from raw kale.
Raw Kale Salad Recipe
Values are per portion. These are for information only & are not meant to be exact calculations.
Ingredients
3 bunches fresh kale;
1 cup fresh blueberries;
2 medium carrots, grated;
1/2 cup pomegranate seed;
1/3 cup sliced almonds;
1/3 cup raw pumpkin seeds;
1 tbsp fresh mint, chopped;
Balsamic Vinaigrette Ingredients
3/4 cup balsamic vinegar;
1 clove garlic, crushed;
1 tsp dried oregano;
2 tsp Dijon or homemade mustard;
3/4 cup extra-virgin olive oil;
Sea salt and freshly ground black pepper to taste;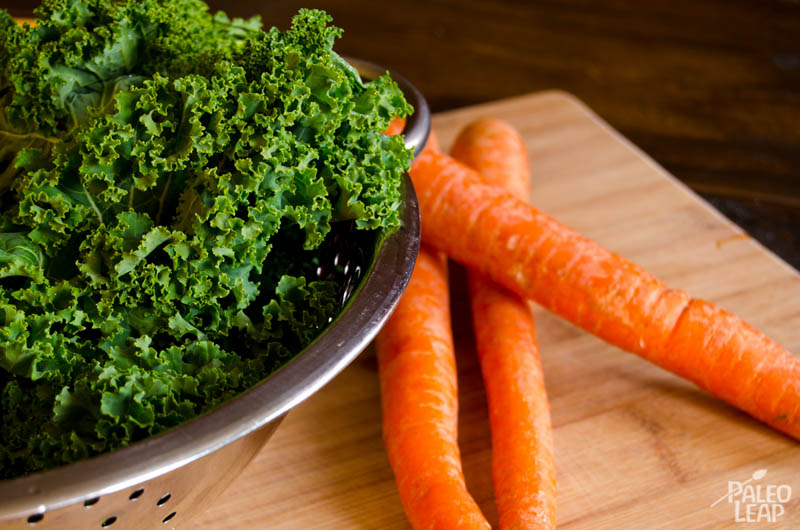 Preparation
Rinse the kale and spin it or pat it with paper towels until dry. Place in a large serving bowl and top with the remaining ingredients.
In a small bowl, whisk together all the ingredients for the vinaigrette. Whisk immediately before serving to ensure that the olive oil and vinegar haven't separated.
Pour the vinaigrette evenly on the salad. Toss well and serve.