There's nothing better than butter, except when it is ghee, and it is crammed with so many fresh herbs that it is nearing a sensory overload.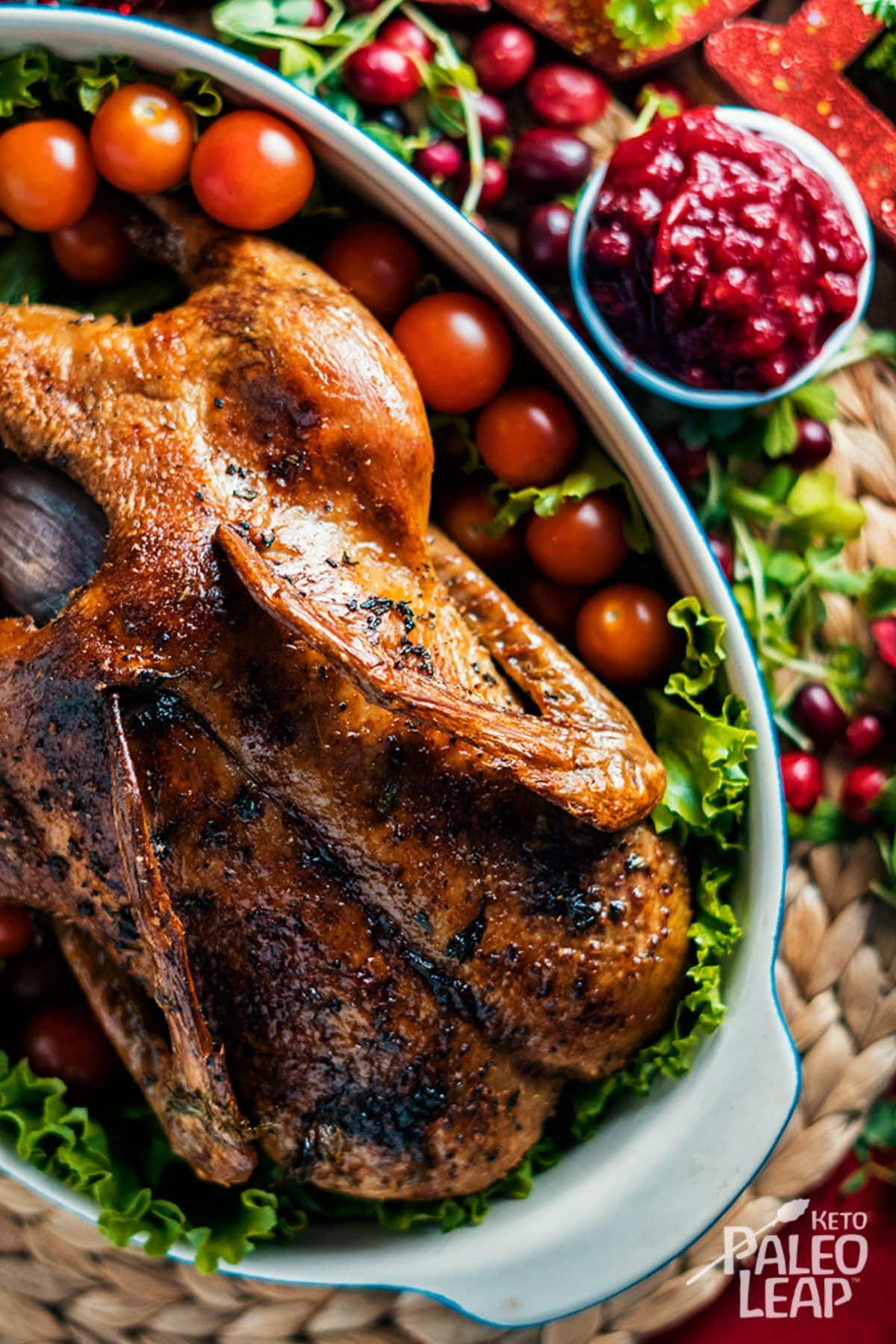 Now imagine this herbed ghee rubbed all over a duck that is oven-ready - no need for plucking, and in an instant (3 hours later), you have a bird that is roasted to crisp perfection.
It's quite easy to accomplish an amazing feast, even as a stand-alone cook, if you take it to step by step and don't forget to baste regularly. You can even prepare deviled eggs while your bird is in the oven!
Back to the basting... In order for the duck meat to stay moist, you will want to baste it every 30 minutes or so. And you really do need to cover the entire surface with the juices from the bottom of the pan.
Whether you use a brush or a turkey baster, it is up to you, but this is for sure: you must take the pan out of the oven, set it on top, and close the door.
This ensures that the oven stays hot inside and your cooking time stays on track. You will also want to do this basting as quickly and safely as possible, aiming to keep your cooking temperature fairly constant. In the end, your duck will come out nice and juicy, fit for royalty.
Let us suggest a colorful and cheerful salad to make this roasted duck meal extra remarkable. Make sure to have some chocolate almond butter fat bombs on hand to hold you over until your guests arrive and the feast begins!
Roast Duck With Herb Ghee Recipe
Serves: 4 Prep: 20 min Cook: 3 h
Ingredients
1 whole duck
2 onions, sliced into thick slices
Half a lemon, cut into two wedges
5 celery stalks, cut into chunks
1 cup fresh cranberries
1 ½ cup chicken or duck stock
Sea salt and freshly ground black pepper
Herb Ghee Ingredients
¾ cup ghee or grass-fed butter, melted
2 tbsp. fresh sage, minced
2 tbsp. fresh rosemary, minced
1 tbsp. fresh thyme, minced
2 tbsp. fresh flat-leaf parsley, minced
4 garlic cloves, minced
Sea salt and freshly ground black pepper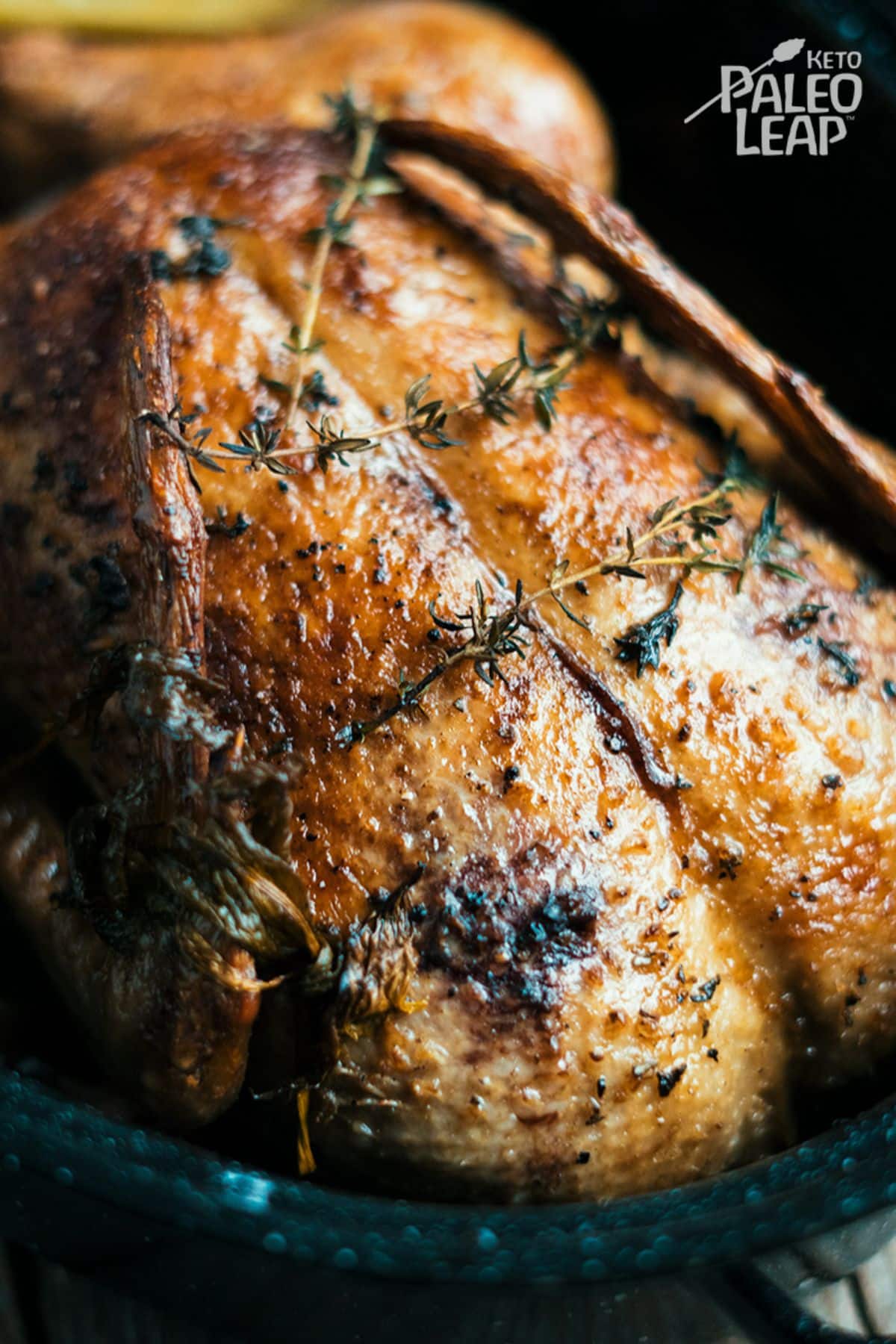 Preparation
Preheat oven to 375 F.
In a bowl, combine all the ingredients for the herb ghee; season to taste and mix until well combined.
Place the duck in a roasting pan, and generously rub the skin with the ghee.
Fill the inside of the duck with some of the onion, lemon, celery, and fresh cranberry mixture.
Place the remaining vegetables all around the duck, and pour the chicken stock over the vegetables.
Roast the duck in the oven for 2 to 3 hours, depending on the size, basting every 30 minutes with the juices from the bottom of the pan. Cook the duck until the internal temperature reaches 140 F - 170 F depending on your preference for doneness.
Let the duck rest for 10 to 12 minutes before slicing.
To make brown gravy, pour the juices from the roasting pan into a small saucepan using a sieve.
Bring the sauce to a boil, add more broth to make a bigger batch, and adjust the seasoning if needed.
Add 1 to 2 tbsp. of tapioca starch mixed with equal parts water to the sauce and mix until you reach the desired thickness; season to taste.
📖 Recipe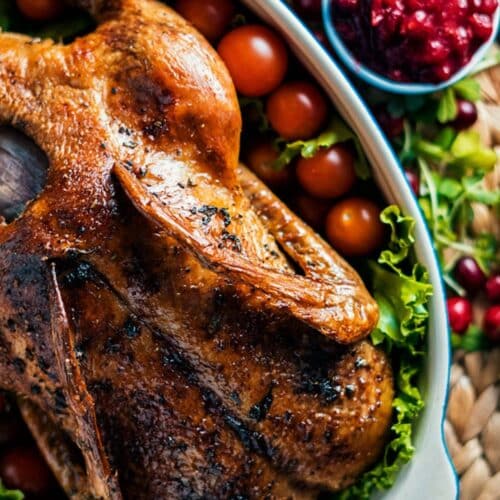 Roast Duck With Herb Ghee Recipe
Two secrets to roasting the perfect duck? Quality meat and a basting technique that cannot be beat. Making your own herb ghee gives you an advantage too.
Ingredients
1

whole duck

2

onions

sliced into thick slices

Half a lemon

cut into two wedges

5

celery stalks

cut into chunks

1

cup

fresh cranberries

1 ½

cup

chicken or duck stock
Instructions
In a bowl, combine all the ingredients for the herb ghee; season to taste and mix until well combined.

¾ cup ghee or grass-fed butter,

2 tbsp. fresh sage,

2 tbsp. fresh rosemary,

1 tbsp. fresh thyme,

2 tbsp. fresh flat-leaf parsley,

4 garlic cloves,

Sea salt and freshly ground black pepper

Place the duck in a roasting pan, and generously rub the skin with the ghee.

Fill the inside of the duck with some of the onion, lemon, celery, and fresh cranberry mixture.

2 onions,

Half a lemon,

5 celery stalks,

1 cup fresh cranberries

Place the remaining vegetables all around the duck, and pour the chicken stock over the vegetables.

1 ½ cup chicken or duck stock

Roast the duck in the oven for 2 to 3 hours, depending on the size, basting every 30 minutes with the juices from the bottom of the pan. Cook the duck until the internal temperature reaches 140 F – 170 F depending on your preference for doneness.

Let the duck rest for 10 to 12 minutes before slicing.

To make brown gravy, pour the juices from the roasting pan into a small saucepan using a sieve.

Bring the sauce to a boil, adding more broth to make a bigger batch, and adjust the seasoning if needed.

Add 1 to 2 tbsp. of tapioca starch mixed with equal parts water to the sauce and mix until you reach the desired thickness; season to taste.

Sea salt and freshly ground black pepper
Nutrition
Calories:
1159
kcal
Carbohydrates:
16
g
Protein:
26
g
Fat:
111
g
Saturated Fat:
47
g
Polyunsaturated Fat:
11
g
Monounsaturated Fat:
46
g
Cholesterol:
234
mg
Sodium:
263
mg
Potassium:
745
mg
Fiber:
4
g
Sugar:
5
g
Vitamin A:
1377
IU
Vitamin C:
32
mg
Calcium:
114
mg
Iron:
7
mg