Cauliflower is a vegetable with a PR problem. It's pale and scrunched-up and intimidatingly hefty, and it looks unmistakably like a brain.
Add that to the way most people try it – boiled into much or raw with some tasteless low-fat dip – and it's not surprising that the poor cauliflower doesn't have many fans.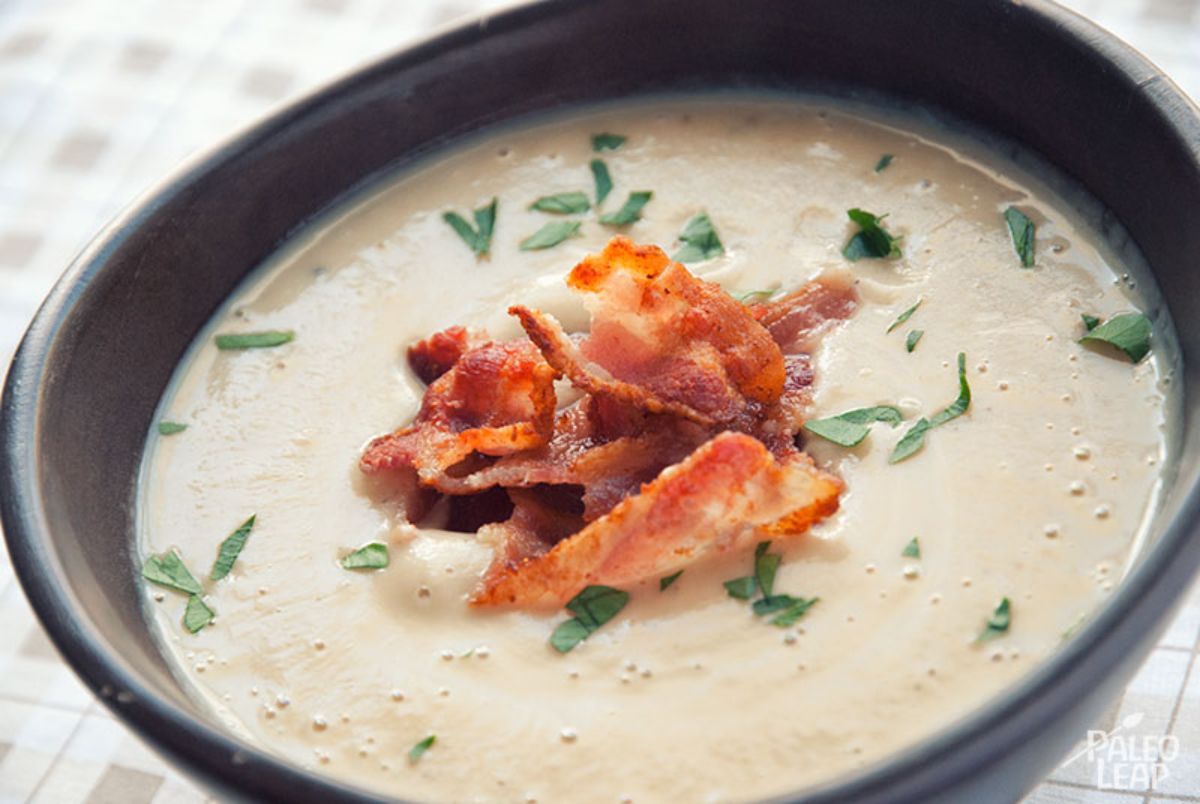 But the cauliflower haters are missing out. As well as being jam-packed with nutrients (notably Vitamins C, K, B6, and B9), cauliflower has a savory-sweet side just waiting to shine through.
The trick is to roast it first, with plenty of fat – this concentrates the flavor and softens the florets without turning them to mush.
After a spin in the blender with some coconut milk and herbs, any unfortunate visual associations are completely gone: you're left with a silky, creamy soup delicious enough to make you forget the words "diet food" forever.
As well as a versatile side dish, this would also be a wonderful soup for anyone sick in bed: the chicken broth is very healing, and the soup overall is easy to keep down without being bland or boring.
To add a little crunch, you can sprinkle some bacon on top: this is optional, but the smoky flavor of the bacon adds an incredible taste and really complements the texture of the soup itself. A dash of parsley adds a nice visual contrast, and your bowl is ready to serve!
Roasted Cauliflower Soup Recipe
SERVES: 4 PREP: 15 min COOK: 1h
Ingredients
2 heads of cauliflower, cut into florets;
3 garlic cloves, minced;
2 shallots, minced;
3 cups chicken stock;
1 cup water;
1 bay leaf;
1 tsp. dried thyme;
2 cups full-fat coconut milk;
4 cooked bacon slices; cut into pieces; (optional)
1 tbsp. olive oil or ghee;
Fresh parsley for garnishing;
Sea salt and black pepper to taste;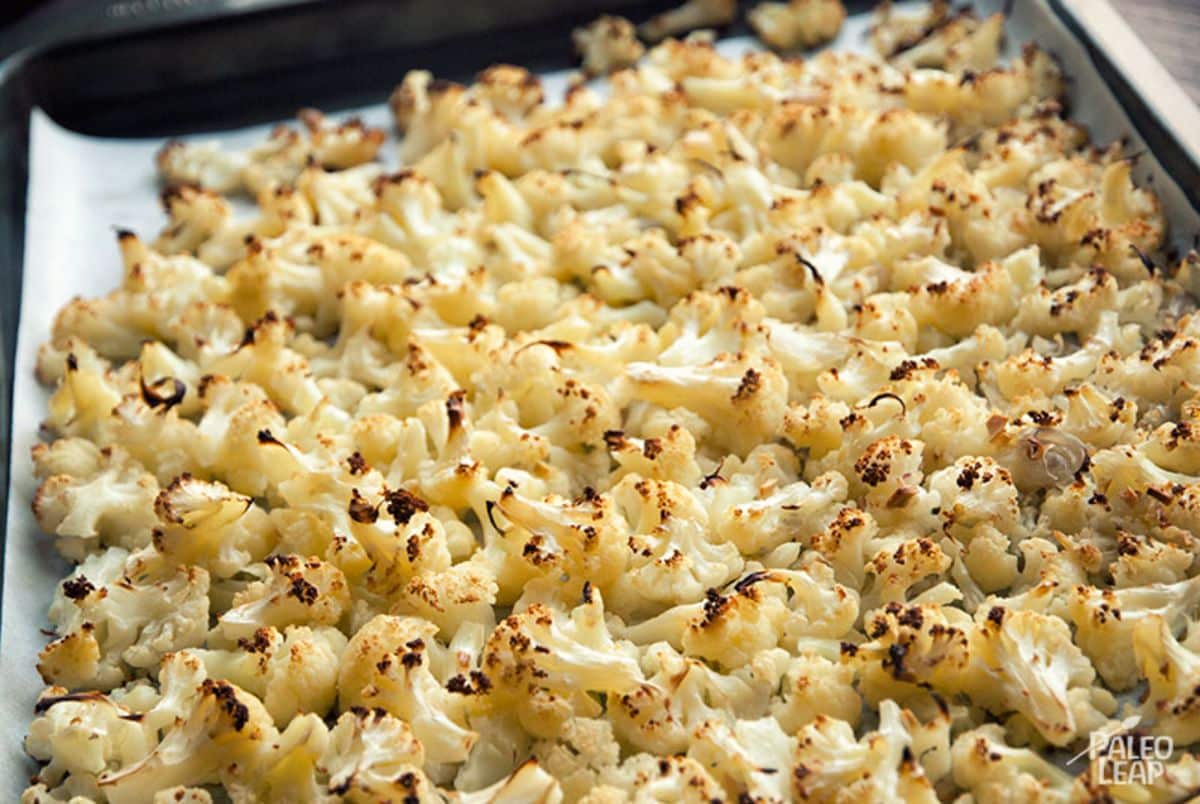 Preparation
Preheat your oven to 425 F.
In a large bowl, combine the cauliflower, garlic, shallots, and olive oil.
Spread the cauliflower mixture on a roasting pan.
Place the roasting pan in the oven and roast for 30 minutes.
Transfer the cauliflower to a large saucepan and add the chicken stock and water.
Add the thyme and the bay leaf, and bring to a boil over medium-high heat.
Cover the saucepan. Lower the heat and let it simmer for 30 minutes.
Remove the bay leaf.
Puree the soup using an immersion blender or a blender.
Stir in the coconut milk and season to taste with sea salt and freshly cracked black pepper.
Top each bowl with crispy bacon, if desired, and sprinkle with fresh parsley. Serve warm.
📖 Recipe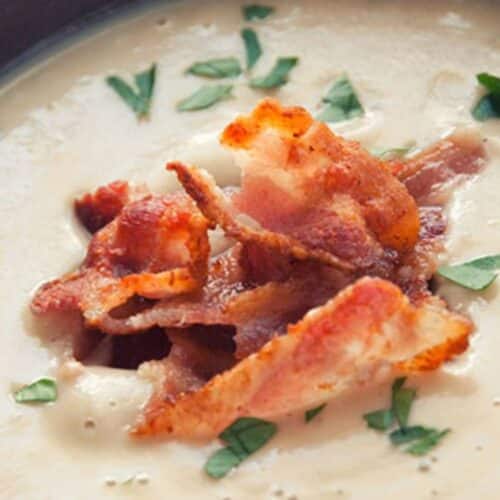 Roasted Cauliflower Soup Recipe
Bring out the tender side of cauliflower with a quick turn in the oven, and then blend it into this hearty, nourishing soup.
Ingredients
2

heads of cauliflower

cut into florets

3

garlic cloves

minced

2

shallots

minced

3

cups

chicken stock

1

cup

water

1

bay leaf

1

tsp.

dried thyme

2

cups

full-fat coconut milk

4

cooked bacon slices cut into pieces

optional

1

tbsp.

olive oil or ghee

Fresh parsley for garnishing

Sea salt and black pepper to taste
Instructions
Preheat your oven to 425 F.

In a large bowl, combine the cauliflower, garlic, shallots, and olive oil.

2 heads of cauliflower,

3 garlic cloves,

2 shallots,

1 tbsp. olive oil or ghee

Spread the cauliflower mixture on a roasting pan.

Place the roasting pan in the oven and roast for 30 minutes.

Transfer the cauliflower to a large saucepan and add the chicken stock and water.

3 cups chicken stock,

1 cup water

Add the thyme and the bay leaf, and bring to a boil over medium-high heat.

1 tsp. dried thyme,

1 bay leaf

Cover the saucepan. Lower the heat and let it simmer for 30 minutes.

Remove the bay leaf.

Puree the soup using an immersion blender or a blender.

Stir in the coconut milk and season to taste with sea salt and freshly cracked black pepper.

2 cups full-fat coconut milk,

Sea salt and black pepper to taste

Top each bowl with crispy bacon, if desired, and sprinkle with fresh parsley. Serve warm.

4 cooked bacon slices cut into pieces
Nutrition
Calories:
457
kcal
Carbohydrates:
30
g
Protein:
16
g
Fat:
34
g
Saturated Fat:
24
g
Polyunsaturated Fat:
2
g
Monounsaturated Fat:
6
g
Trans Fat:
0.01
g
Cholesterol:
13
mg
Sodium:
496
mg
Potassium:
1441
mg
Fiber:
7
g
Sugar:
12
g
Vitamin A:
274
IU
Vitamin C:
145
mg
Calcium:
125
mg
Iron:
7
mg