If you love vegetables with a lot of flavors, this is definitely the side dish for you! To start off with, there's the umami: umami is sometimes described as the "taste of protein:" it's the rich "meatiness" that you can taste in certain savory foods like tomatoes, mushrooms, and cured meats like bacon.
Chemically, the umami taste comes from a compound called L-glutamate: both spinach and mushrooms are rich sources, so you're really getting a double whammy here.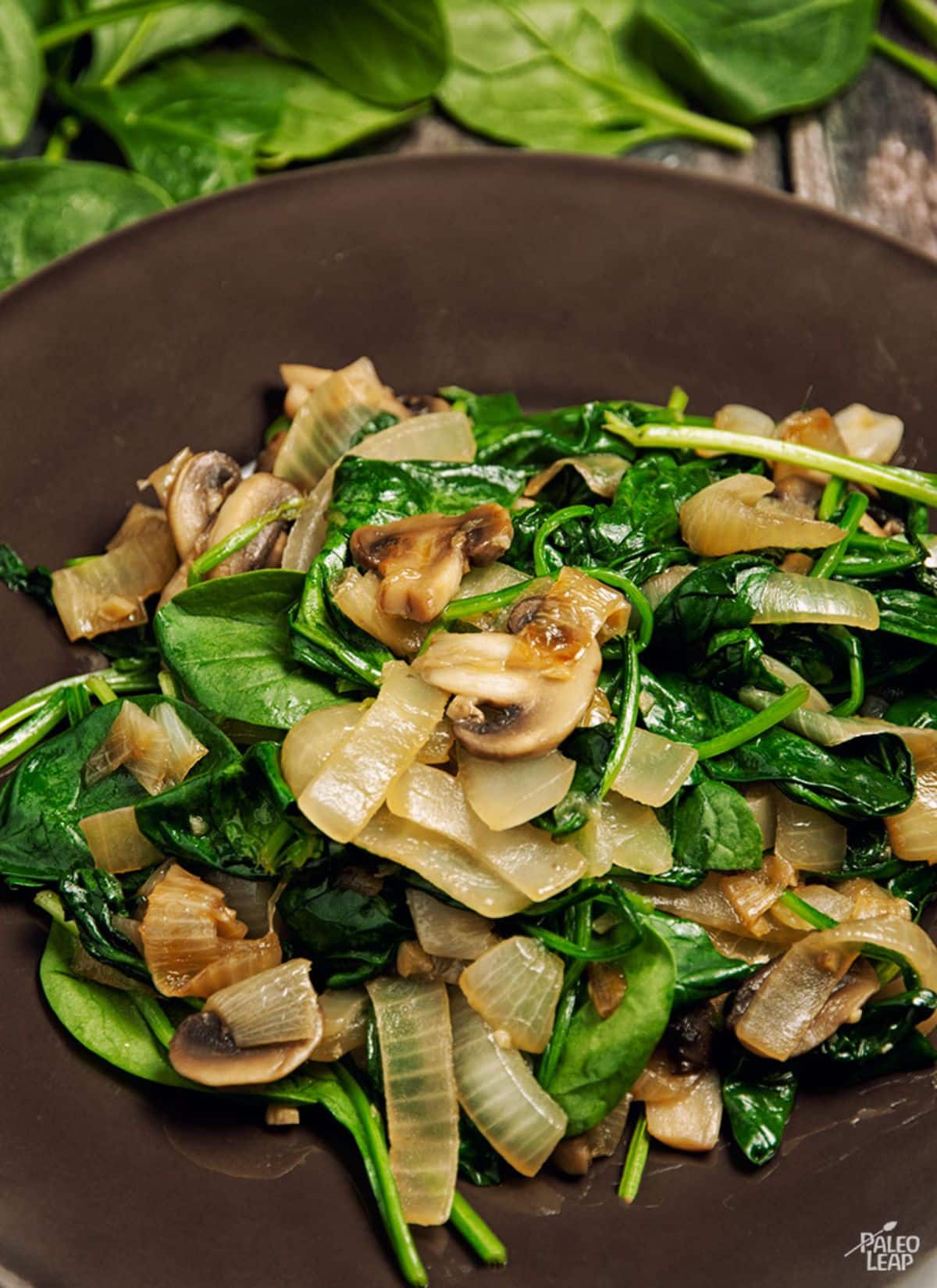 On top of that, the caramelized onions add even more richness: don't forget to scrape up all the little bits of flavor on the bottom when you deglaze the pan! A combination of coconut oil and ghee for the cooking fat tones down the nutty flavor of the ghee just enough that it complements the vegetables nicely.
This spinach would go really well with almost any main protein: it can hold its own with richer cuts like steak, but it could also add a little more oomph to lighter meats like chicken or fish. Or try it with eggs for an easy and delicious way to get some more vegetables in at breakfast time.
Sautéed Spinach and Caramelized Onions Recipe
SERVES: 2 to 4 PREP: 10 min COOK: 45 min
Ingredients
3 onions, sliced;
3 cups spinach or baby spinach;
1 tbsp. balsamic vinegar;
10 mushrooms, sliced;
3 garlic cloves, minced;
1 tbsp. coconut oil;
1 tbsp. ghee;
Sea salt and freshly ground black pepper;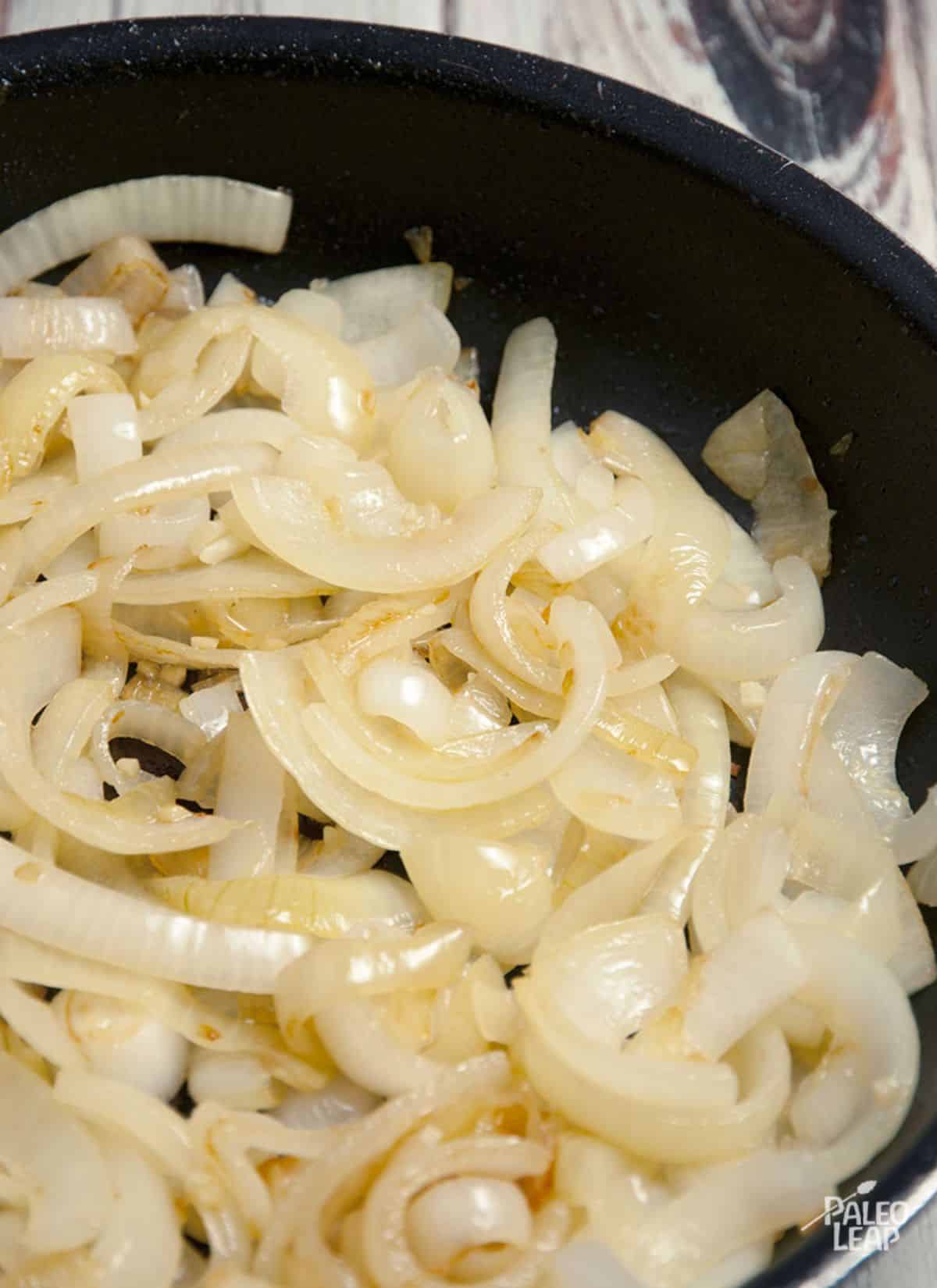 Preparation
Heat the coconut oil and ghee over high heat in a skillet.
Add the sliced onions and garlic, and cook for about 10 minutes, stirring constantly.
Reduce the heat to medium-low and continue cooking the onions for 20 more minutes, still stirring frequently.
Add the balsamic vinegar to deglaze the pan.
Add the sliced mushrooms and season to taste with salt and pepper; cook until the mushrooms are tender but not mushy.
Add the spinach. Stir on low heat just until the spinach wilts, and serve.
📖 Recipe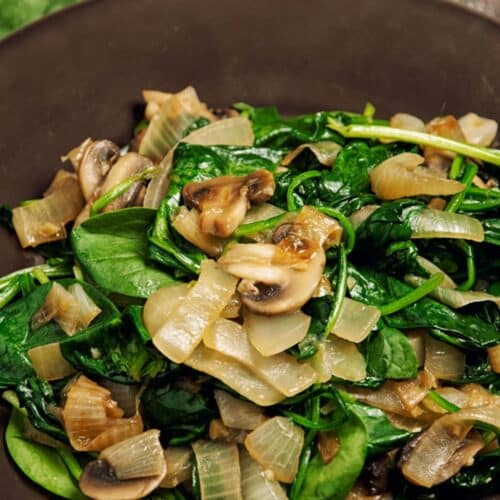 Sautéed Spinach and Caramelized Onions Recipe
Spinach, mushrooms, and onions really stand out in this delicious and flavor-packed side dish.
Instructions
Heat the coconut oil and ghee over high heat in a skillet.

1 tbsp. coconut oil,

1 tbsp. ghee

Add the sliced onions and garlic, and cook for about 10 minutes, stirring constantly.

3 onions,

3 garlic cloves

Reduce the heat to medium-low and continue cooking the onions for 20 more minutes, still stirring frequently.

Add the balsamic vinegar to deglaze the pan.

Add the sliced mushrooms and season to taste with salt and pepper cook until the mushrooms are tender but not mushy.

10 mushrooms,

Sea salt and freshly ground black pepper

Add the spinach. Stir on low heat just until the spinach wilts, and serve.

3 cups spinach or baby spinach
Nutrition
Calories:
236
kcal
Carbohydrates:
23
g
Protein:
5
g
Fat:
15
g
Saturated Fat:
11
g
Polyunsaturated Fat:
1
g
Monounsaturated Fat:
3
g
Cholesterol:
19
mg
Sodium:
58
mg
Potassium:
783
mg
Fiber:
6
g
Sugar:
9
g
Vitamin A:
4223
IU
Vitamin C:
26
mg
Calcium:
120
mg
Iron:
10
mg