First things first, get ready with your lemon and thyme marinade, the key to capturing harmony between protein and spice.
Did you know that lamb pairs well with several other fresh herbs and seasonings, including cinnamon, mint, basil, marjoram, oregano, savory, sesame seed, and sage? Rather than be strict in following recipes, be flexible and go with the flow of cooking.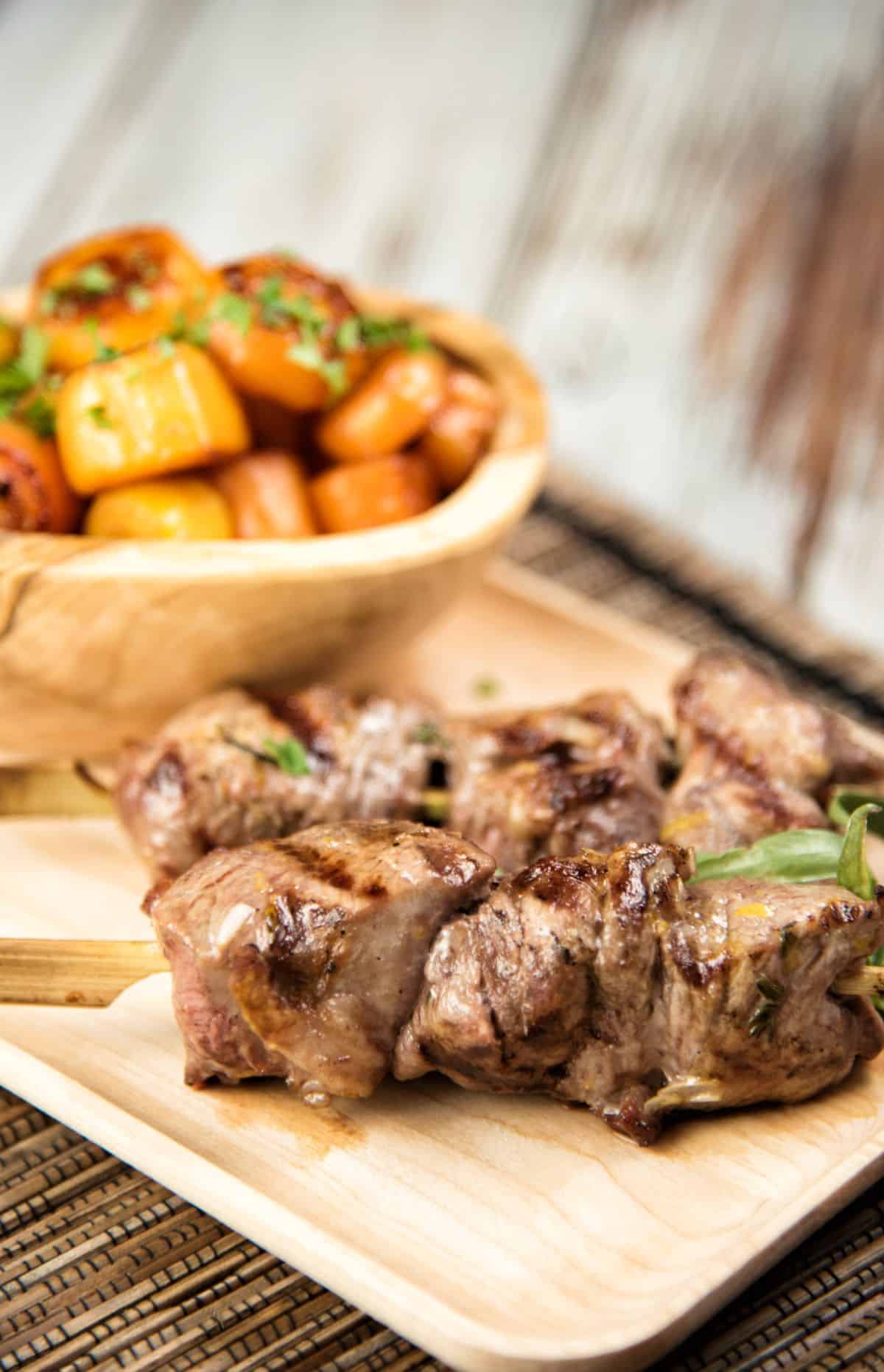 Think of ingredients as guidelines, rather than irreplaceable items on the list, and your creativity in the kitchen will bloom on all fronts - much to the delight of your diners. At some point, they may even expect to be surprised!
While honey-glazed carrots are not likely to astonish anyone, anytime soon, they are here to please the crowd from young to old. For example, it is hard to pass by a maple-roasted carrot: if it is on the plate, it will be eaten.
Honey-glazed carrots have a similar effect on the human head and hand. With a slight crunch and sweet glaze, it is almost like having a bite of candy with the meal.
So, naturally, for dessert, we are going to recommend a Paleo carrot cake as a way to use up all those lonely, leftover carrots...
Carrots aside, this meal is perfect from start to finish, and wonderfully delicious served any day of the week - it is worthy of weeknights, weekends and holidays too. Add any side dish of steamed greens, and it will easily become a family favorite!
Skewered Lamb With Honey Glazed Carrots Recipe
Serves: 4 Prep: 1 hr 20 min Cook: 20 min
Ingredients
2 lbs. boneless lamb
1 onion, finely chopped
3 bay leaves
4 sprigs of fresh thyme
1 lemon, juice, and zest
⅓ cup olive oil
Sea salt and freshly ground pepper, to taste
Rosemary sprigs for garnish
Wooden skewers
Honey Glazed Carrots Ingredients
1 lb. small carrots, sliced
2 tbsp. ghee or grass-fed butter
2 tbsp. honey
1 tbsp. fresh lemon juice
¼ cup parsley, finely chopped
Sea salt and freshly ground pepper, to taste
Preparation
Cut lamb into bite-sized chunks. Place them in a medium bowl and toss in the onion, bay leaves, thyme, lemon juice and zest, olive oil, salt, and pepper. Mix well to ensure the meat is evenly coated. Allow the meat to marinate in the fridge for at least an hour.
Preheat the grill to medium-low.
Remove lamb from the marinade and thread on multiple skewers.
Place the skewers on the grill and allow the meat to cook for a total of 10 minutes, turning the skewers a few times, so the meat cooks evenly. Allow the lamb to brown slightly.
Remove from grill and garnish with rosemary.
For the honey-glazed carrots: bring a medium saucepan of water to a boil. Add carrots and cook for about 5 minutes, or until tender.
Strain the water and return the saucepan to the stovetop.
Over medium heat - add the ghee, honey, and lemon juice to the pan. Stir well to ensure the carrots are evenly coated. Continue cooking for about 5 minutes, stirring frequently.
Season with salt and pepper. Top with finely chopped parsley prior to serving.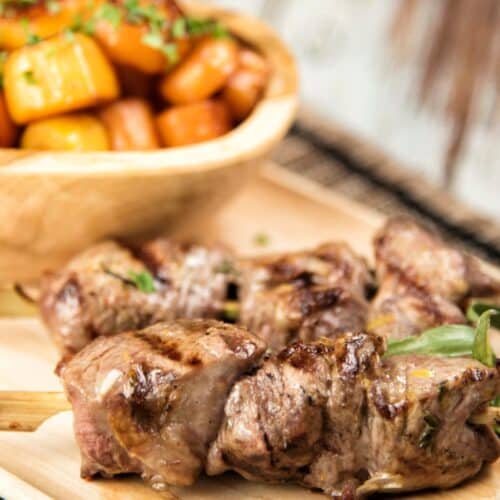 Skewered Lamb with Honey Glazed Carrots Recipe
Honey-glazed carrots with skewered lamb marinated in a mixture of heavenly thyme and lemon will surely become your new weekend favorite.
Ingredients
2

lbs.

boneless lamb

1

onion

finely chopped

3

bay leaves

4

sprigs of fresh thyme

1

lemon

juice, and zest

⅓

cup

olive oil

Sea salt and freshly ground pepper

to taste

Rosemary sprigs for garnish

Wooden skewers
Honey Glazed Carrots Ingredients
1

lb.

small carrots

sliced

2

tbsp.

ghee or grass-fed butter

2

tbsp.

honey

1

tbsp.

fresh lemon juice

¼

cup

parsley

finely chopped

Sea salt and freshly ground pepper

to taste
Instructions
Cut lamb into bite-sized chunks. Place them in a medium bowl and toss in the onion, bay leaves, thyme, lemon juice and zest, olive oil, salt, and pepper. Mix well to ensure the meat is evenly coated. Allow the meat to marinate in the fridge for at least an hour.

2 lbs. boneless lamb,

1 onion,

3 bay leaves,

4 sprigs of fresh thyme,

1 lemon,

⅓ cup olive oil,

Sea salt and freshly ground pepper

Preheat the grill to medium-low.

Remove lamb from the marinade and thread on multiple skewers.

Place the skewers on the grill and allow the meat to cook for a total of 10 minutes, turning the skewers a few times, so the meat cooks evenly. Allow the lamb to brown slightly.

Remove from grill and garnish with rosemary.

Rosemary sprigs for garnish

For the honey-glazed carrots: bring a medium saucepan of water to a boil. Add carrots and cook for about 5 minutes, or until tender.

Strain the water and return the saucepan to the stovetop.

Over medium heat - add the ghee, honey, and lemon juice to the pan. Stir well to ensure the carrots are evenly coated. Continue cooking for about 5 minutes, stirring frequently.

2 tbsp. ghee or grass-fed butter,

2 tbsp. honey,

1 tbsp. fresh lemon juice

Season with salt and pepper. Top with finely chopped parsley prior to serving.

Sea salt and freshly ground pepper,

¼ cup parsley
Nutrition
Calories:
920
kcal
Carbohydrates:
13
g
Protein:
39
g
Fat:
79
g
Saturated Fat:
30
g
Polyunsaturated Fat:
6
g
Monounsaturated Fat:
37
g
Cholesterol:
184
mg
Sodium:
227
mg
Potassium:
860
mg
Fiber:
4
g
Sugar:
7
g
Vitamin A:
16010
IU
Vitamin C:
14
mg
Calcium:
90
mg
Iron:
5
mg