Hearty and delicious, with whispers of cinnamon and thyme, this stew will surprise you with the uncomplicated flavors of the hard-working and humble past. It is a bit of time travel, going back to Grandma's kitchen, yet the results of your not-so-hard work (using the slow cooker) are here and now.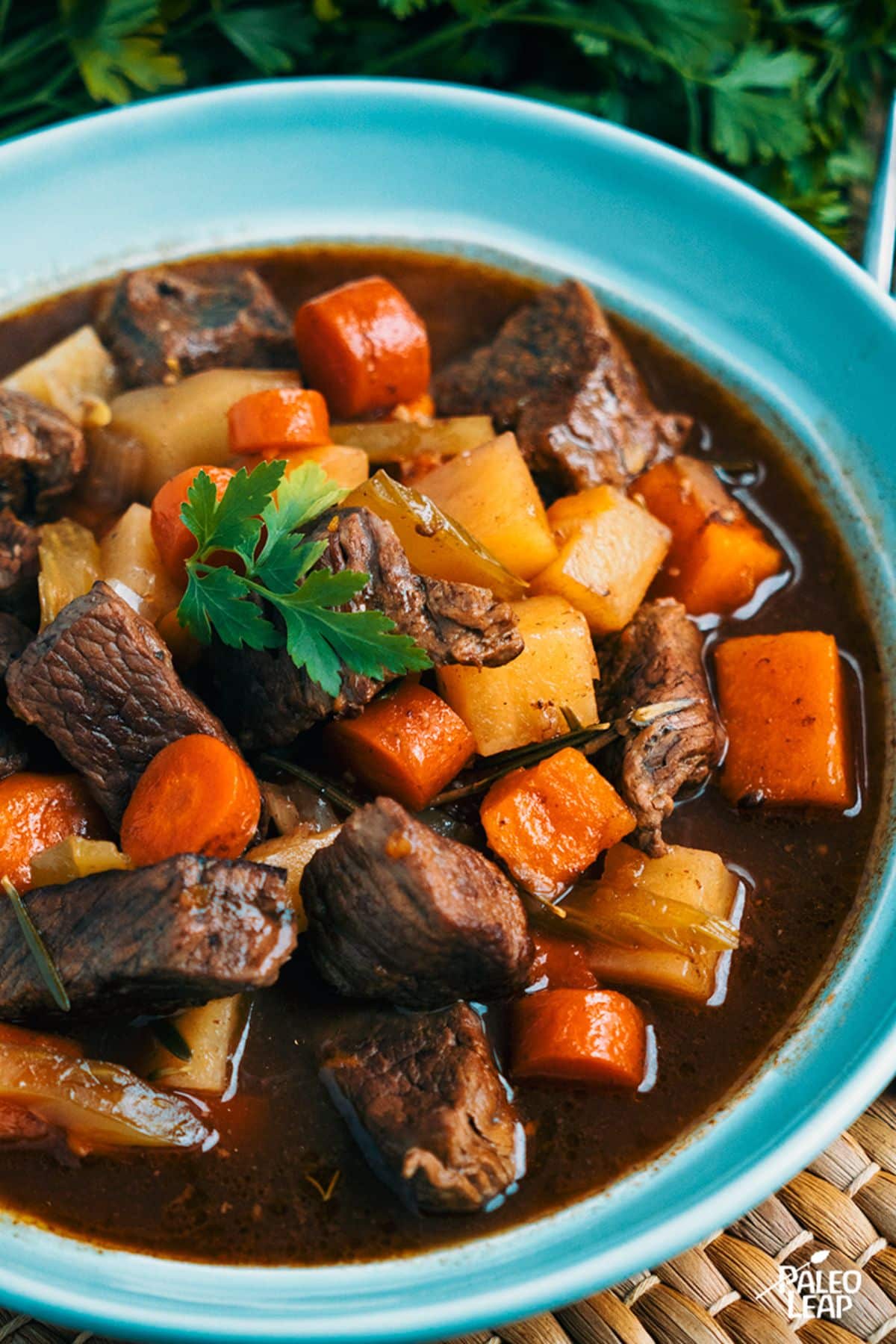 Like in so many slow cooker recipes, you must brown the meat first. Trust us, it just tastes better that way. You also need to chop up your veggies to any size that you like. Go rustic and leave them whole, or halve them if you must. Make them bite-size for easier spoonfuls of stew - the choice is yours to make while you spend as little or as much time on meal preparation.
Let's talk about rutabagas. They are a thing of beauty and wonder to some of us who have never seen them before - rutabagas are also called swedes (Swedish turnip) or neeps. While we generally think of it as fodder for livestock, it is perfect for human consumption and a wonderful vegetable for adding to stews.
They are a culinary treat when boiled and mashed with sweet potatoes, carrots, and ghee, and in other parts of the world, they are often served alongside sausages. We'll take that as a positive sign that they belong in our Paleo meals!
The beauty of slow cooking is that you prep your ingredients, then go to work, or just take life in. Easy as pie, almost like Grandma used to make.
Slow Cooker Beef And Rutabaga Stew Recipe
Serves: 4 Prep: 25 min Cook: 8h
Ingredients
2 lbs. beef chuck roast, cubed
1 rutabaga, cubed
2 carrots, sliced
2 sweet potatoes, cubed
2 celery stalks, sliced
1 onion, diced
2 garlic cloves, minced
4 cups beef stock
2 tbsp. balsamic vinegar
2 tbsp. fresh rosemary, minced
½ tsp. dried thyme
½ tsp. ground cinnamon
Cooking fat
Sea salt and freshly ground black pepper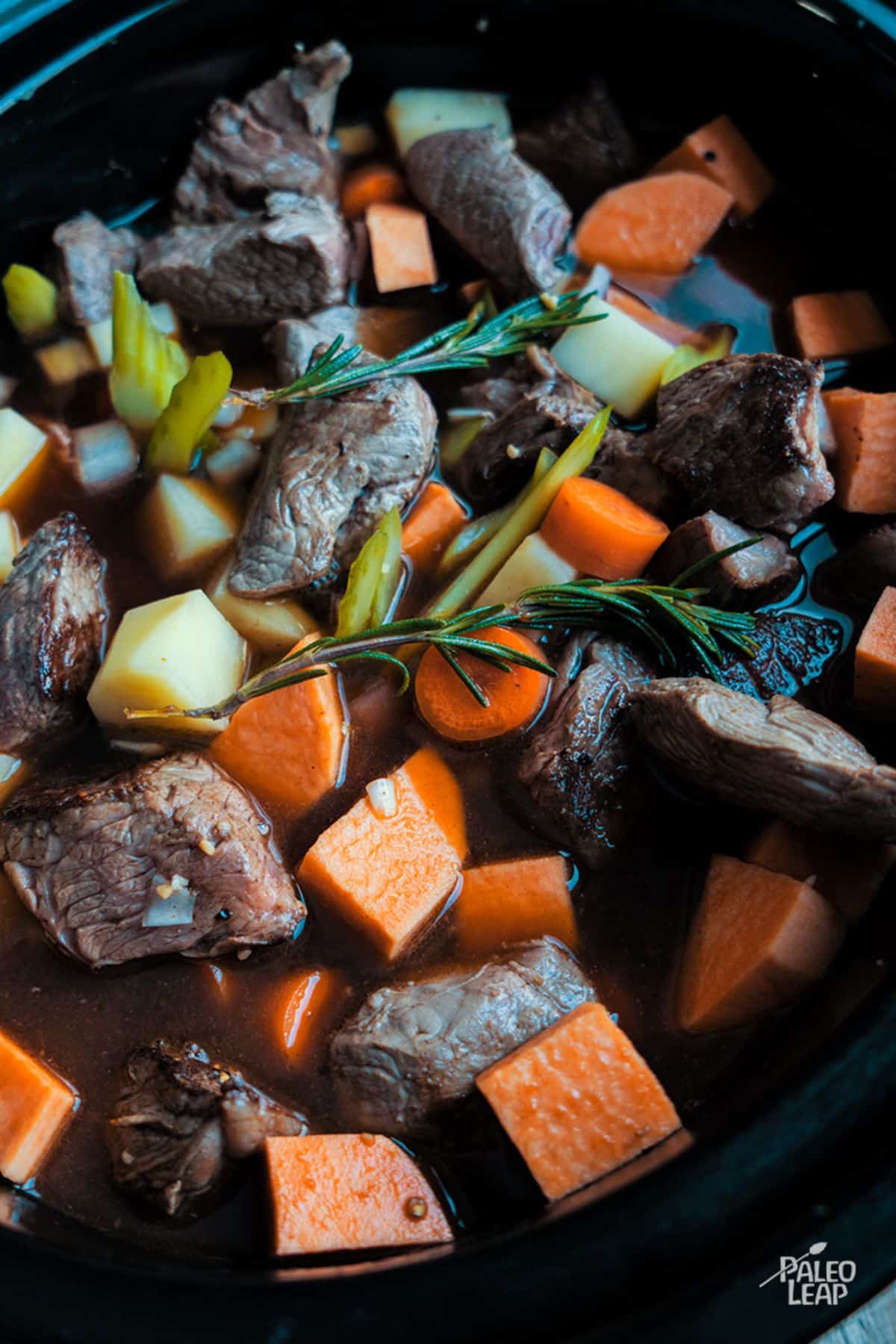 Preparation
Add all the prepared vegetables to a slow cooker and season to taste.
Melt cooking fat in a skillet over medium-high heat.
Season the meat cubes to taste with sea salt and freshly ground black pepper.
Brown the beef cubes, on all sides in small batches, 1 to 2 minutes per side. Then add the beef to the slow cooker.
Deglaze the pan with the balsamic vinegar, pour in the beef stock, add the rosemary, dried thyme, and ground cinnamon, and season to taste.
Pour the sauce into the slow cooker, cover, and cook on low for 6 to 8 hours.
Adjust the seasoning and serve.
📖 Recipe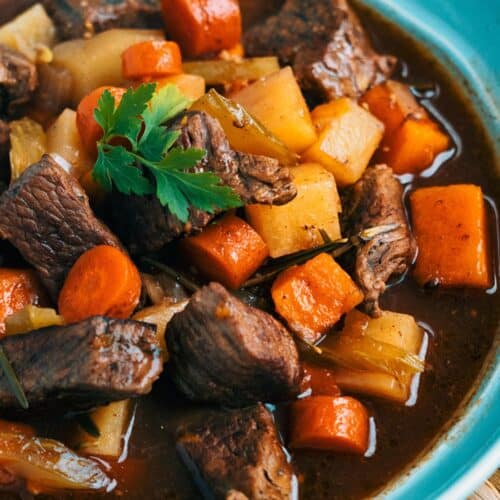 Slow Cooker Beef And Rutabaga Stew Recipe
You may be surprised to find rutabagas in your beef stew one day, but it will be a wonderful discovery and one that you'll remake time and time again.
Instructions
Add all the prepared vegetables to a slow cooker and season to taste.

1 rutabaga,

2 carrots,

2 sweet potatoes,

2 celery stalks,

1 onion,

2 garlic cloves

Melt cooking fat in a skillet over medium-high heat.

Season the meat cubes to taste with sea salt and freshly ground black pepper.

2 lbs. beef chuck roast,

Sea salt and freshly ground black pepper

Brown the beef cubes, on all sides in small batches, 1 to 2 minutes per side. Then add the beef to the slow cooker.

Deglaze the pan with the balsamic vinegar, pour in the beef stock, add the rosemary, dried thyme, and ground cinnamon, and season to taste.

4 cups beef stock,

2 tbsp. balsamic vinegar,

2 tbsp. fresh rosemary,

½ tsp. dried thyme,

½ tsp. ground cinnamon,

Sea salt and freshly ground black pepper

Pour the sauce into the slow cooker, cover, and cook on low for 6 to 8 hours.

Adjust the seasoning and serve.

Sea salt and freshly ground black pepper
Nutrition
Calories:
566
kcal
Carbohydrates:
31
g
Protein:
51
g
Fat:
27
g
Saturated Fat:
12
g
Polyunsaturated Fat:
2
g
Monounsaturated Fat:
13
g
Trans Fat:
2
g
Cholesterol:
156
mg
Sodium:
717
mg
Potassium:
1839
mg
Fiber:
6
g
Sugar:
11
g
Vitamin A:
10193
IU
Vitamin C:
30
mg
Calcium:
173
mg
Iron:
8
mg