Spring, summer, winter, or fall - there is always the desire to eat soup. When it is made in a slow cooker, you have plenty of time for family, life, relaxation, and a bit of work; then, at the end of the day, you get to enjoy a steaming bowl of fresh veggies and meat, surrounded by the ones you love.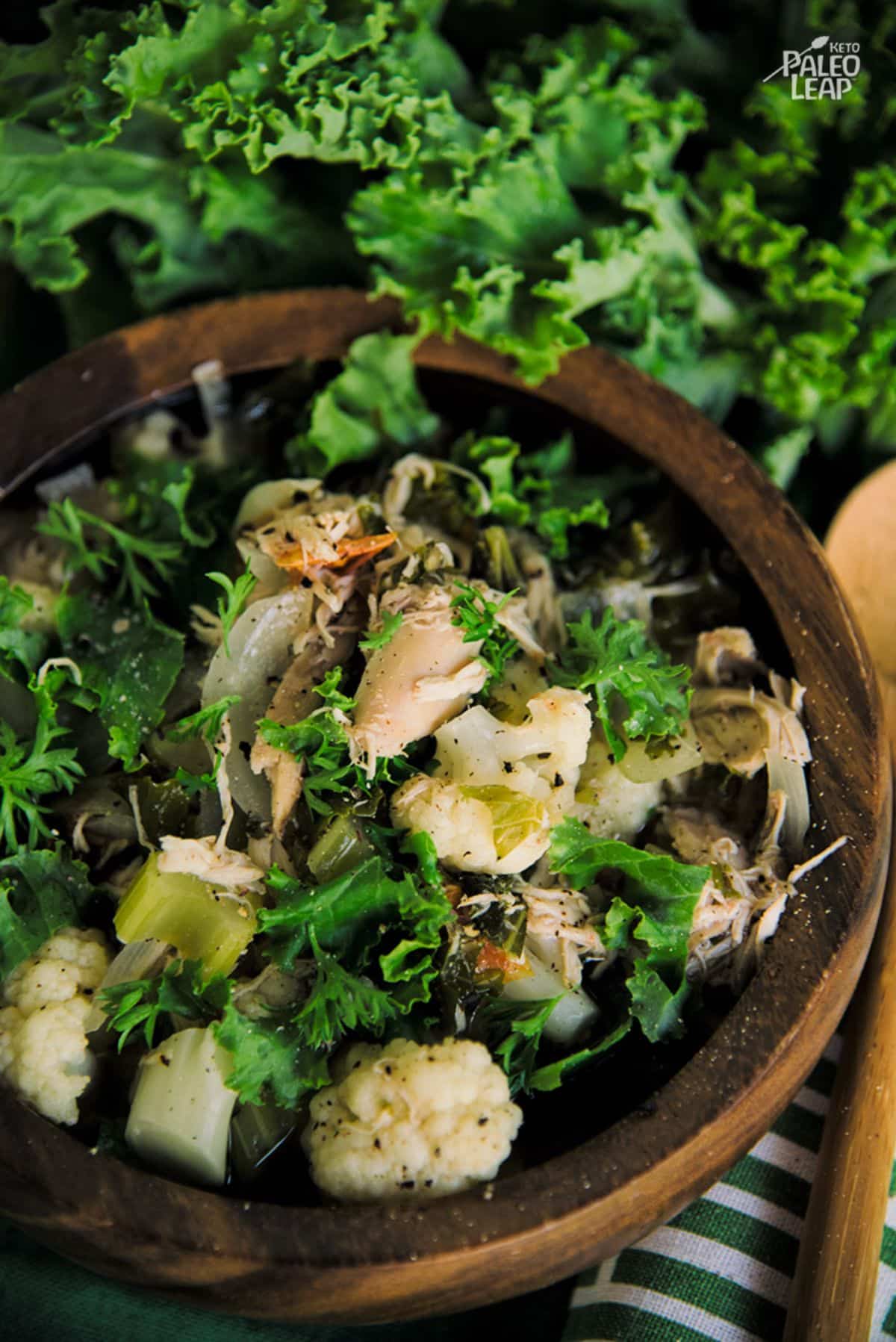 This recipe calls for pre-cooked chicken; however, if you don't have any grilled chicken breasts handy or shredded chicken leftovers, then you can add some diced raw chicken breast to the bottom of the slow cooker instead. There is no need to cook it ahead of time; here, it is perfectly okay to take the easy route.
Soup is enjoyable spoonful by spoonful, but sometimes you want something (anything!) to dip in it. When you are newly trying out a keto diet, you may think that your choices are very limited, but that is simply not true.
You will just have to try out new recipes and new ways of eating more vegetables. For example, cauliflower tortillas are a great low-carb food that you can grab on the go, and they are always perfect alongside stews, soups, and salads.
Instead of making them in rounds, you can spoon the mix out flat on the baking sheet and make marks with the back of a knife, so you end up with rectangles or triangles - perfect for dipping.
Keto Slow Cooker Chicken Soup Recipe
Serves: 4 Prep: 20 min Cook: 4 h
Ingredients
4 cups chicken, cooked and chopped
1 small cauliflower head, chopped
2 cups tomato, diced
1 onion diced
4 celery stalks, diced
3 to 4 cups fresh kale, chopped
2 garlic cloves, minced
4 to 5 cups of chicken stock
Sea salt and freshly ground black pepper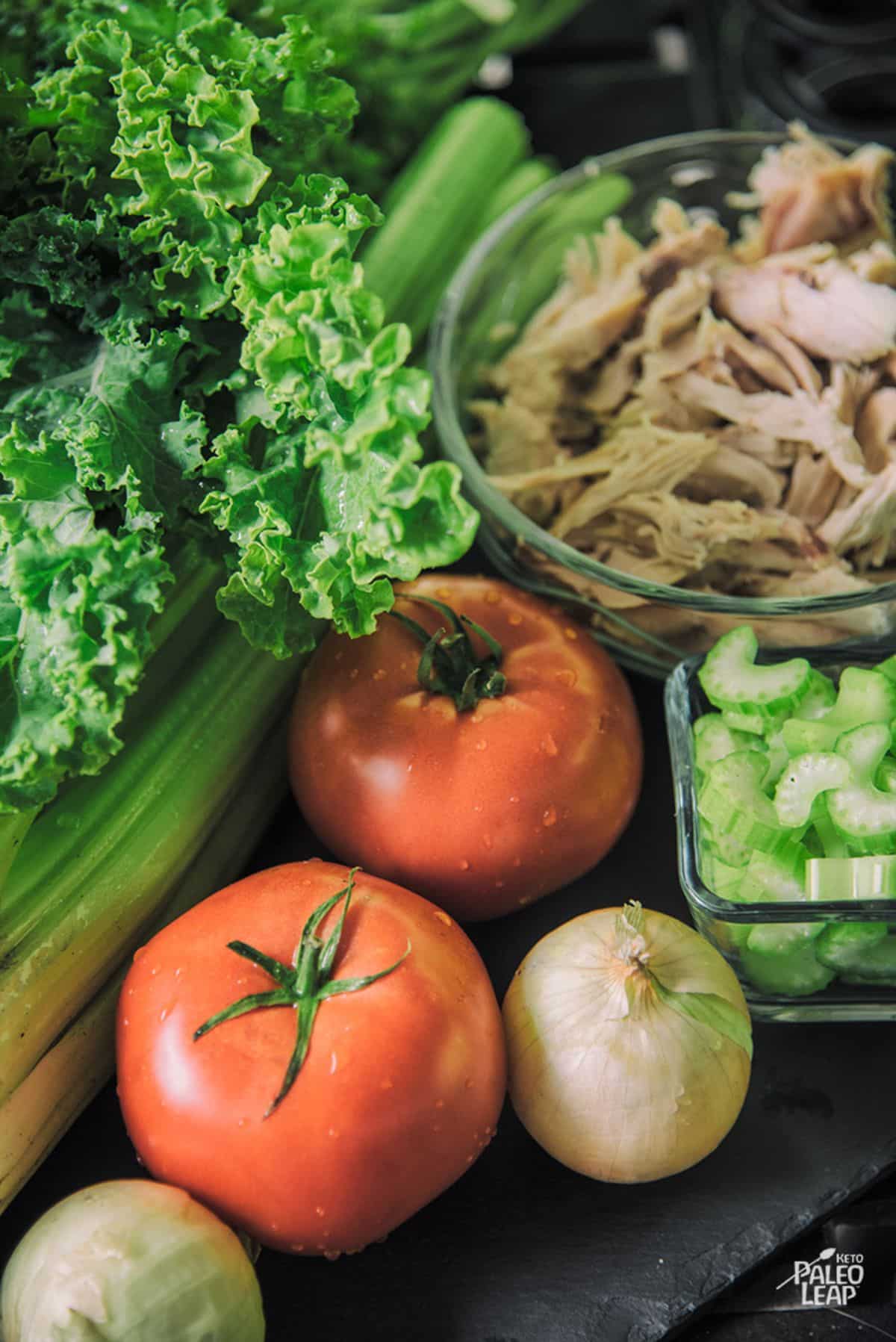 Preparation
Place all the ingredients in a slow cooker - except the kale.
Season generously to taste, cover and cook for 4 to 6 hours on low.
Add the kale to the soup and cook on high for another 25 to 30 minutes or until the kale has softened.
Adjust the seasoning and serve.
📖 Recipe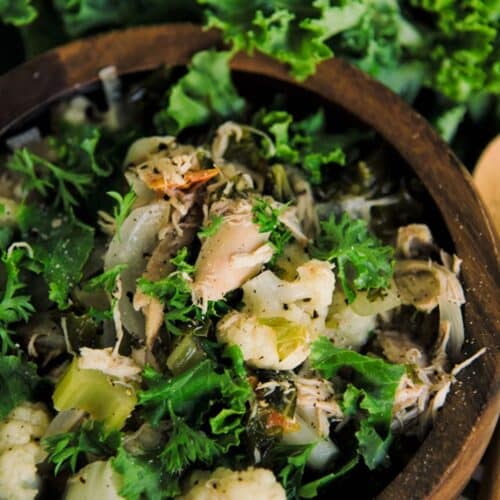 Keto Slow Cooker Chicken Soup Recipe
There is something extremely refreshing, and nourishing, about soups with few ingredients, keto slow cooker chicken soup is one to welcome into your life!
Ingredients
4

cups

chicken

cooked and chopped

1

small cauliflower head

chopped

2

cups

tomato

diced

1

onion diced

4

celery stalks

diced

3 to 4

cups

fresh kale

chopped

2

garlic cloves

minced

4 to 5

cups

of chicken stock
Instructions
Place all the ingredients in a slow cooker – except the kale.

4 cups chicken,

1 small cauliflower head,

2 cups tomato,

1 onion diced,

4 celery stalks,

3 to 4 cups fresh kale,

2 garlic cloves,

4 to 5 cups of chicken stock

Season generously to taste, cover and cook for 4 to 6 hours on low.

Add the kale to the soup and cook on high for another 25 to 30 minutes or until the kale has softened.

Adjust the seasoning and serve.

Sea salt and freshly ground black pepper
Nutrition
Calories:
284
kcal
Carbohydrates:
24
g
Protein:
21
g
Fat:
12
g
Saturated Fat:
3
g
Polyunsaturated Fat:
3
g
Monounsaturated Fat:
5
g
Trans Fat:
0.1
g
Cholesterol:
48
mg
Sodium:
459
mg
Potassium:
1192
mg
Fiber:
6
g
Sugar:
10
g
Vitamin A:
5742
IU
Vitamin C:
130
mg
Calcium:
191
mg
Iron:
3
mg