Let's say that you've grown tired of having chicken tikka masala for lunch as if that would ever happen(!), and you are looking for a change. We'll leave the ginger, coconut milk, and some fragrant spices in this dish, but omit the chicken in favor of cauliflower for a lighter meal.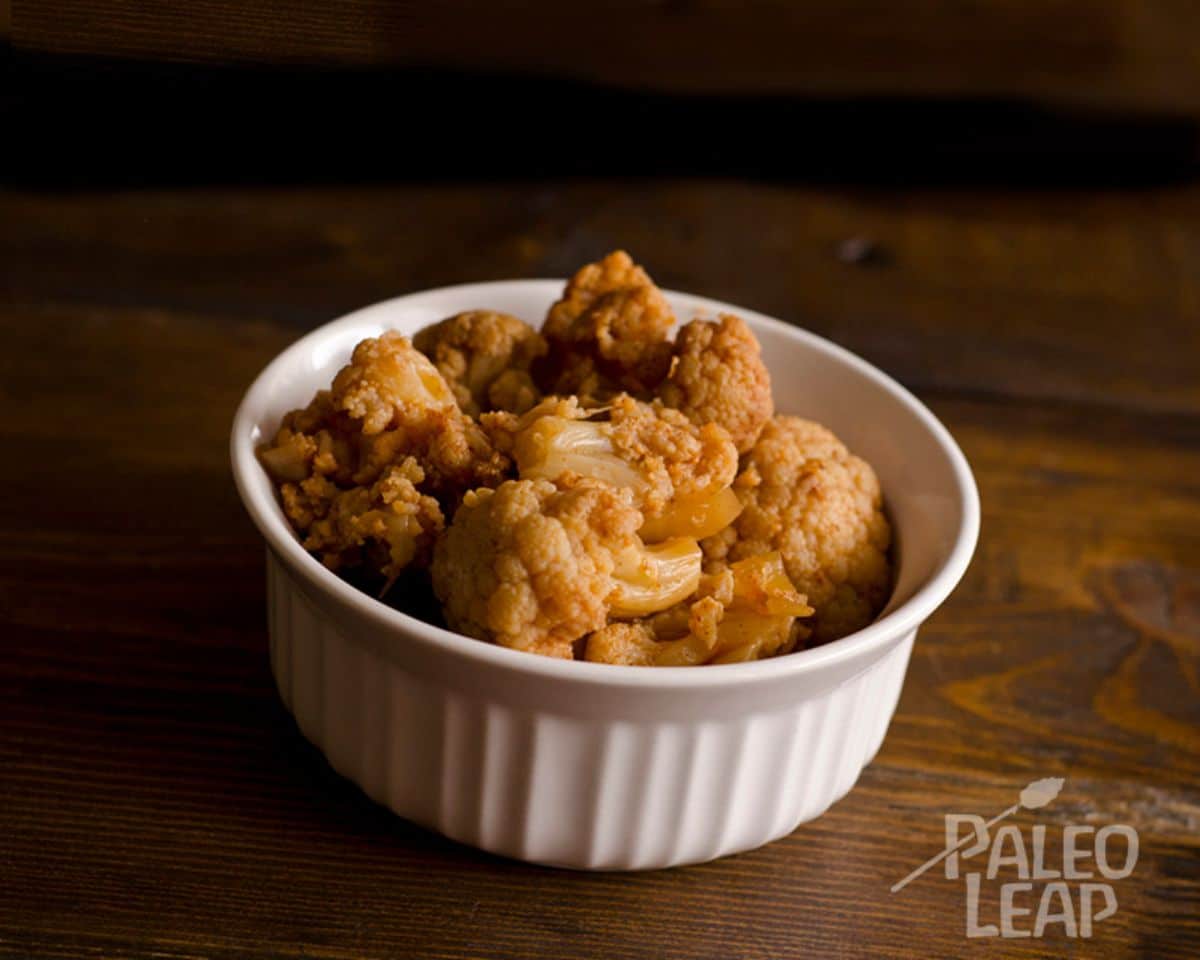 What we end up with, is a side dish that greatly desires to be the change in your vegetable-conscious household. If you have never ventured into sampling curried purple sweet potatoes, you'll want to get on that, too, starting with the next meal!
Cauliflower is renowned in the gluten-free Paleo keto world, for its low carbs, yet it subtly offers so much more than that. It is a cruciferous vegetable that is extremely versatile - while it can be made into a pizza crust, mashed "potatoes", or tortillas, it can also be riced and made into a delicious hummus, or added to soups.
Versatility aside, cauliflower brings an array of antioxidants to the plate, alongside numerous vitamins and minerals like vitamin C and vitamin K . It may help boost your memory and brain function, at the same time acting as an anti-inflammatory.
The next time you are searching for enticing recipes with cauliflower as the main ingredient, why not try a warming bowl of cauliflower chowder, coconut milk, and Indian spices included?
Slow Cooker Curried Cauliflower Recipe
Serves: 4 Prep: 10 min Cook: 2 h 30 min
Ingredients
1 head cauliflower
1 cup onion, chopped
2 tbsp. ginger, minced
2 tbsp. red Thai curry paste
1 ½ cups vegetable broth
½ cup coconut milk
¼ cup fresh basil, finely chopped
Salt and pepper to taste
Preparation
Cut cauliflower into large florets.
In the slow cooker, combine the cauliflower, onion, and ginger.
In a small bowl, whisk the broth and curry paste together; pour over the vegetables in the slow cooker.
Cook on high for 2 hours and 30 minutes.
Once cooked, mix in coconut milk and sprinkle with fresh basil.
📖 Recipe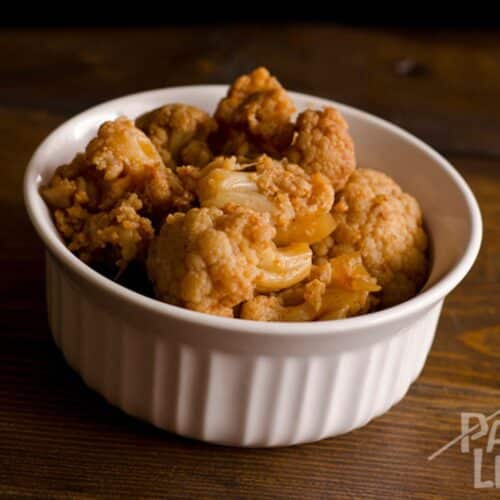 Slow Cooker Curried Cauliflower Recipe
Slow cooker curried cauliflower is a flavorful Indian-inspired side dish without the protein, yet it captures all the notes of a land far away.
Ingredients
1

head cauliflower

1

cup

onion

chopped

2

tbsp.

ginger

minced

2

tbsp.

red Thai curry paste

1 ½

cups

vegetable broth

½

cup

coconut milk

¼

cup

fresh basil

finely chopped

Salt and pepper to taste
Instructions
Cut cauliflower into large florets.

In the slow cooker, combine the cauliflower, onion, and ginger.

1 head cauliflower,

1 cup onion,

2 tbsp. ginger,

Salt and pepper to taste

In a small bowl, whisk the broth and curry paste together; pour over the vegetables in the slow cooker.

2 tbsp. red Thai curry paste,

1 ½ cups vegetable broth

Cook on high for 2 hours and 30 minutes.

Once cooked, mix in coconut milk and sprinkle with fresh basil.

½ cup coconut milk,

¼ cup fresh basil
Nutrition
Calories:
123
kcal
Carbohydrates:
14
g
Protein:
4
g
Fat:
7
g
Saturated Fat:
6
g
Polyunsaturated Fat:
0.2
g
Monounsaturated Fat:
1
g
Sodium:
402
mg
Potassium:
555
mg
Fiber:
4
g
Sugar:
6
g
Vitamin A:
1432
IU
Vitamin C:
73
mg
Calcium:
59
mg
Iron:
2
mg