Kung Pao, or Kung Po, chicken may frequently appear on Chinese takeout menus, and you may even have a dark craving at the mere thought of biting into it, though if you want a low-carb, gluten-free version, you will have to get inventive in the kitchen.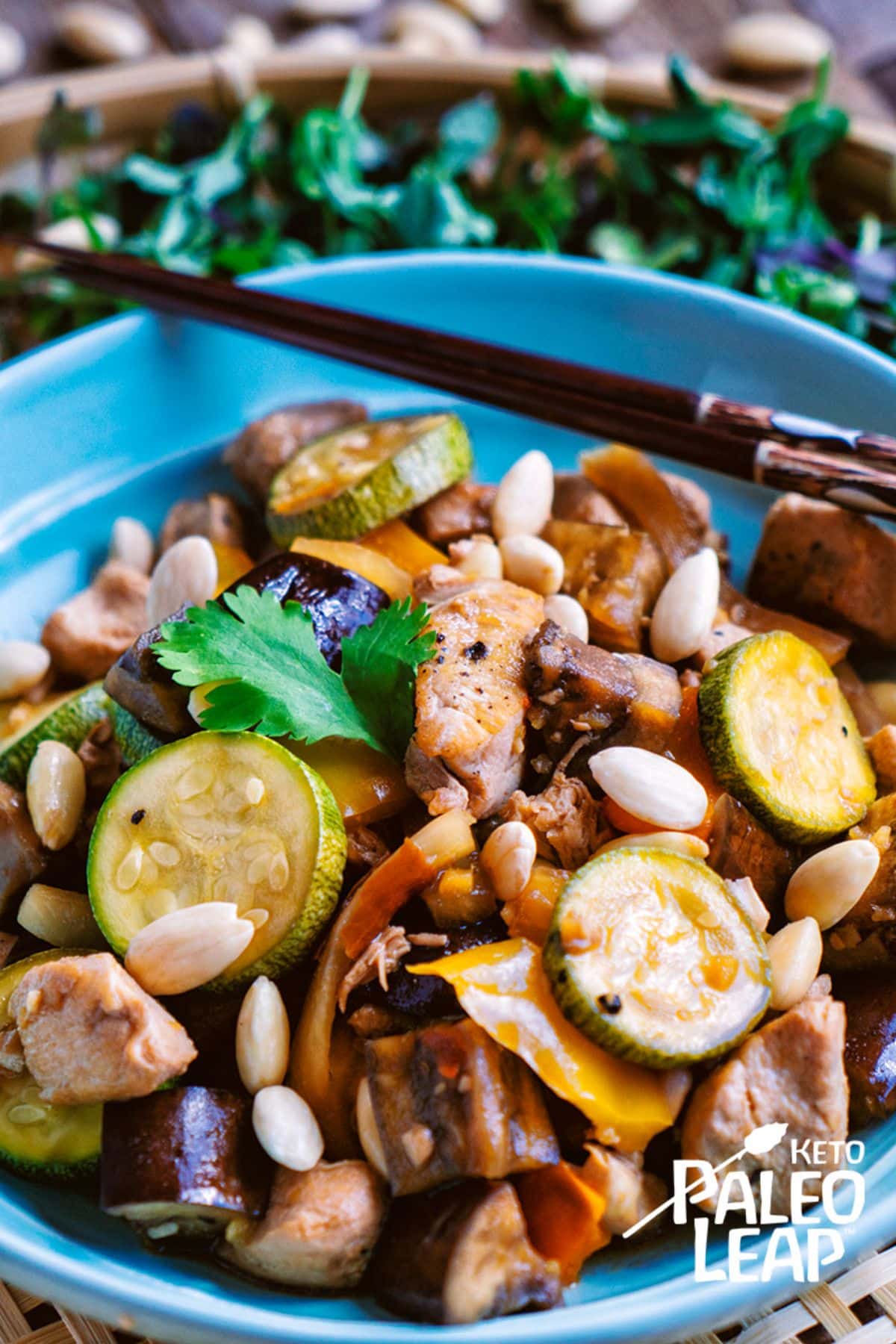 That's what we do when we desire the flavors that we used to eat: we recreate a better, healthier version of a classic. Now, it doesn't always turn out the same, often, it takes trial and error, but this recipe is golden. You will know for a fact that you are eating Chinese food, and you can be certain that every ingredient in it is life-giving.
In the past, variations of meat in Kung Pao included shrimp and frog legs, but we will stick with the traditional chicken breasts here for the sake of simplicity.
One other thing that we will be skipping in our keto version is the peanuts, or cashews, which were often roasted whole at the bottom of the pan before the other ingredients were added.
And instead of making this a stir-fry, we are opting for the slow cooker - we are really changing things up here! Yet, all the vegetables are here to savor, and the coconut aminos and fish sauce will make this taste amazing.
If the thought of Chinese food makes your mouth water, why not serve an appetizer of Chinese chicken salad, skipping the cashews to keep it keto while you wait?
Keto Slow Cooker Kung-Pao Chicken Recipe
Serves: 4 Prep: 25 min Cook: 8 h
Ingredients
3 to 4 chicken breasts, boneless & skinless, cut into cubes
1 bell pepper, diced
1 zucchini, sliced
½ eggplant, chopped
1 daikon radish, julienned
½ cup coconut aminos
½ cup water
1 tbsp. fish sauce
4 garlic cloves, minced
1 tbsp. fresh ginger, minced
½ tsp. dried red pepper chili flakes
2 lemongrass stalks
2 tbsp. coconut flour
Fresh cilantro, for garnish
Raw almonds, for garnish
Sea salt and freshly ground black pepper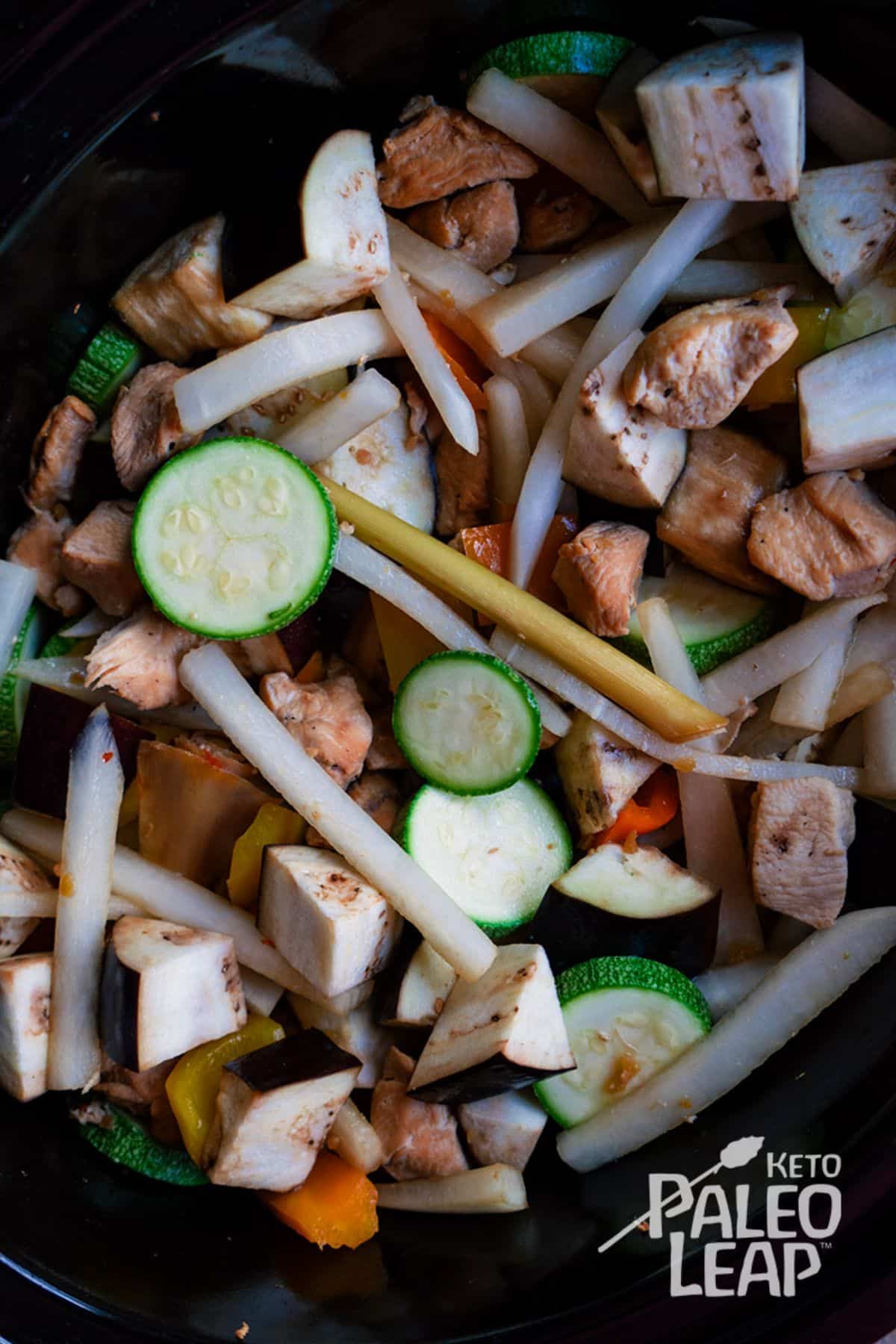 Preparation
In a bowl, combine the coconut aminos, water, fish sauce, garlic, ginger, and chili flakes; season to taste and whisk well.
Add the chicken, bell pepper, zucchini, eggplant, and daikon to a slow cooker.
Pour the sauce over the chicken and gently toss; top with the lemongrass.
Cover and cook on low for 6 to 8 hours.
In a bowl, combine the coconut flour with equal parts water and whisk until well emulsified.
Pour the sauce from the slow cooker into a saucepan and bring it to a boil.
Add the coconut flour slurry to the saucepan and whisk until it thickens.
Pour the sauce back into the slow cooker, toss everything and serve topped with fresh cilantro and almonds if desired.
📖 Recipe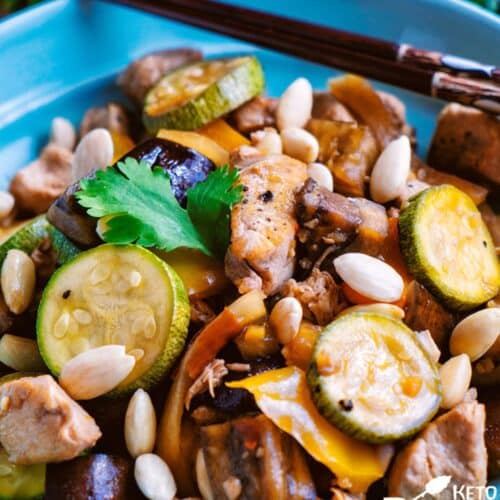 Keto Slow Cooker Kung-Pao Chicken Recipe
A modern twist on a traditional dish: keto slow-cooker Kung Pao chicken will satisfy your taste buds with Chinese influences and red pepper flakes.
Instructions
In a bowl, combine the coconut aminos, water, fish sauce, garlic, ginger, and chili flakes; season to taste and whisk well.

½ cup coconut aminos,

½ cup water,

1 tbsp. fish sauce,

4 garlic cloves,

1 tbsp. fresh ginger,

½ tsp. dried red pepper chili flakes,

Sea salt and freshly ground black pepper

Add the chicken, bell pepper, zucchini, eggplant, and daikon to a slow cooker.

3 to 4 chicken breasts,

1 bell pepper,

1 zucchini,

½ eggplant,

1 daikon radish

Pour the sauce over the chicken and gently toss; top with the lemongrass.

Cover and cook on low for 6 to 8 hours.

In a bowl, combine the coconut flour with equal parts water and whisk until well emulsified.

Pour the sauce from the slow cooker into a saucepan and bring it to a boil.

Add the coconut flour slurry to the saucepan and whisk until it thickens.

Pour the sauce back into the slow cooker, toss everything and serve topped with fresh cilantro and almonds if desired.

Fresh cilantro,

Raw almonds
Nutrition
Calories:
337
kcal
Carbohydrates:
24
g
Protein:
44
g
Fat:
6
g
Saturated Fat:
2
g
Polyunsaturated Fat:
1
g
Monounsaturated Fat:
2
g
Cholesterol:
110
mg
Sodium:
1104
mg
Potassium:
923
mg
Fiber:
7
g
Sugar:
9
g
Vitamin A:
1185
IU
Vitamin C:
70
mg
Calcium:
68
mg
Iron:
3
mg