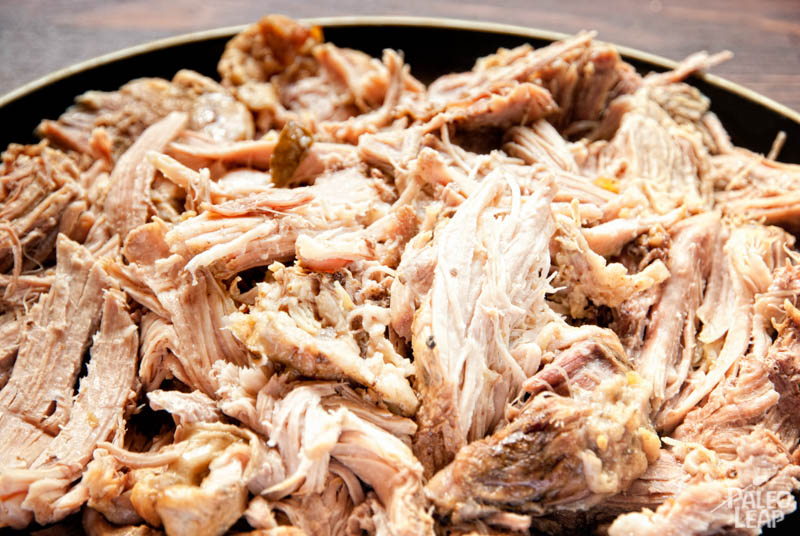 Pulled pork is a favorite in many dinners across America and consists of a slow cooked pork shoulder or butt roast with the tender cooked meat pulled apart in shreds. Both pork shoulder or butt roasts are usually very cheap cuts of meat and are a great way to enjoy delicious meat when on a budget.
The pork cut used to prepare pulled pork is often marinated and cooked with a flavorful combination of spices and flavorings. Of course, many pulled pork recipes will call for unhealthy combinations of flavors like sodas, brown sugar or sugary sauces, but homemade pulled pork can easily be prepared with delicious and healthy spices.
It can be prepared in the oven, on the barbecue, in a crock-pot or in a smoker. In the following recipe, the pork roast in cooked in the oven for about 6 hours, until the meat is so tender that it almost melts in your mouth.
Probably the most popular and unhealthy way to enjoy pulled pork is between two buns in a pulled pork sandwich, but it can be enjoyed on its own or with many different sides with great success. It's especially great when served with a coleslaw, braised or creamed green leafy vegetables, a simple salad, or a tart cranberry sauce.
Here we combine the spicy pulled pork with a delicious sauce made with apple cider vinegar, homemade ketchup and homemade mustard.
Spicy pulled pork recipe
Serves 8-10

Values are per portion. These are for information only & are not meant to be exact calculations.
Ingredients
1 pork shoulder or butt roast, about 5-6 lbs;
3 tbsp smoked paprika;
1 tbsp garlic powder;
1 tbsp dry mustard;
3 tsp sea salt;
Spicy sauce ingredients
1 1/2 cups apple cider vinegar;
1/2 cup homemade ketchup;
1 cup Dijon or homemade mustard;
2 garlic cloves, minced;
1 tsp cayenne pepper;
1 tsp sea salt;
1/2 tsp freshly ground black pepper;
Preparation
Prepare the dry rub by combining the paprika, garlic powder, dry mustard and sea salt in a bowl.
Rub the pork roast all over with the spice rub and place in the refrigerator for the flavors to penetrate the meat for a minimum of 1 hour, but up to overnight. If marinating only for 1 or 2 hours, leave the roast at room temperature to marinate.
Preheat your oven to 300 F.
Place the marinated pork shoulder or butt in the oven in a baking pan for about 6 hours, until the meat is almost falling apart and is very fork tender.
While the pork is cooking, prepare the sauce by combining together the apple cider vinegar, ketchup, mustard, garlic, cayenne pepper, salt and pepper in a small pot or saucepan.
Gently bring to a simmer, stirring occasionally, and simmer for about 10 minutes.
When the pork roast is ready, remove it from the oven and let it rest for 10 minutes.
Pull the meat apart from the roast with two forks and place the meat shreds in a bowl.
Combine the spicy sauce with the pulled pork and serve the delicious and tender meat with your favorite side of salad.