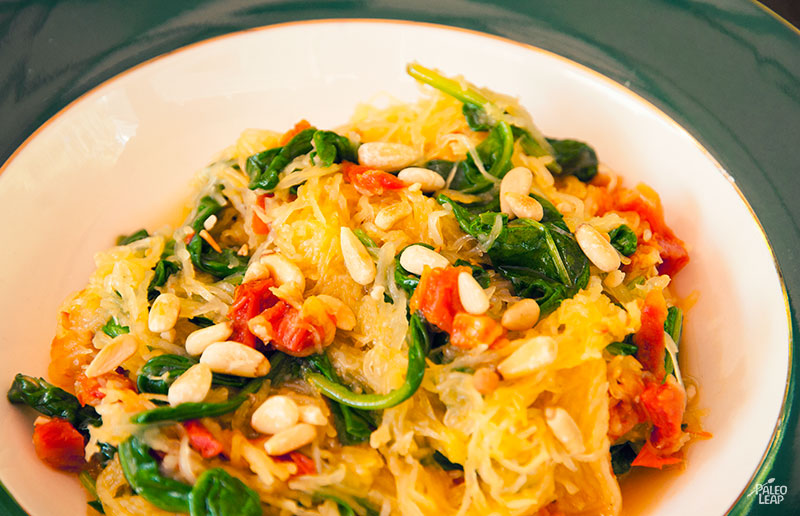 Enjoy all the good parts about pasta, but skip the stomachache afterward with this 100% Paleo "pasta" made from spaghetti squash. If you've never worked with spaghetti squash before, it's very easy – all you have to do is remove the seeds, bake it, and then scrape out the flesh with a fork; the insides naturally come out in long, noodle-y strings. From there, you could simply serve your "pasta" with tomato sauce for some instant comfort food, but there's a whole world of possibilities beyond that – including this one!
Here the sun-dried tomatoes keep a lighter hint of the classic flavor, but it's toned down a little for a more summery and sophisticated version with no "sauce" per se, just vegetables and pine nuts. The spinach adds a fresh pop of color, and the nuts finish everything off with a crunch. Add some red pepper flakes for spice, and you're all ready to enjoy!
To make a full meal out of this, you could easily top it with any leftover meat you have. Try meatballs, chicken breast, or anything else convenient, or quickly fry up a couple of sausages. If you tolerate dairy well, grated parmesan would also be a nice topping (although it's not a substitute for animal protein!). Or just serve it as a side for a salmon fillet or any other main dish that could use a vegetable. If you've been craving a pasta side for anything, this is a delicious way to get some noodles in with no need to compromise on Paleo.
Spinach and Sun-Dried Tomato Pasta Recipe

SERVES: 4

PREP: 15 min.

COOK: 30 min.

Values are per portion. These are for information only & are not meant to be exact calculations.
Ingredients
1 spaghetti squash, large & halved lengthwise and seeded;
12 dehydrated sun-dried tomatoes;
2 tbsp. pine nuts, roasted;
¼ tsp. crushed red pepper flakes;
1 clove garlic, minced;
1 bunch fresh spinach, torn into bite-sized pieces;
½ cup chicken stock;
Sea salt and freshly ground black pepper;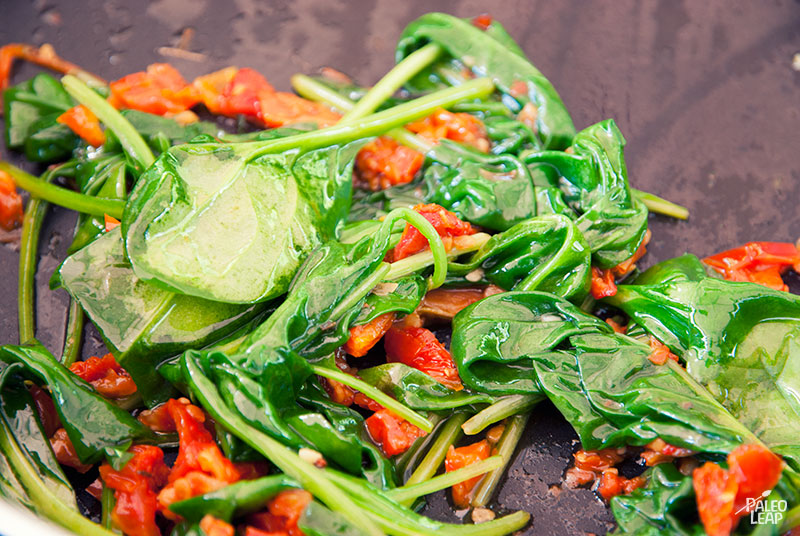 Preparation
Preheat your oven to 350 F.
Place the spaghetti squash, cut side down, on a baking sheet and bake for 30 minutes in the preheated oven.
Bring the stock to a boil in a small saucepan, then add in the sun-dried tomatoes and let everything simmer for 15 minutes.
Drain the stock into a separate bowl and set aside. Coarsely chop the sun-dried tomatoes.
Remove the squash from oven and set aside until it's cool enough to handle.
Use a fork or spoon to scoop the stringy pulp from the squash; place it in a bowl and set aside.
Heat some cooking fat in a skillet placed over a medium heat and add the garlic and red pepper flakes to cook for 1 minute.
Add in the spinach, and cook until almost wilted. Pour in the reserved stock, and stir in the chopped sun-dried tomatoes.
Look over at the bowl of spaghetti squash. If there's any extra water, drain it out.
Add the squash to the skillet, mix everything well, cook for 1 or 2 more minutes, and serve warm.