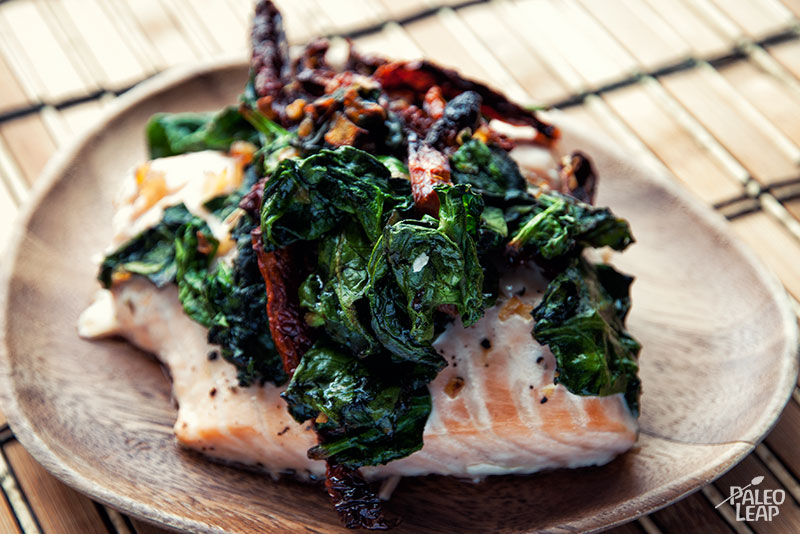 Catherine de Medici was born in the Italian city of Florence – and even though she later became queen of France, her enduring love for anything cooked with spinach still earned spinach dishes the name of "Florentine" in honor of her native city. As queen, Catherine raised three French kings, ruled the country as a regent for 14 years, and took an active role in government almost up to her death at age 69 of a lung infection: clearly, all that spinach was doing something good!
The rest of us probably can't become epoch-making monarchs just by eating our greens. But spinach is still one of the healthiest greens you can eat, and in this recipe, baked over a fresh fillet of salmon, it's delicious as well. You can either use fresh or frozen spinach for this dish; the frozen isn't actually less nutritious, and at times it can be a lot more convenient.
Salmon Florentine also typically involves ricotta cheese. I've skipped it here, but if you tolerate dairy well you can always add some in. With or without the cheese, though, this is an elegant dinner that's loaded with flavor: the sun-dried tomatoes add a lot of richness without being overwhelming, and the red pepper flakes give everything a nice bite. In fact, you might even think it's a dinner fit for a queen!
Salmon Florentine Recipe

SERVES: 4

PREP: 12 min.

COOK: 20 min.

Values are per portion. These are for information only & are not meant to be exact calculations.
Ingredients
4 skinless salmon fillets (6 oz. each), rinsed and patted dry;
10 oz. fresh spinach;
¼ cup shallots, minced;
4 garlic cloves, minced;
5 sun-dried tomatoes, chopped;
¼ tsp. red pepper flakes;
Sea salt and freshly ground black pepper to taste;
Coconut oil;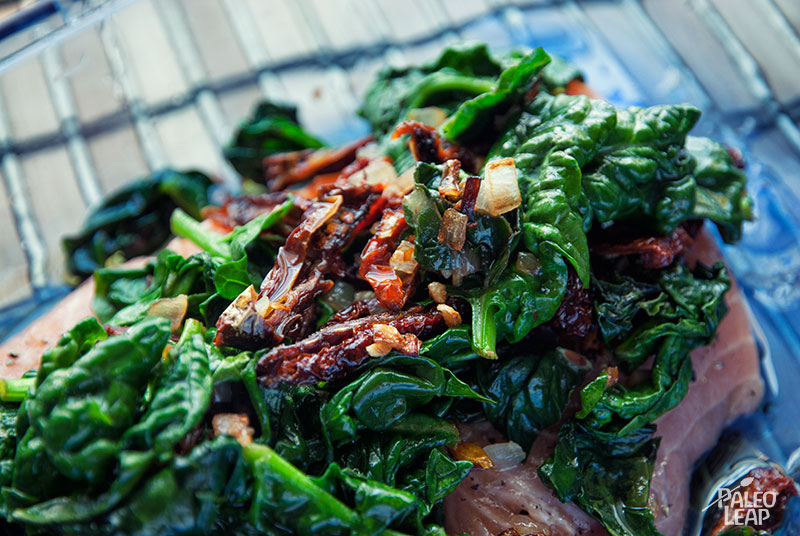 Preparation
Preheat your oven to 350 F.
Heat the coconut oil in a skillet placed over a medium heat.
Add the shallots and cook until soft, about 3 minutes, stirring occasionally.
Add the garlic and cook for another minute. Add the spinach, sun-dried tomatoes, and pepper flakes. Cook for another 2 to 3 minutes and season to taste.
Remove the vegetables from the heat and set aside.
Season with salt and pepper each salmon filet to taste and line them up in a baking dish.
Top each filet with the spinach mixture and place in the oven.
Bake for 15 to 20 minutes or until the fish is just cooked through.