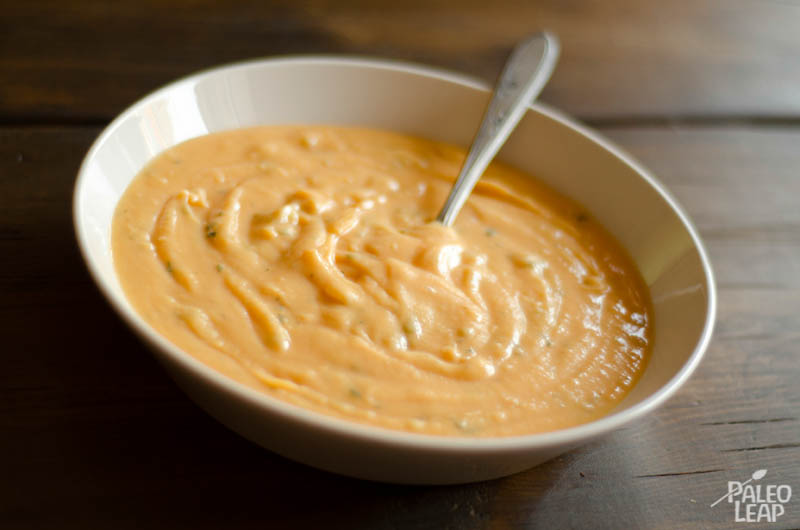 I recently had the opportunity to visit this very small rural town with a population of about 6,000. Perhaps many would consider this to be a generous sized small town; however, for me, it is quite small. It's not just the small population that gave me this feeling, but the fact that there was one main street that ran maybe three blocks with only a handful of shops. Restaurants were never full except for Sunday morning breakfast and the street was fast asleep by 11 pm on both Friday and Saturday night. It was nice and peaceful and most of all, homey. One of the fondest memories of my visit was food related. I grabbed lunch at a small cafe, one of the two found in the whole town, where the owner does all the cooking and baking and works 7 days a week.
Her menu was very small and there were limited options for me; however, it was the sweet potato lime soup that appealed to me most. It seemed like a creative combination of flavors. Sweet potato soups in general are always good, but I find them more suitable for the colder seasons, as they are usually quite heavy and filling. That being said, just a hint of lime completely changes the taste profile, making it lighter and suitable for the summer season as well. Unfortunately, I did not walk out of that restaurant with her recipe, but this following recipe is a very close approximation and is just as delicious.
Even though the lime juice makes this soup feel lighter, the use of sweet potatoes and coconut milk still make this soup pretty filling. In some instances, it can even be enjoyed as the main dish of a meal alongside a simple salad. It's then a perfect occasion to eat less protein, which can be a healthy practice to do sporadically, as discussed in my article about the perfect macronutrient ratios. In a nutshell, eating less protein from time to time promotes autophagy, which is good for the immune system and to eliminate infections.
Like most paleo diet recipes, this one is not only delicious, but also very nutritious. Both the lime juice and sweet potatoes are a great source of vitamin C, while sweet potatoes are also a good source of potassium, vitamin B6, beta carotene and manganese. Homemade chicken stock is a good source of gelatin and many trace minerals. Also, it goes without saying that both coconut milk and sweet potatoes are a great source of clean energy. Healthy saturated fat from the coconut milk and good starchy carbohydrates from the sweet potatoes.
If you can't find them, you can omit the lime leaves leaves from the recipe. Usually though, you should be able to find them in most ethnic food stores.
Sweet potato lime soup recipe
Serves 4

Values are per portion. These are for information only & are not meant to be exact calculations.
Ingredients
3 medium sweet potatoes, peeled and cut into chunks;
4 cups chicken stock;
3 thin slices fresh ginger;
2 lime leaves;
¾ cup coconut milk;
½ cup water;
2 tbsp lime juice;
2 tbsp cilantro, finely chopped;
Sea salt and freshly ground black pepper to taste;
Preparation
In a large sauce pan over a medium-high heat, combine the sweet potatoes, chicken stock, ginger and lime leaves. Allow the contents to come o a boil and then turn the heat down to medium-low and continue to simmer for about 20 minutes, or until the potatoes are tender to the touch.
Remove the lime leaves and maybe even the ginger if you prefer. I kept the ginger in, as I love the taste; however, if you are not a huge fan, you will find that leaving it in makes it very strong.
Remove the soup from the heat and use a hand-mixer or a blender to blend the soup until completely smooth. Return the soup to a low heat and mix in the coconut milk, water and lime juice. Season to taste with salt and pepper. Stir well. You will know everything is mixed correctly once the coconut milk is completely blended in.
You can remove the pot from the heat at this point and sprinkle the chopped cilantro on top prior to serving. I hope you'll enjoy it as much as I did!