Say "sweet," and onions are usually the last food that comes to anyone's mind. But once they're cooked up, they really have a nice sweetness, and the taste goes well with the sweet potatoes and the savory homemade chicken stock.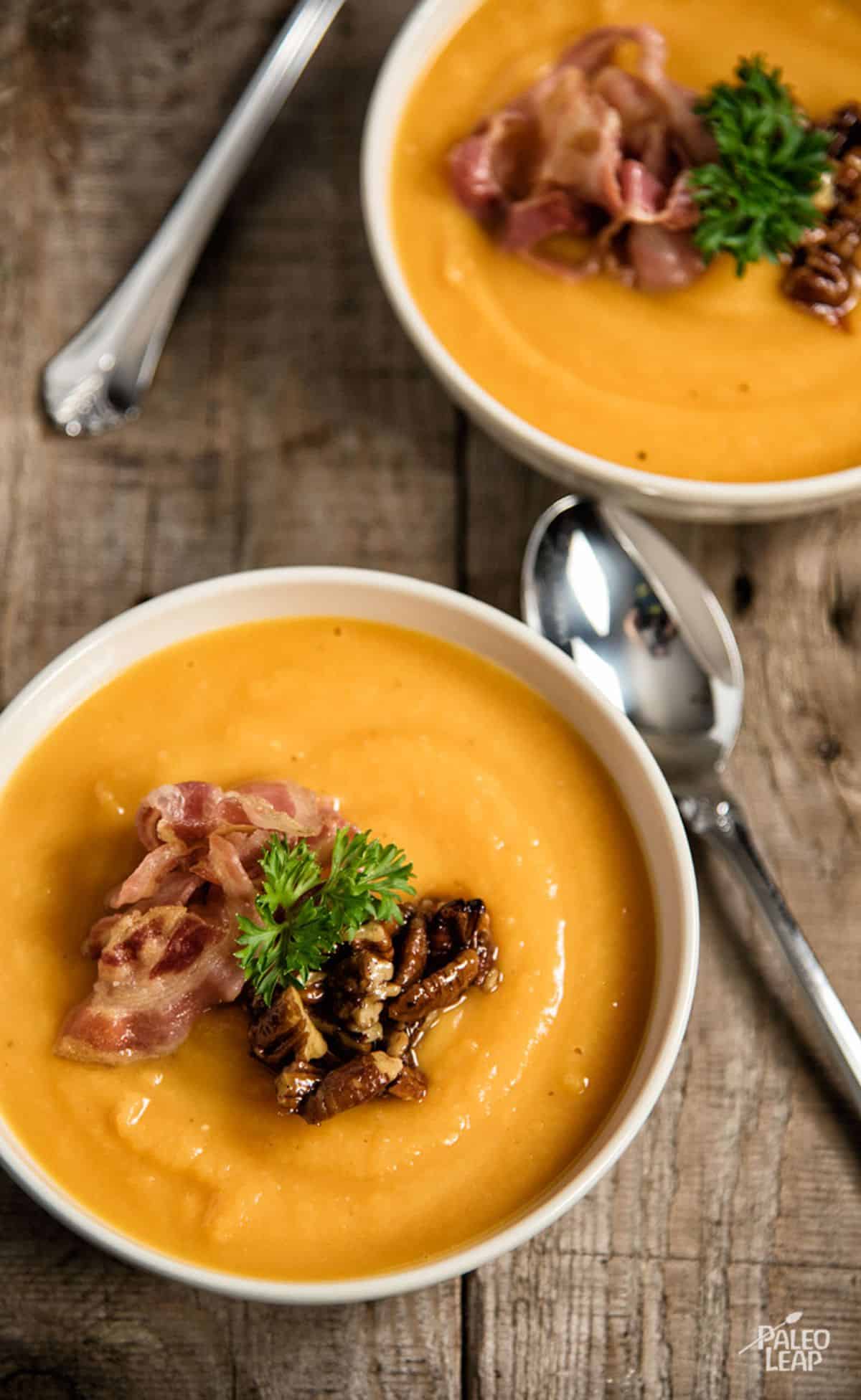 If your holiday menu typically includes sweet potatoes, but you want to switch it up a little, this would be an interesting alternative to mashed/roasted/candied preparations, but it's also easy enough to make just for dinner, without any particular occasion.
This would make a very easy soup to make in bulk now (minus the garnishes) and freeze for a busy week during the holiday season when salad just isn't cutting it as a side dish. Wouldn't it be nice to have something already in the freezer and just need a quick to defrost?
If you serve this soup without the garnishes, it's a basic-but-tasty pureed sweet potato soup. But if you want something special on top, the optional pancetta and pecans make a crunchy-salty topping that really brings out the other flavors.
Sweet Potato And Onion Soup Recipe
SERVES: 4 PREP: 15 min COOK: 25 min
Ingredients
5 cups sweet potatoes, peeled and chopped
2 onions, chopped
4 garlic cloves, peeled and halved
4 cups chicken stock
½ tsp. ground cinnamon
8 slices pancetta, cooked until crispy (optional)
¼ cup pecans, roasted and coarsely chopped (optional)
Fresh parsley
2 tbsp. coconut oil
Sea salt and freshly ground black pepper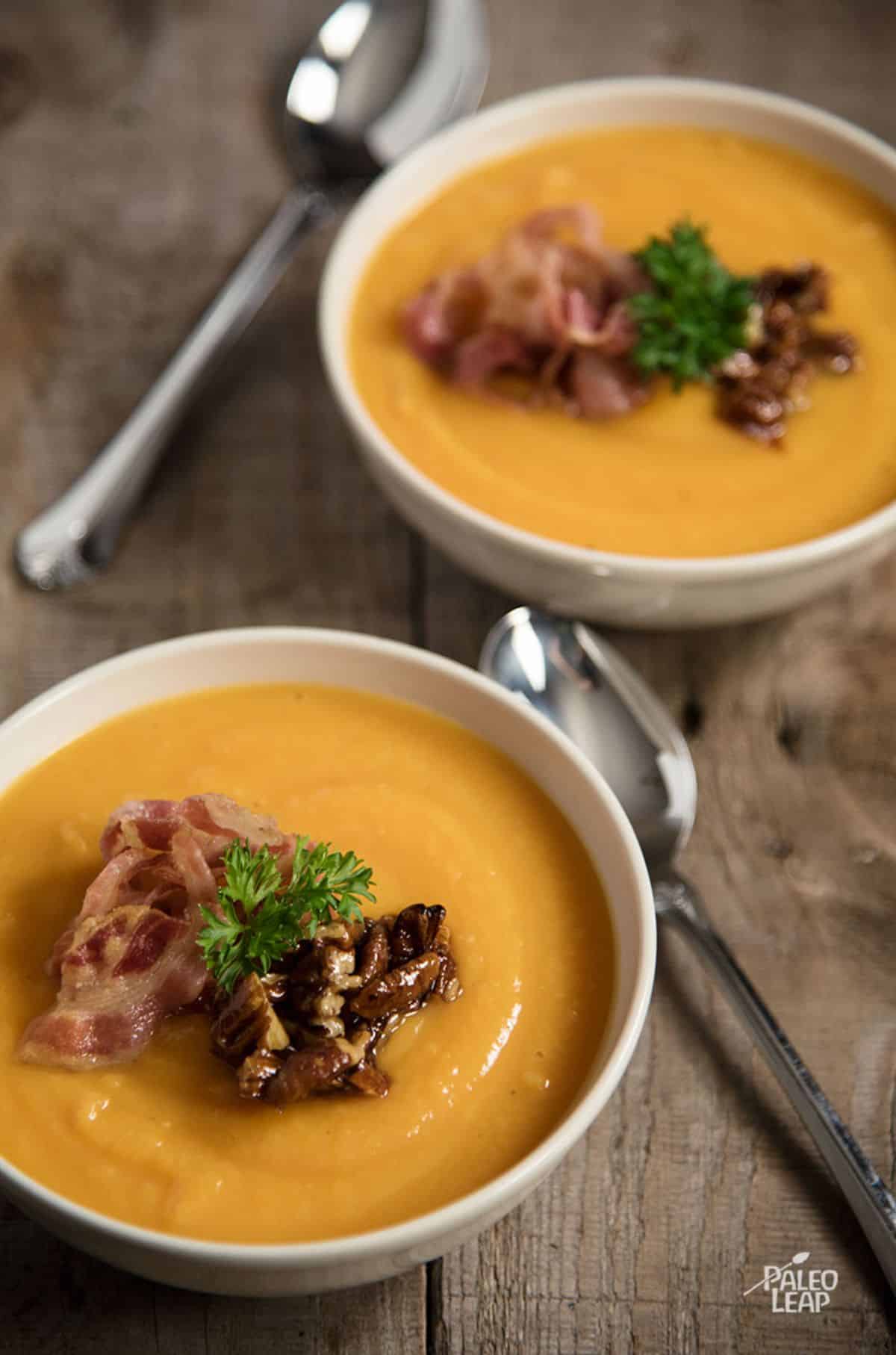 Preparation
In a large saucepan, melt the coconut oil over medium-high heat.
Add onion and garlic and cook until soft.
Add the sweet potatoes and cook for about 4 minutes.
Pour in the broth. Bring to a boil; then lower heat, and simmer, covered, for about 20 minutes or until the potatoes are tender.
In a blender or using an immersion blender, purée the soup until smooth.
Sprinkle the soup with cinnamon, and season to taste.
Serve immediately in bowls topped with pancetta, roasted pecans, and fresh parsley.
📖 Recipe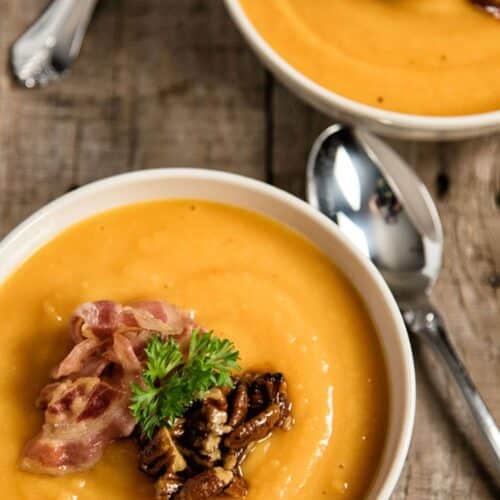 Sweet Potato And Onion Soup Recipe
Creamy sweet potato soup topped with crisp pancetta and crunchy roasted pecans
Instructions
In a large saucepan, melt the coconut oil over medium-high heat.

Add onion and garlic and cook until soft.

2 onions,

4 garlic cloves

Add the sweet potatoes and cook for about 4 minutes.

5 cups sweet potatoes,

4 cups chicken stock

Pour in the broth. Bring to a boil; then lower heat, and simmer, covered, for about 20 minutes or until the potatoes are tender.

In a blender or using an immersion blender, purée the soup until smooth.

Sprinkle the soup with cinnamon, and season to taste.

Sea salt and freshly ground black pepper,

½ tsp. ground cinnamon

Serve immediately in bowls topped with pancetta, roasted pecans, and fresh parsley.

8 slices pancetta,

¼ cup pecans,

Fresh parsley
Nutrition
Calories:
473
kcal
Carbohydrates:
52
g
Protein:
13
g
Fat:
24
g
Saturated Fat:
11
g
Polyunsaturated Fat:
3
g
Monounsaturated Fat:
8
g
Trans Fat:
0.04
g
Cholesterol:
26
mg
Sodium:
650
mg
Potassium:
963
mg
Fiber:
7
g
Sugar:
16
g
Vitamin A:
23607
IU
Vitamin C:
9
mg
Calcium:
88
mg
Iron:
2
mg