Tacos are incredibly delicious; in fact, they may be one of the best foods ever invented. If you are used to corn tortillas and refried beans, sometimes it is hard to make the Paleo switch, but this recipe will show you a different way a taco can be.
So forget the crunch, and get your soup on instead. The flavors of Mexico are still in there, and they will tempt your taste buds with every spoonful.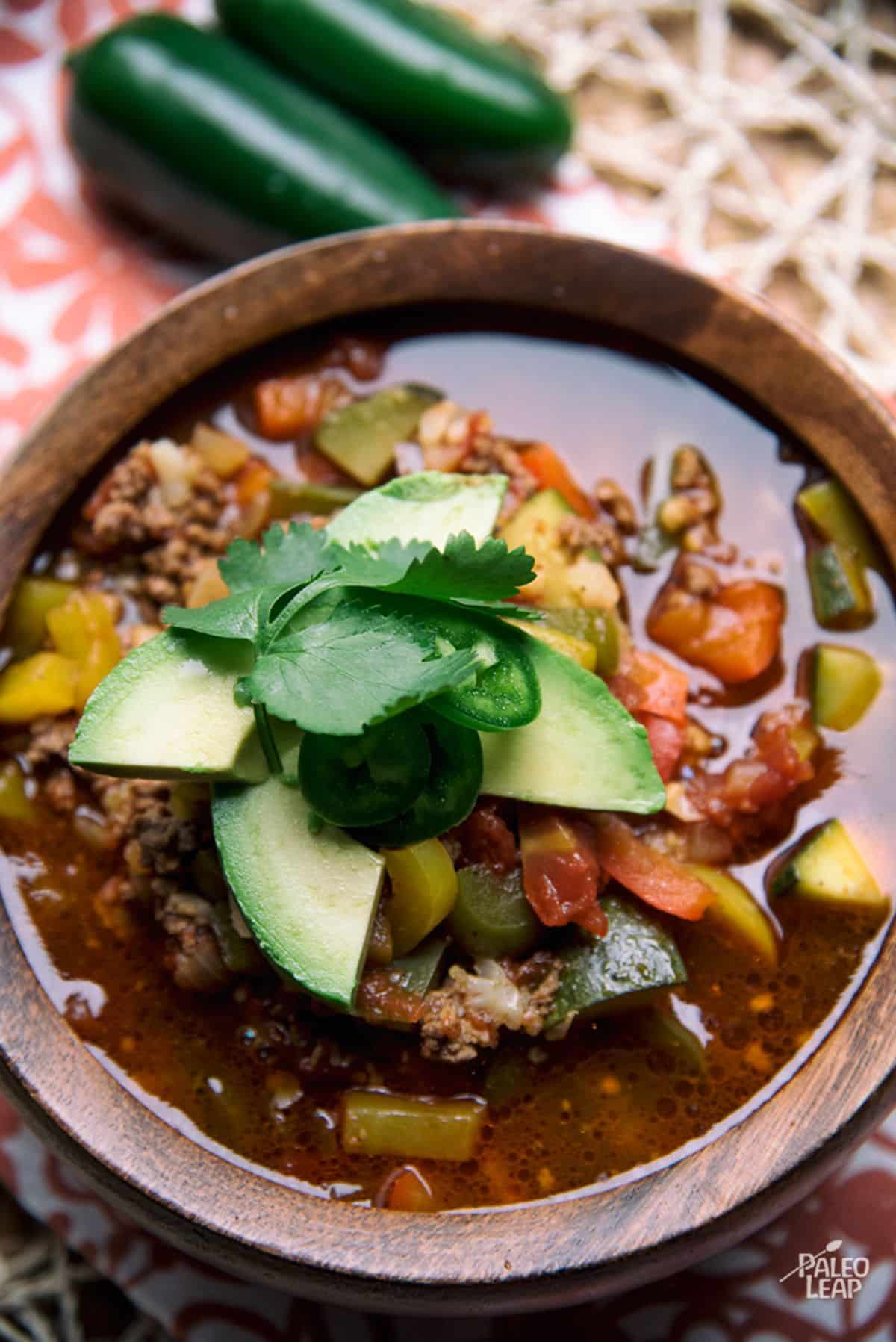 This taco soup takes about an hour on the stove but could easily be made in a slow cooker to have it bowl-ready when you come home from work or school.
However you decide to make it, don't skimp on the ingredients; follow them in order and make sure they are plentiful. If you enjoy life on the spicy side, you can add an extra jalapeño to the pot, or rather chop it up fresh on the side and let everyone add their own. A little dollop of coconut cream on top? Yes, please!
The amount of ground beef is plentiful in this recipe, and this turns it into a thick, stew-like soup, but you can change it up however you like. Add a little more beef stock to thin it out, use chicken instead of beef, toss in a sweet potato or two for a creamier version, and - by all means - be sure to make fresh lemonade with thyme to sip between the spicier bites.
Paleo Taco Soup Recipe
Serves: 4 Prep: 25 min Cook: 45 min
Ingredients
2 lbs. ground beef
1 zucchini, diced
1 red onion, diced
2 bell peppers diced
1 jalapeño, minced
2 cups tomatoes, diced
2 garlic cloves, minced
4 tbsp. chili powder
2 tbsp. ground cumin
1 tsp. paprika
1 cup tomato sauce
4 cups beef stock
1 tbsp. cooking fat
Fresh cilantro (to garnish)
1 avocado, sliced (optional)
Sea salt and freshly ground black pepper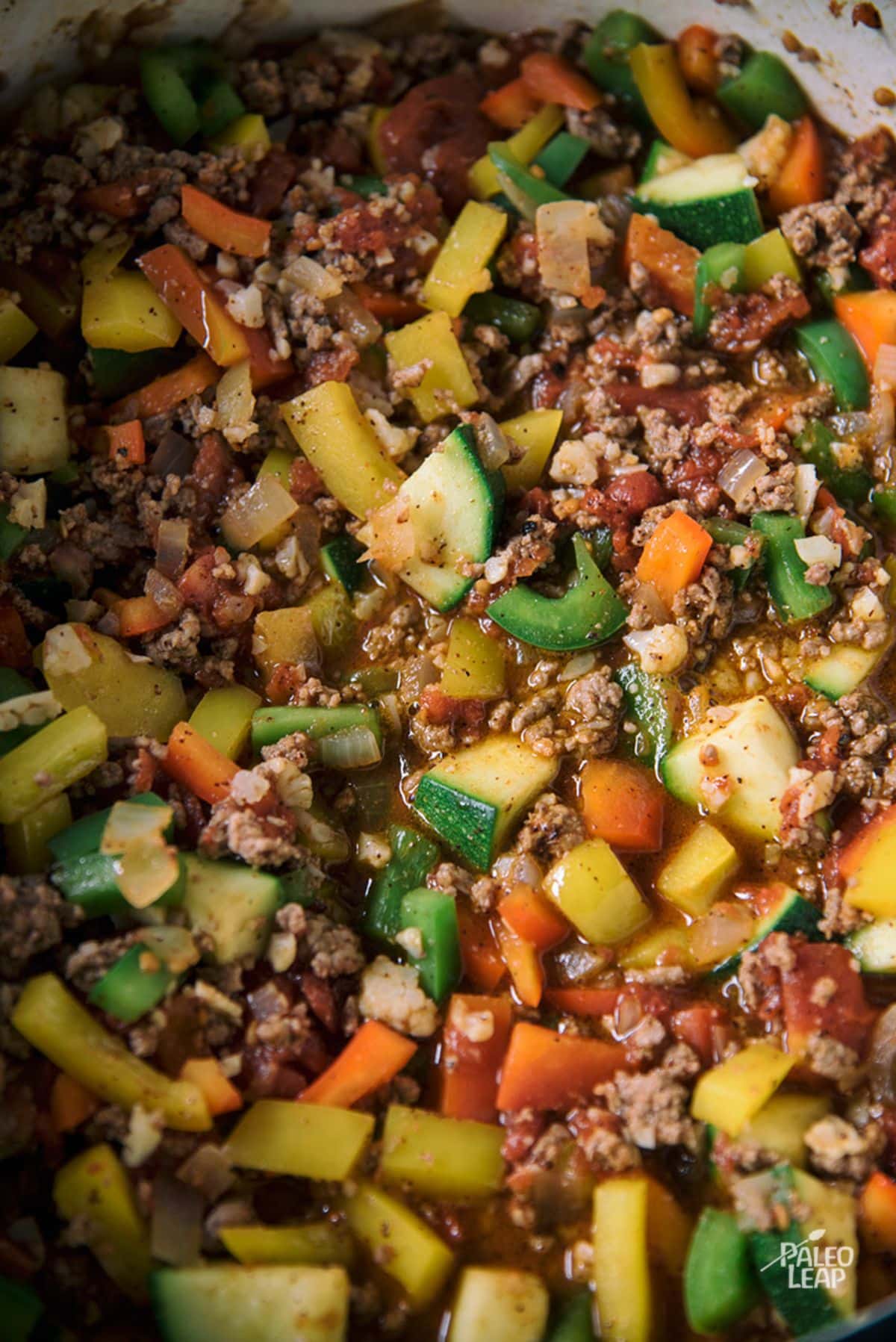 Preparation
Heat the cooking fat in a large saucepan over medium-high heat.
Add the garlic and onion, and cook for 2 to 3 minutes.
Add the ground beef and brown for 4 to 5 minutes, stirring occasionally.
Sprinkle all of the spices over the meat. Season to taste and mix everything well.
Add the zucchini, bell pepper, tomatoes, and jalapeno to the saucepan.
Pour in the tomato sauce and beef stock; give everything a good stir.
Cover, lower heat to medium, and let simmer for 20 to 25 minutes.
Adjust the seasoning, and serve topped with fresh cilantro and sliced avocado.
📖 Recipe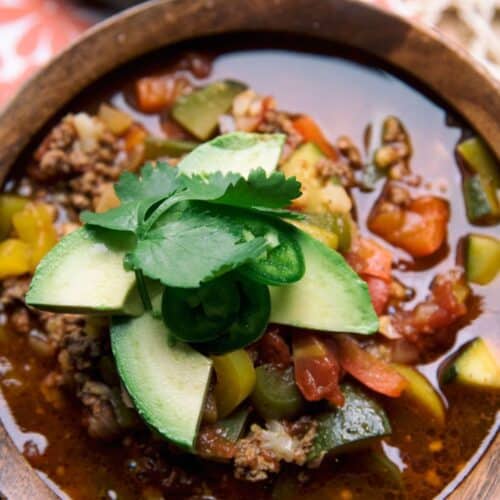 Paleo Taco Soup Recipe
If you are searching for a spicy soup with Mexican inspired ingredients look no further than Paleo Taco Soup, zesty lime wedges optional.
Instructions
Heat the cooking fat in a large saucepan over medium-high heat.

Add the garlic and onion, and cook for 2 to 3 minutes.

2 garlic cloves,

1 red onion

Add the ground beef and brown for 4 to 5 minutes, stirring occasionally.

Sprinkle all of the spices over the meat. Season to taste and mix everything well.

Sea salt and freshly ground black pepper

Add the zucchini, bell pepper, tomatoes, and jalapeno to the saucepan.

1 zucchini,

2 bell peppers diced,

2 cups tomatoes,

1 jalapeño

Pour in the tomato sauce and beef stock; give everything a good stir.

4 cups beef stock,

1 cup tomato sauce

Cover, lower heat to medium, and let simmer for 20 to 25 minutes.

Adjust the seasoning, and serve topped with fresh cilantro and sliced avocado.

4 tbsp. chili powder,

2 tbsp. ground cumin,

Fresh cilantro,

1 avocado,

1 tsp. paprika
Nutrition
Calories:
884
kcal
Carbohydrates:
39
g
Protein:
52
g
Fat:
61
g
Saturated Fat:
20
g
Polyunsaturated Fat:
6
g
Monounsaturated Fat:
27
g
Trans Fat:
3
g
Cholesterol:
161
mg
Sodium:
1344
mg
Potassium:
2585
mg
Fiber:
15
g
Sugar:
16
g
Vitamin A:
7645
IU
Vitamin C:
109
mg
Calcium:
257
mg
Iron:
16
mg