Tacos are a favorite around here. Who doesn't love the combination of well-seasoned grass-fed beef mixed with toppings of your choice, even without the traditional shell? A quick search will reveal all the creative recipes we've made around the idea of tacos.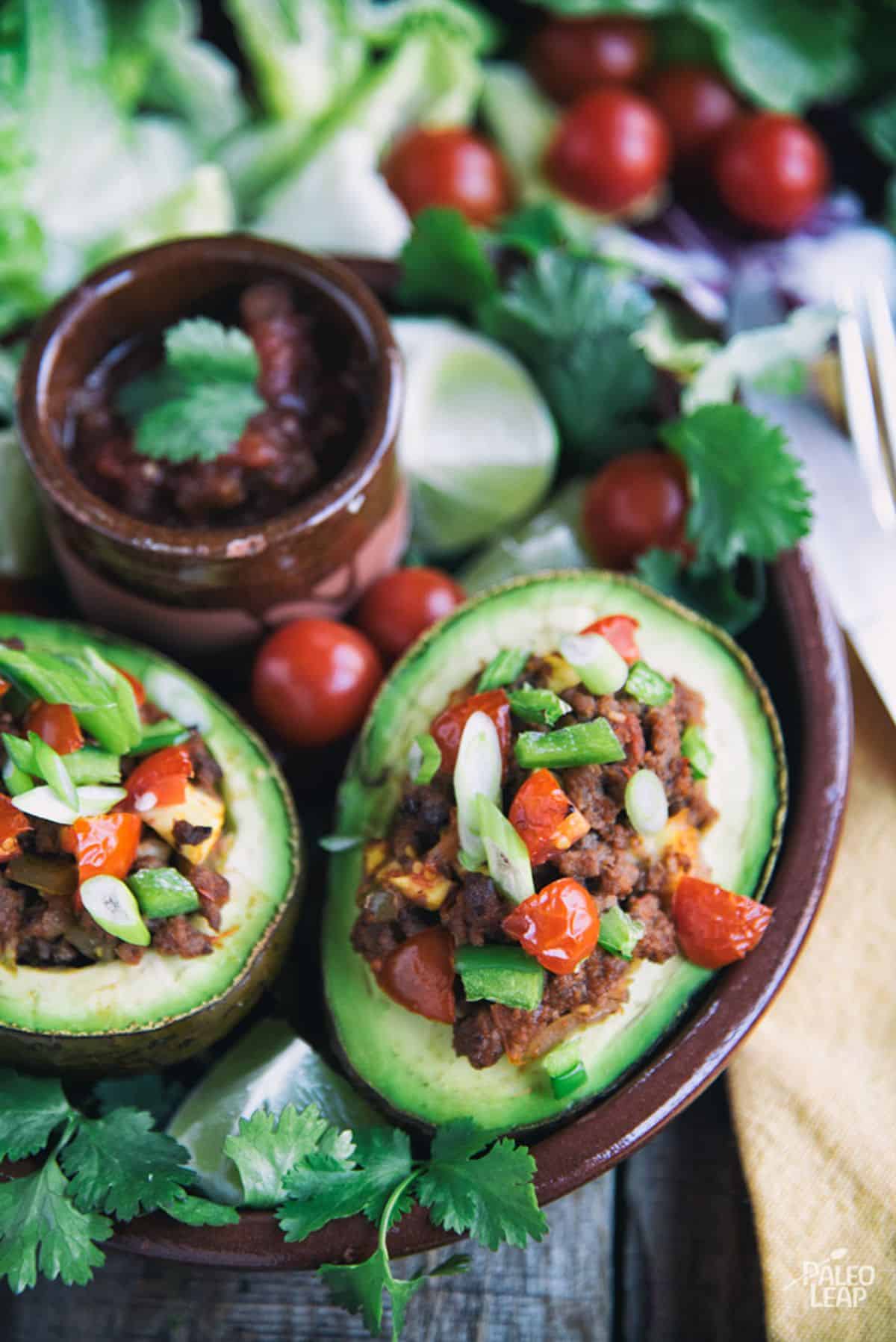 Instead of a sweet potato shell like one of our popular recipes, this recipe turns the regular avocado accompaniment into a shell. This makes them ideal for lunch or a snack.
You won't feel overly full from carbs. Instead, you'll be satisfied with the healthy fats and nutrients from the avocado and beef. Because the avocado cavity is pretty small, keeping the toppings to a minimum is probably your best bet. Leave those for a salad or cauliflower tortillas.
The verdict is still out on cooked avocados. Some people refuse to try them, and others really enjoy them, even if a popular Paleo breakfast option is egg baked in an avocado. If you're totally against eating warm avocado, then this exact recipe may not be for you.
You could always skip warming the avocado, but then you may want to cook the bell peppers with the meat since you won't be using the oven.
Taco-Stuffed Avocado Recipe
Serves: 4 Prep: 20 min Cook: 20 min
Ingredients
½ lb. ground beef
½ onion, diced
4 avocados, sliced in half and pitted
1 bell pepper, thinly diced
1 tomato, diced
2 tsp. chili powder
½ tsp. paprika
¼ tsp. garlic powder
¼ tsp. onion powder
¼ tsp. dried oregano
¼ tsp. ground cumin
2 green onions, sliced
Fresh salsa
Cooking fat
Sea salt and freshly ground black pepper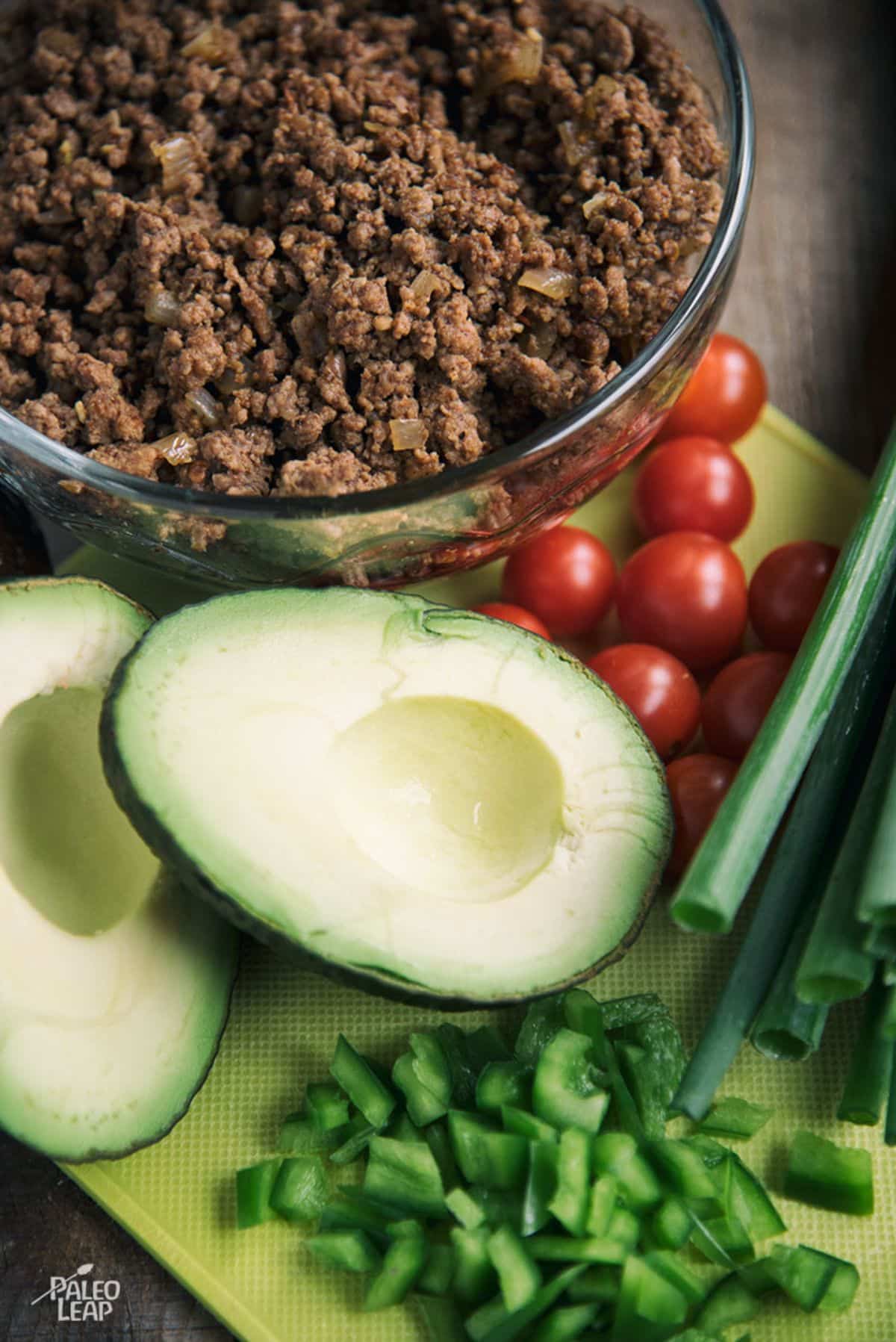 Preparation
Preheat your oven to 400 F.
In a bowl, combine chili powder, paprika, garlic, onion, oregano, cumin, sea salt, and black pepper.
Melt cooking fat in a skillet over high heat; add the onion and the ground beef.
Cook until the beef is browned, sprinkle with the spices, and cook, stirring until well mixed.
Place halved avocado on a baking dish.
Fill each avocado with ground beef, and top with bell pepper and tomatoes.
Place the stuffed avocado in the oven and bake for about 10 minutes.
Serve the avocado topped with green onions and fresh homemade salsa.
📖 Recipe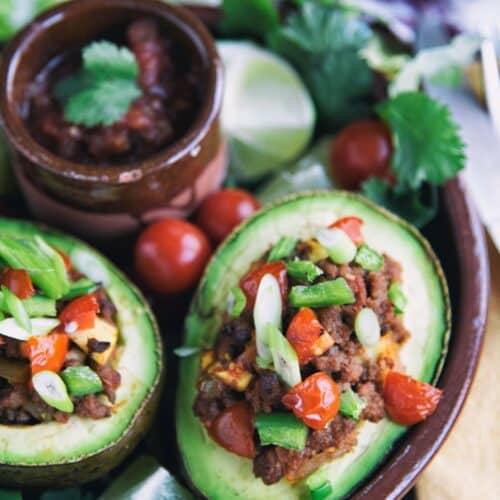 Taco-Stuffed Avocado Recipe
Skip the guacamole, but still enjoy the creaminess and healthy fat an avocado adds to a taco by turning it into the shell.
Instructions
Preheat your oven to 400 F.

In a bowl, combine chili powder, paprika, garlic, onion, oregano, cumin, sea salt, and black pepper.

2 tsp. chili powder,

½ tsp. paprika,

¼ tsp. garlic powder,

¼ tsp. onion powder,

¼ tsp. dried oregano,

¼ tsp. ground cumin,

Sea salt and freshly ground black pepper

Melt cooking fat in a skillet over high heat; add the onion and the ground beef.

½ lb. ground beef,

Cooking fat,

½ onion

Cook until the beef is browned, sprinkle with the spices, and cook, stirring until well mixed.

Place halved avocado on a baking dish.

Fill each avocado with ground beef, and top with bell pepper and tomatoes.

4 avocados,

1 bell pepper,

1 tomato

Place the stuffed avocado in the oven and bake for about 10 minutes.

Serve the avocado topped with green onions and fresh homemade salsa.

2 green onions,

Fresh salsa
Nutrition
Calories:
499
kcal
Carbohydrates:
24
g
Protein:
15
g
Fat:
42
g
Saturated Fat:
9
g
Polyunsaturated Fat:
4
g
Monounsaturated Fat:
25
g
Trans Fat:
1
g
Cholesterol:
40
mg
Sodium:
98
mg
Potassium:
1378
mg
Fiber:
16
g
Sugar:
4
g
Vitamin A:
2585
IU
Vitamin C:
65
mg
Calcium:
66
mg
Iron:
3
mg