Here's a very simple Paleo vegetable dish of fried tomatoes, zucchinis, and mushrooms with a curry sauce served alongside. Only a few basic ingredients are required, but the taste profile of the resulting dish is amazing, and the combination of vegetables seems to go very well together.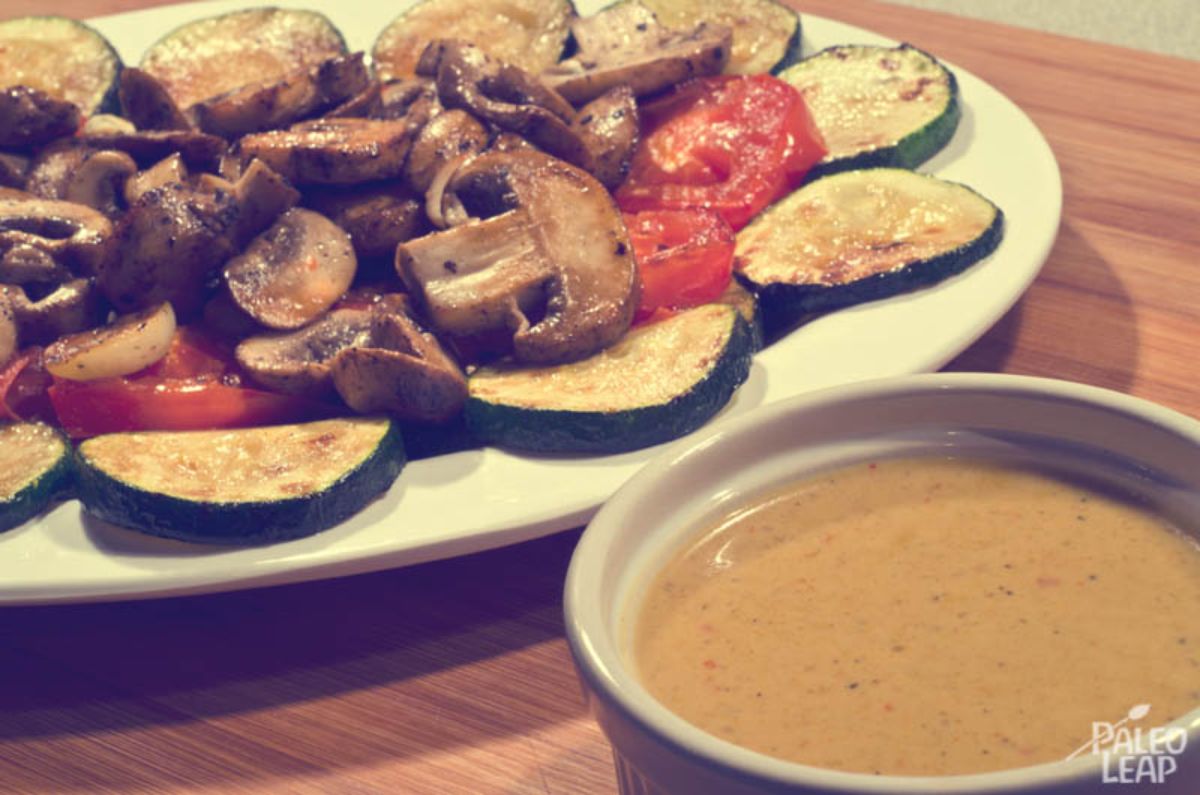 This website allows me to experiment with so many recipes. I do my best to filter the bad from the good and only share with you what I feel is absolutely great.
Oftentimes, a dish I share may not be something I'll make again for myself, but I try to avoid following just my own taste buds and share what I'm sure others will enjoy as well, even though I may not.
With all that said, though, this recipe is one that I happen to find tops the charts and will prepare again and again. It's very simple to prepare and requires so little, yet the finished product is an extremely tasty dish.
Making a vegetable dish is quite interesting when you stop and think about it. It always surprises me how much we are able to do with them and all of the flavors that can be combined in different ways.
It's always a great inspiration to just think of all the different cultures and their ways of preparing and seasoning vegetable dishes.
It varies so much from one to another, but the basic ingredient often remains the same. I guess this really stood out in my mind while preparing this recipe because I frequently roast or fry up vegetables, but the addition of a simple curry sauce makes it something that I wasn't used to.
The recipe calls for a small amount of raw honey. We already know that sugar is something to avoid on a healthy Paleo diet, but the amount of honey used in the sauce here is really minimal and shouldn't be a problem at all.
You should be able to find a good curry powder that doesn't come with any other ingredients than the spices themselves.
You'll get a choice between different levels of spiciness depending on your own personal taste. The sweetness from the honey and the spiciness from the curry powder combine very well for this curry sauce.
This dish can be enjoyed on its own as a healthy snack between two meals, or it can be served alongside pretty much any main dish. Those vegetables combined with the spicy curry sauce are especially great with red meat.
Tomato and zucchini with curry sauce recipe
Serves: 4
Ingredients
1 medium zucchini, cut into ½ inch thick slices;
3 plum tomatoes, cut into ½ inch thick slices;
½ lb mushrooms, chopped;
2 cloves garlic, minced;
6 tablespoon coconut oil;
Sea salt and freshly cracked pepper to taste;
2 tablespoon fresh cilantro, finely chopped;
Curry sauce ingredients
1 can (14oz) coconut milk;
3 tablespoon curry powder;
3 tablespoon raw honey;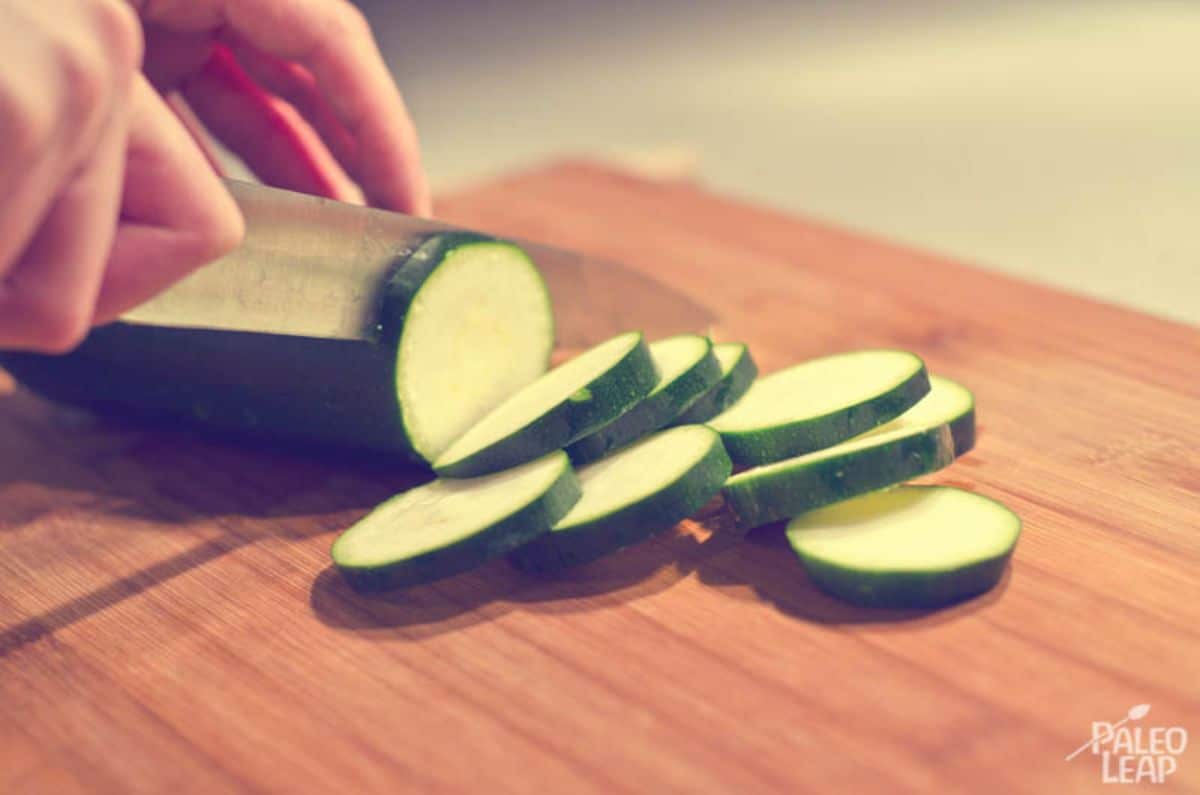 Preparation
The sauce is what really requires the most preparation time, so I recommend starting there. In a small saucepan placed over medium-low heat, combine all the ingredients that make up the curry sauce. Combine well and leave on the stove to simmer slightly for about 20 minutes. During this time, stir every so often and allow it to cook long enough so that it thickens.
In a large skillet over medium-high heat, coat the pan with 2 tablespoon of coconut oil. Add the zucchini to the skillet, placing the slices so that they are spaced out and not overlapping. Cook on each side, about 3 to 4 minutes per side. Once cooked, remove from the skillet and lie flat on a large serving platter.
Return the skillet to the heat and coat it again with another 2 tablespoon of coconut oil. This time, repeat the previous step but with the tomatoes. It should take about the same amount of time, if not even quicker. Every once in a while, you may want to give the skillet a bit of a toss, as I found that the tomatoes were sticking to it. Once cooked, remove them from the skillet and lay them on top of the zucchini slices.
Finally, return the skillet back to the heat, coat it with the remaining coconut oil, and toss in the mushrooms and garlic. Allow the mushrooms to cook for about 7 to 8 minutes, just so that they shrink in size and get golden brown in color. Remove and pour on top of the tomatoes.
By this time, your curry sauce should be slightly thicker and ready to serve. If you are serving the dish to more than just yourself, I recommend pouring the sauce in a separate small bowl, as it's slightly spicy, and some may prefer to use more than others.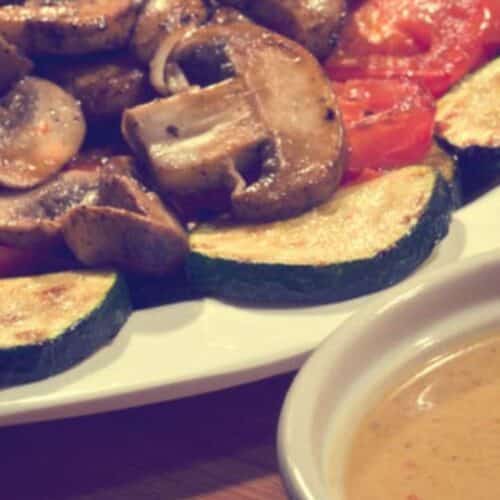 Tomato and zucchini with curry sauce recipe
A simple dish of fried tomatoes, zucchinis and mushrooms with a tasty curry sauce. Perfect as a Paleo snack or alongside your favorite Paleo dish.
Ingredients
1

medium zucchini

cut into ½ inch thick slices

3

plum tomatoes

cut into ½ inch thick slices

½

lb

mushrooms

chopped

2

cloves

garlic

minced

6

tablespoon

coconut oil

Sea salt and freshly cracked pepper to taste

2

tablespoon

fresh cilantro

finely chopped
Curry sauce ingredients
1

can

14oz coconut milk

3

tablespoon

curry powder

3

tablespoon

raw honey
Instructions
The sauce is what really requires the most preparation time, so I recommend starting there. In a small saucepan placed over medium-low heat, combine all the ingredients that make up the curry sauce. Combine well and leave on the stove to simmer slightly for about 20 minutes. During this time, stir every so often and allow it to cook long enough so that it thickens.

1 can,

3 tablespoon curry powder,

3 tablespoon raw honey

In a large skillet over medium-high heat, coat the pan with 2 tablespoon of coconut oil. Add the zucchini to the skillet, placing the slices so that they are spaced out and not overlapping. Cook on each side, about 3 to 4 minutes per side. Once cooked, remove from the skillet and lie flat on a large serving platter.

1 medium zucchini,

6 tablespoon coconut oil

Return the skillet to the heat and coat it again with another 2 tablespoon of coconut oil. This time, repeat the previous step but with the tomatoes. It should take about the same amount of time, if not even quicker. Every once in a while, you may want to give the skillet a bit of a toss, as I found that the tomatoes were sticking to it. Once cooked, remove them from the skillet and lay them on top of the zucchini slices.

Finally, return the skillet back to the heat, coat it with the remaining coconut oil, and toss in the mushrooms and garlic. Allow the mushrooms to cook for about 7 to 8 minutes, just so that they shrink in size and get golden brown in color. Remove and pour on top of the tomatoes.

½ lb mushrooms,

2 cloves garlic

By this time, your curry sauce should be slightly thicker and ready to serve. If you are serving the dish to more than just yourself, I recommend pouring the sauce in a separate small bowl, as it's slightly spicy, and some may prefer to use more than others.

Sea salt and freshly cracked pepper to taste,

2 tablespoon fresh cilantro
Nutrition
Calories:
278
kcal
Carbohydrates:
22
g
Protein:
3
g
Fat:
23
g
Saturated Fat:
18
g
Polyunsaturated Fat:
1
g
Monounsaturated Fat:
2
g
Sodium:
21
mg
Potassium:
550
mg
Fiber:
4
g
Sugar:
16
g
Vitamin A:
543
IU
Vitamin C:
16
mg
Calcium:
60
mg
Iron:
9
mg