I spoiled myself recently and got my hands on a delicious piece of fresh tuna steak. At the time, I had no idea what I was going to do with it, but I knew I had a craving that I had to satisfy.
I say that I "spoiled" myself because I don't eat fresh tuna as frequently as I would like to, or more like as much as I should, given the great nutritional profile it provides.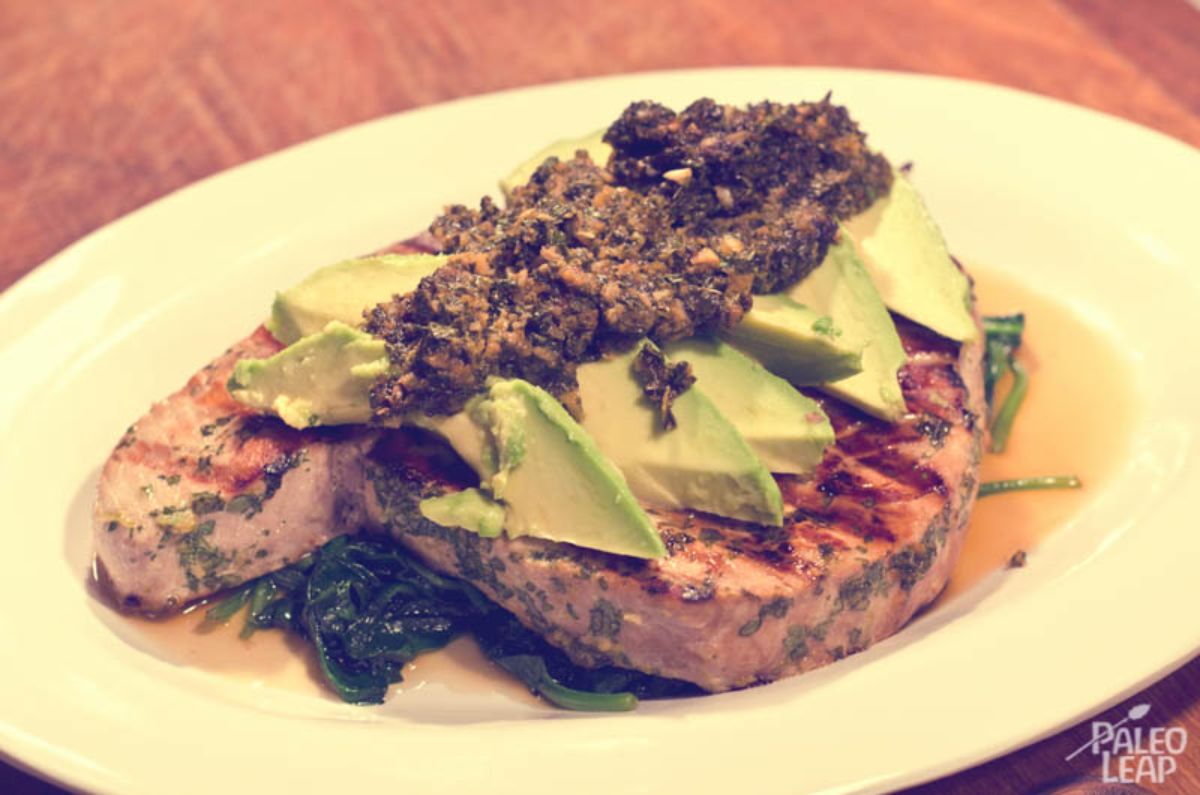 I only ever purchase my fish and meat fresh from the local fishmonger or butcher, and this always adds to the cost. You can see from the pictures that I used a good-sized piece of tuna, but still only large enough for one good portion, maybe two.
To put things into perspective for you, that cost me about $22. It's not such a splurge if it's just for one, but if you were hosting a handful of people for a meal, it could get quite pricey!
In addition to the price, I've run into the problem of my local fish market not always having fresh tuna steaks available. Even when they do have them, I'm always quite picky when it comes to whether or not I will actually buy one.
Just like meat (and maybe even more so with fish), it is very possible to get a bad cut. As much as I always buy it fresh, you can always run into the problem of it being not so fresh. This is why it's so important to make sure you frequent a fish market and butcher that is reliable and you trust.
I've been going to the same place for some time now, and I can be assured that I will never be sold something less than perfect. So how can you tell?
Well, probably the biggest indicator is color. Tuna should always be a deep pink color, comparable to a ripe grapefruit. If you see hints of fleshy pink, you should stay away. Another good indicator of tuna beginning to go bad is the smell.
This is more difficult to determine when you are at the fish market, but as soon as tuna begins to smell "fishy," you can be assured that it is no longer fresh.
Anyways, back to more important things, like how I'm going to enjoy this tuna steak. I came across this recipe that was quite easy and consisted of many of my favorite ingredients, like spinach, avocado, and cilantro! 
The resulting dish is very fresh tasting, thanks to the light-tasting tuna and fresh flavors from the ginger, lime, and cilantro. The avocado also helps to add some great richness to an otherwise very light dish.
Other than being absolutely delicious, this recipe is also highly nutritious. Tuna is a great source of selenium, vitamin B12, and vitamin A, and both the avocado and the spinach are also loaded with nutrients.
Enjoy this great tuna dish on any occasion where you feel like treating yourself with some of the best flavors nature has to offer.
Tuna steak with avocado and cilantro marinade recipe
Serves: 1
Ingredients
1 tuna steak;
3 tablespoon coconut oil or clarified butter;
1 teaspoon ginger, minced;
2 cloves garlic, minced;
½ cup cilantro, finely chopped;
juice and zest of 1 lime;
½ avocado, sliced;
4 cups fresh spinach
Sea salt and freshly ground black pepper to taste;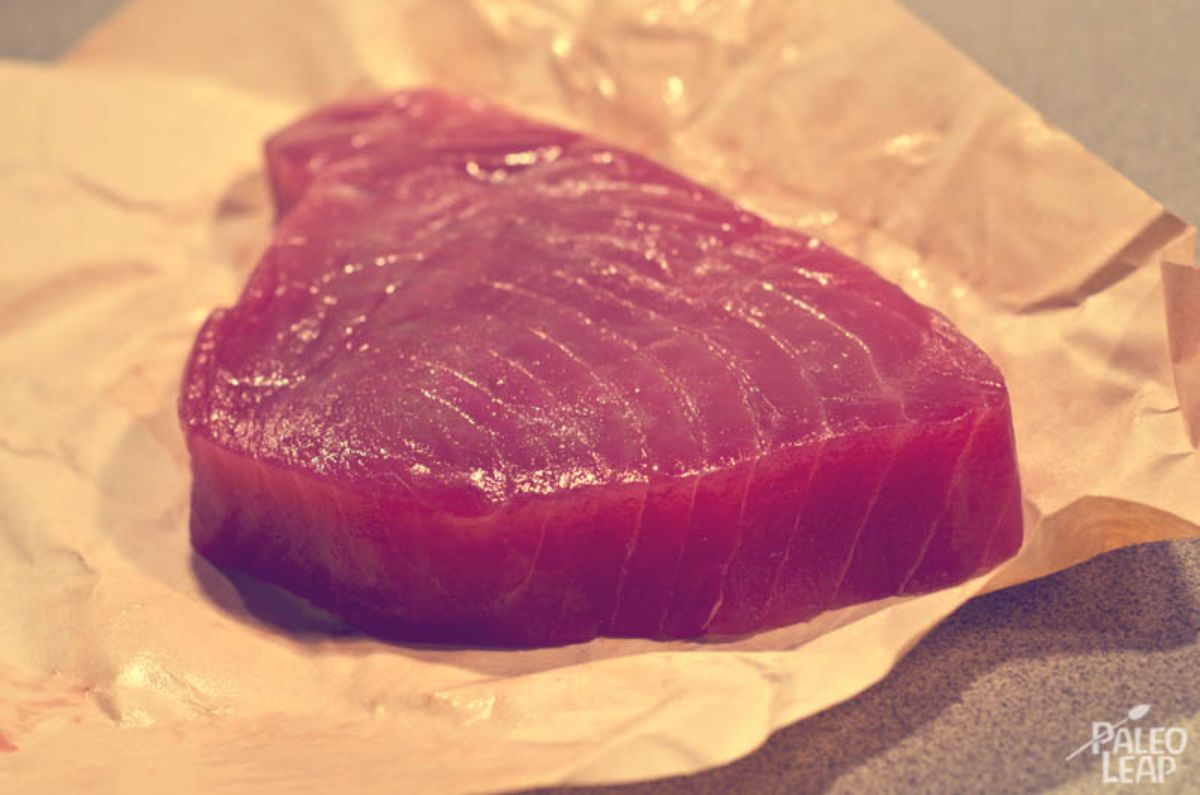 Preparation
This recipe requires the tuna to marinade for a few hours. It can always be a bit of a hassle if you were hoping to eat it right away, but I highly recommend the marinating time. Marinading any fish really helps to cover any "fishy" taste, making it a lot more enjoyable, especially if the taste of fish can sometimes put you off. The marinating also really helps in keeping the fish moist and tender upon cooking. To prepare the marinade, combine your chosen fat or oil, ginger, garlic, cilantro, lime zest, and juice. Give it a good mix. Season to taste with salt and pepper. I opted for only a little sea salt, but you could really do without either. Give the tuna a good lather in the marinade and let it soak in it in the fridge for at least 2 hours.
Once you've allowed the fish to marinade long enough, remove it from the fridge and scrape off any of the excess marinade. Make sure you save the marinade for later. Fire up the grill to medium-high and allow the tuna to cook through on both sides for about 4 minutes per side. I say 4 minutes, but it really depends on the size of the steak and how cooked you like your fish. You can also alternatively cook it in a regular skillet at medium-high heat if the grill is not an option for you right now.
While the tuna steak is grilling, cook your spinach in a large skillet with some additional cooking fat. It will only take a few minutes; just allow it to wilt completely and optionally season to taste with salt and pepper. Once it is cooked, remove it from the skillet.
Using the same skillet, heat up the leftover marinade, the one used with the tuna, for a few minutes, just enough to heat it up and reduce it into more of a thick paste.
To serve, place the spinach on the bottom of the plate and topped it with the tuna. Lay the sliced avocado atop the tuna and finish the dish off by adding the remaining cilantro marinade.
📖 Recipe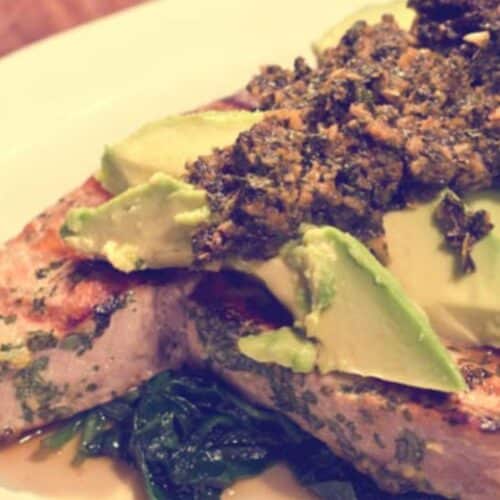 Tuna steak with avocado and cilantro marinade recipe
Tuna steak might be a bit expensive, but it's a real treat and it's featured here in a simple Paleo recipe with avocado and a simple cilantro and ginger marinade
Ingredients
1

tuna steak

3

tablespoon

coconut oil or clarified butter

1

teaspoon

ginger

minced

2

cloves

garlic

minced

½

cup

cilantro

finely chopped

juice and zest of 1 lime

½

avocado

sliced

4

cups

fresh spinach

Sea salt and freshly ground black pepper to taste
Instructions
This recipe requires the tuna to marinade for a few hours. It can always be a bit of a hassle if you were hoping to eat it right away, but I highly recommend the marinating time. Marinading any fish really helps to cover any "fishy" taste, making it a lot more enjoyable, especially if the taste of fish can sometimes put you off. The marinating also really helps in keeping the fish moist and tender upon cooking. To prepare the marinade, combine your chosen fat or oil, ginger, garlic, cilantro, lime zest, and juice. Give it a good mix. Season to taste with salt and pepper. I opted for only a little sea salt, but you could really do without either. Give the tuna a good lather in the marinade and let it soak in it in the fridge for at least 2 hours.

1 tuna steak,

3 tablespoon coconut oil or clarified butter,

1 teaspoon ginger,

½ cup cilantro,

juice and zest of 1 lime,

Sea salt and freshly ground black pepper to taste,

2 cloves garlic

Once you've allowed the fish to marinade long enough, remove it from the fridge and scrape off any of the excess marinade. Make sure you save the marinade for later. Fire up the grill to medium-high and allow the tuna to cook through on both sides for about 4 minutes per side. I say 4 minutes, but it really depends on the size of the steak and how cooked you like your fish. You can also alternatively cook it in a regular skillet at medium-high heat if the grill is not an option for you right now.

While the tuna steak is grilling, cook your spinach in a large skillet with some additional cooking fat. It will only take a few minutes just allow it to wilt completely and optionally season to taste with salt and pepper. Once it is cooked, remove it from the skillet.

Using the same skillet, heat up the leftover marinade, the one used with the tuna, for a few minutes, just enough to heat it up and reduce it into more of a thick paste.

To serve, place the spinach on the bottom of the plate, and topped it with the tuna. Lay the sliced avocado atop the tuna and finish the dish off by adding the remaining cilantro marinade.

½ avocado,

4 cups fresh spinach
Nutrition
Calories:
804
kcal
Carbohydrates:
14
g
Protein:
45
g
Fat:
67
g
Saturated Fat:
39
g
Polyunsaturated Fat:
5
g
Monounsaturated Fat:
17
g
Cholesterol:
65
mg
Sodium:
172
mg
Potassium:
1627
mg
Fiber:
10
g
Sugar:
2
g
Vitamin A:
15650
IU
Vitamin C:
46
mg
Calcium:
150
mg
Iron:
6
mg