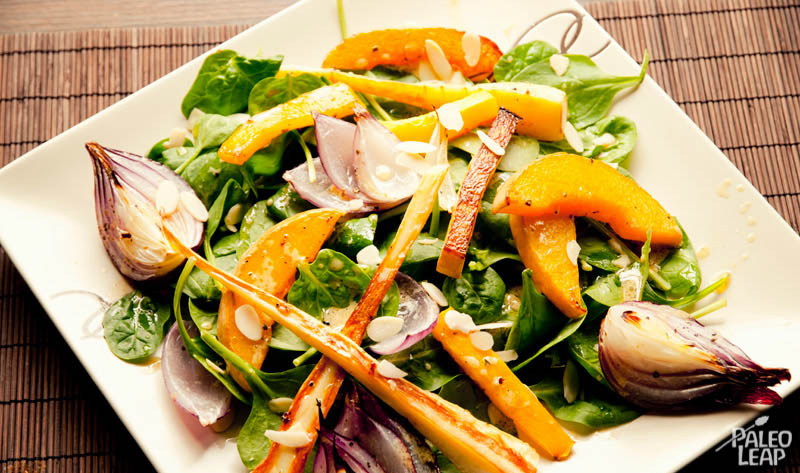 Winter food doesn't have to be heavy or rich if you don't like it that way: this warm salad is a little lighter and fresher, without sacrificing the coziness of winter vegetables. Everything in the root cellar gets a chance to shine here. Roasted onions, parsnips, and butternut squash make it hearty and satisfying, and you can feel free to add almost any other root vegetables you like. Any variety of sweet potato would work well, as would almost any other kind of winter squash. So if you've been eyeing any unfamiliar new arrivals in the grocery store lately, here's your chance to experiment!
Because roasting is such a simple way to dress up all these root vegetables with a crispy outside and a pleasant smoky flavor, this recipe really doesn't take much time at all to put together. It's ideal as a light side dish for a weekend afternoon, especially if you're serving a heavier main dish like brisket or chuck roast. A huge pile of buttery mashed potatoes with a fatty roast is almost overkill, but serving a very fruity summer salad also don't feel quite right: a winter salad hits the best of both worlds.
Alternately, instead of serving it as a side, you could add some coarsely chopped bacon or other meat (maybe leftover pork chops or steak) to transform the salad into a light meal on its own. Add a little tang from the mustard-vinegar dressing, and you're all set for a delicious new way to enjoy the cold-weather vegetable harvest.
Warm Winter Salad Recipe

SERVES: 4

PREP: 15 min.

COOK: 20 min.

Values are per portion. These are for information only & are not meant to be exact calculations.
Ingredients
1 butternut squash, cut into wedges;
2 red onions, cut into wedges;
4 parsnips, cut into wedges;
6 cups of baby spinach;
1/3 cup roasted nuts;
2 tbsp. white wine vinegar;
1 tsp. Dijon or homemade mustard;
1 garlic clove, minced;
½ tbsp. dried oregano;
6 tbsp. extra-virgin olive oil;
Sea salt and freshly ground black pepper to taste;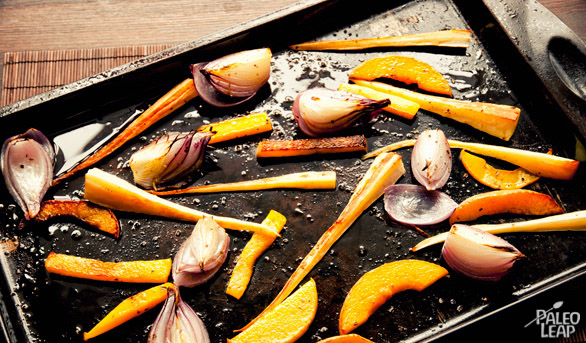 Preparation
Preheat your oven to 400 F.
Place the butternut squash, red onions, and parsnips in a baking tray. Drizzle half the olive oil and the dried oregano on top and season to taste
Roast in the oven for 20 minutes, turning them once after 10 minutes.
In a small bowl combine the remaining olive oil, vinegar, mustard,  garlic, and season with salt and pepper to taste.
Put the spinach in a large bowl, add in the cooked vegetables as well as the dressing, and toss gently until well combined.
Serve warm.