It's definitely important to get enough hours of sleep, but as anyone who's ever woken up utterly unrefreshed can tell you, hours spent in bed aren't the only measure of rest. There's also sleep quality to consider – when you're in bed, do you fall asleep pretty quickly, or do you lie awake tossing around for ages? Do you wake up in the night? Do you sleep through the night but wake up feeling unrefreshed?
A quick refresher: sleep isn't all one thing. In healthy adults, a good night of sleep goes through several different phases. Some of those phases are more restful than others, and spending too much time in the wrong phase of sleep can make you more likely to wake up in the middle of the night or feel unrefreshed in the morning. The whole complicated story is pretty cool, but for the sake of this post, here are the terms you need to know:
Slow-wave sleep (SWS) – the most restorative and restful kind of sleep. If you've ever been woken up by an alarm or another person and felt like you just couldn't make your brain get going, you were probably woken up in the middle of SWS.
Rapid Eye Movement (REM) sleep – nobody is totally sure what REM sleep does, but it's likely that it's somehow involved in doing hard cognitive things like learning and consolidating memories. But it's very clear that REM sleep is necessary: if you're deprived of REM sleep one night, your body will actually force you into catch-up REM sleep the next night until you've gotten enough.
So with a focus on those two important sleep stages, here's a look at 4 foods to try for better sleep.
1. Carbs (if you do well with them)
When to eat: in the evening, but not too close to bedtime.
A couple studies have found that higher-carb evening meals improve sleep. This study found that a high-carb evening meal increased REM sleep in the first half of the night. Low-carb and zero-carb meals didn't have the same benefits. This study compared a low-carb (1% carb, 38% protein, 61% fat) meal to a high-carb (72% carb, 15.5% protein, 12.5% fat) meal 4 hours before bed in 14 men without sleep problems. The researchers found that the low-carb group had more SWS sleep. And branching out beyond just the evening meal, this study studied 44 healthy adults on a high-carb, high-protein, or high-fat diet. The researchers found that the high-carb (56% carb, 22% protein, 22% fat) diet got their subjects to fall asleep faster.
There's also some evidence that timing matters. This study found that high-glycemic-index carbs eaten about 4 hours before bedtime shortened sleep onset by a few minutes. On the other hand, a high-glycemic-index meal 1 hour before bedtime wasn't as good. High-glycemic-index carbs are fast-digesting carbs like white potatoes or white rice.
So if you want to eat carbs for a better sleep, 4 hours or more before bedtime is probably the best time.
On the other hand, some people don't do well with carbs – and if that's you, it might be better to skip them. Poor blood sugar regulation can also hurt sleep quality. With carbs, a lot of it comes down to how well you personally handle them, and there's no one-size-fits-all rule.
2. Tart Cherry Juice
When to eat (well, OK, drink): In the evening.
Tart cherry juice is basically a botanical melatonin supplement. And there are a few studies showing that it works. This study tested 15 older adults who had really bad insomnia but no other health problems. They found that giving them tart cherry juice every day reduced the amount of time they spent awake during the night. This study in 20 healthy adults found that the cherry juice raised urinary melatonin content. Compared to controls, the people who got the cherry juice slept longer and had more efficient sleep.
3. Steak
(Alternatives: liver, salmon, egg yolks...basically any animal food high in iron.)
When to eat it: regularly; the specific time of day isn't important.
Steak may be helpful for sleep because it's full of iron, and iron is big for restless legs syndrome. Restless legs syndrome (RLS) is basically exactly what it sounds like: the overwhelming urge to move your legs. This tends to wake people up when it happens, so RLS is a significant cause of poor sleep in adults, and iron deficiency is strongly supported as one of the causes of RLS. Even though some people have too much iron in their blood, quite a lot of people, especially women, are iron deficient, suggesting that iron might be helpful.
Of course, iron isn't just about what you eat – it's what you absorb. That would explain why two different research groups (one, two) have found that RLS is associated with celiac disease. Celiac disease famously impairs iron absorption, meaning that no matter how much you eat, it's not getting where it needs to go (in this case, your brain). The second of those studies found that 6 months of a gluten-free diet improved RLS symptoms in 50% of patients, which is again exactly what you'd expect: heal the gut, restore proper iron absorption, and the RLS quickly improves.
This would also be why studies of iron supplementation have mixed effects. In people who have gut problems and aren't absorbing the iron, taking more iron pills isn't a solution.
So if RLS is your issue, a nice thick steak might be just the ticket. And if you have any lingering gut or digestion issues, dealing with those might also help your sleep by helping you absorb more iron.
4. Fatty Fish
When to eat it: at least 3 times/week but the specific time of day isn't important.
Fatty fish is full of those all-important Omega-3s, and there's quite a bit of research finding that Omega-3 fats are important for sleep.
This study analyzed the fat tissue content of 63 obese patients with obstructive sleep apnea (a sleep disorder where your breathing is messed up during sleep, causing you to wake up several times during the night and feel unrefreshed in the morning). The researchers found that a higher tissue content of Omega-3 fats was associated with better sleep efficiency, more SWS, and more REM sleep. (By the way, since this a Paleo site: saturated fat was associated with longer sleep time, better sleep efficiency, and more REM sleep. Go team butter!). That's backed up by this study, which found that patients with more severe obstructive sleep apnea had lower blood levels of the Omega-3 fatty acid DHA.
How do you get more Omega-3s into your fat tissue and your blood? Eat them! And just as you'd expect, eating more Omega-3s is good for sleep. In this study, the researchers took healthy men and gave them fish 3 times a week or a control meal 3 times a week. At the end of the study, the fish group had better sleep. This study did the opposite: instead of proving that Omega-3s are good, it showed that deficiency of Omega-3s is bad. One group of children got an Omega-3 deficient diet; the other group got a good diet. The Omega-3 deficient diet reduced SWS (remember, that's the super-restful kind of sleep), especially in the second half of the night.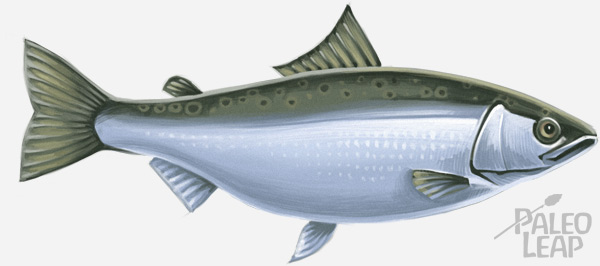 What About the Other Way Around?
It's worth noting that there's also a relationship the other way around. It's not just diet influencing sleep: sleep also influences diet. This has been very well-documented and you can read all about it here. The short version: sleep deprivation is very bad news for your metabolism and weight, and if you want to lose weight, sleep should be a priority.
But knowing all about the dangers of sleep deprivation doesn't help if you're constantly lying in bed completely unable to nod off. So it's also worth approaching it from the diet end to see what foods can help improve sleep quality – which hopefully now you know!
Also worth noting: a lot of these studies were pretty small or in specific populations (e.g., some only studied men - if you're a woman, your results may vary). There isn't a lot of research out there on how food affects sleep, so just take smaller studies with a grain of salt, especially if the study group is somehow different from you. But in any case, most of these foods are nutritious for other reasons and perfectly delicious - even if it doesn't help your sleep much, eating more salmon is really unlikely to do any harm.