Everyone loves meatballs - the vast amount of recipes, including mustard, pineapple, bacon wrap, and chimichurri sauce can attest to that!
They can be elegant or standardly simple, yet the flavors and the fun can't be beaten. You can pick them up with toothpicks, poke them on skewers, or soak them in marinara sauce; the combinations really are endless.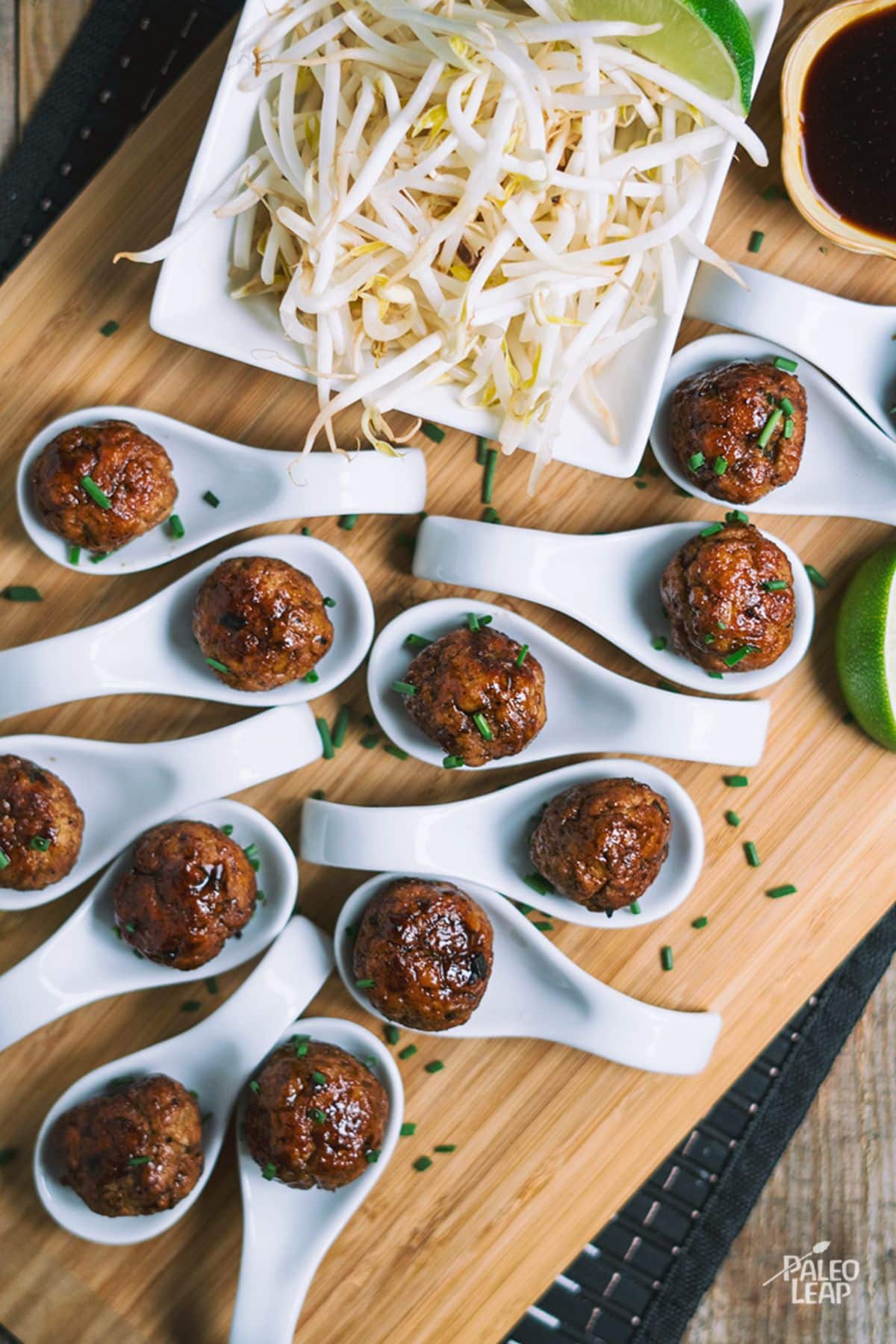 We would like to believe that these Asian five-spice meatballs have an extra element of yum to them. It is something unexpectedly delicious and it's inconspicuously hidden in the five-spice blend.
While you can make this blend at home with star anise, cloves, fennel seeds, Chinese cinnamon, and Sichuan pepper, it is best to leave it to someone who knows the tastiest proportions.
Within this five-spice blend, other spices may be added or substituted - cardamom, licorice, orange peel, nutmeg, turmeric, and even galangal! Let's just call it a fabulous mystery and mix it straight into the ground pork, finally making a coconut amino and chicken stock sauce to bring it all together.
Make it an unpretentious meal on a hectic weekday and serve the five-spice meatballs with cauliflower rice and garlic green beans. Scout out some plum sauce from the store or experiment with making your own, dishing up your Asian-inspired dinner with true indulgence.
Asian Five-Spice Meatballs Recipe
Serves: 4 Prep: 20 min Cook: 20 min
Ingredients
1 ½ lbs. ground pork
1 tbsp. fresh ginger, minced
2 garlic cloves, minced
2 tbsp. fresh chives, minced
1 tsp. five-spice powder
¼ cup + 2 tsp. coconut aminos
¼ cup chicken stock
2 tsp. raw honey
2 tbsp. coconut oil
Sea salt and freshly ground black pepper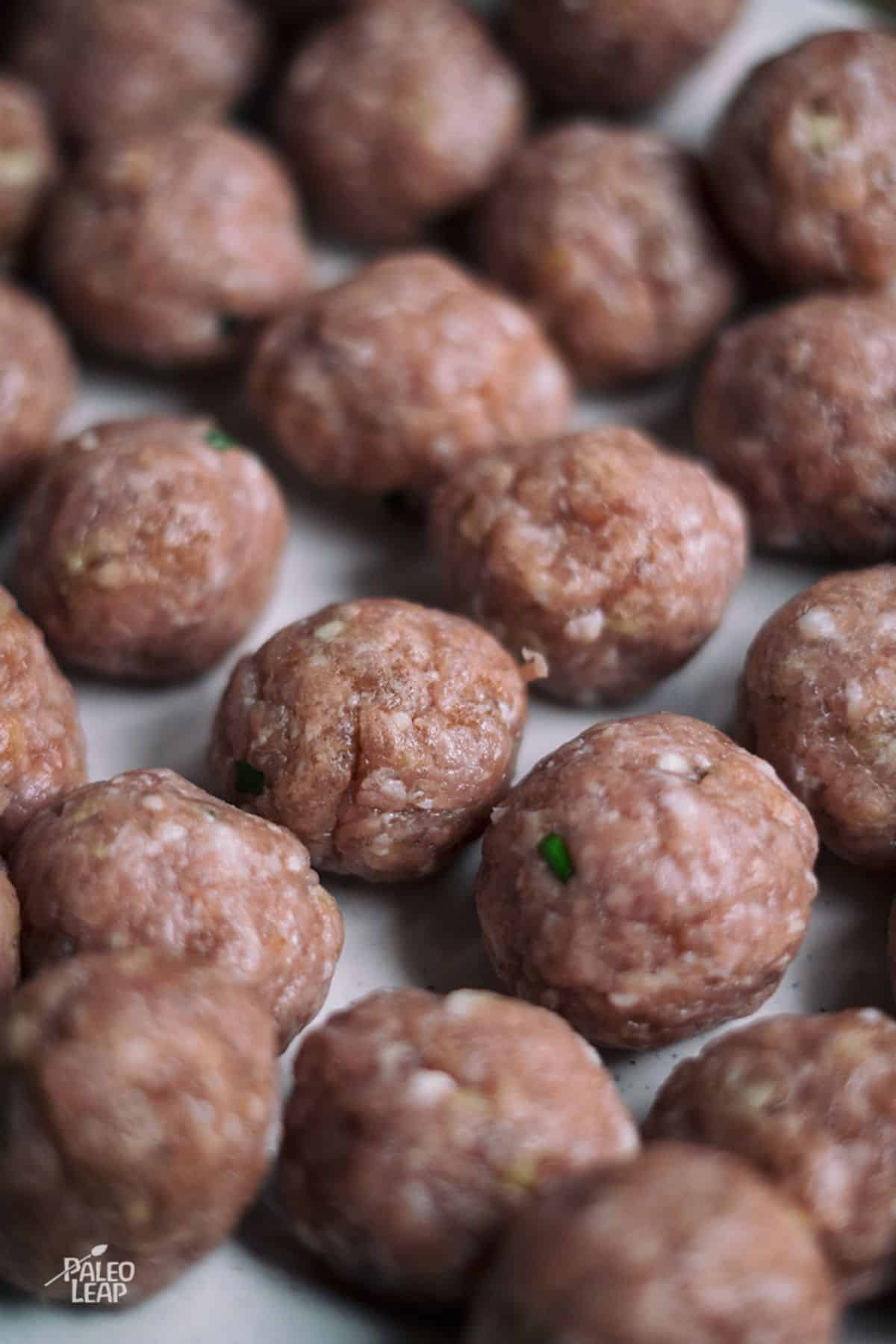 Preparation
In a bowl, combine the ground pork, ginger, garlic, chives, and five-spice powder, and season to taste.
Mix everything until well combined, and roll the meat mixture by hand into 1-inch meatballs
Melt coconut oil in a skillet over medium-high heat.
Cook the meatballs in batches for 8-10 minutes, turning every couple of minutes.
When the meatballs are done, remove them from the pan and set them aside.
Heat the coconut aminos, chicken stock, and honey in the same pan used for the meatballs and bring to a light simmer. Add the meatballs back to the skillet, tossing gently until well covered.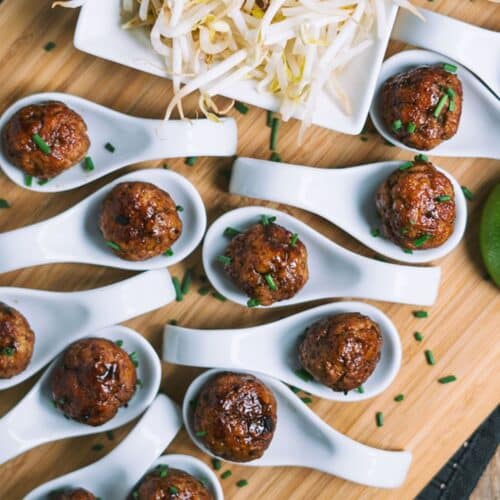 Asian Five-Spice Meatballs Recipe
When the mysterious five-spice blend makes an appearance in your life, concoct some Asian Five-Spice meatballs and enjoy alongside cauliflower rice.
Ingredients
1 ½

lbs.

ground pork

1

tbsp.

fresh ginger

minced

2

garlic cloves

minced

2

tbsp.

fresh chives

minced

1

tsp.

five-spice powder

¼

cup

+ 2 tsp. coconut aminos

¼

cup

chicken stock

2

tsp.

raw honey

2

tbsp.

coconut oil

Sea salt and freshly ground black pepper
Instructions
In a bowl, combine the ground pork, ginger, garlic, chives, and five-spice powder, and season to taste.

1 ½ lbs. ground pork,

1 tbsp. fresh ginger,

2 garlic cloves,

2 tbsp. fresh chives,

1 tsp. five-spice powder,

Sea salt and freshly ground black pepper

Mix everything until well combined, and roll the meat mixture by hand into 1-inch meatballs

Melt coconut oil in a skillet over medium-high heat.

Cook the meatballs in batches for 8-10 minutes, turning every couple of minutes.

When the meatballs are done, remove them from the pan and set them aside.

Heat the coconut aminos, chicken stock, and honey in the same pan used for the meatballs and bring to a light simmer. Add the meatballs back to the skillet, tossing gently until well covered.

¼ cup + 2 tsp. coconut aminos,

¼ cup chicken stock,

2 tsp. raw honey
Nutrition
Calories:
548
kcal
Carbohydrates:
8
g
Protein:
30
g
Fat:
44
g
Saturated Fat:
20
g
Polyunsaturated Fat:
3
g
Monounsaturated Fat:
17
g
Cholesterol:
123
mg
Sodium:
457
mg
Potassium:
566
mg
Fiber:
0.5
g
Sugar:
2
g
Vitamin A:
338
IU
Vitamin C:
6
mg
Calcium:
43
mg
Iron:
2
mg