There's something about really good pulled pork – the way it almost falls apart in your mouth and the depth of flavor that it picks up from cooking so long over low heat. As soon as you take one bite, there's another little pile of tender meat sliding onto your fork, begging you to eat it.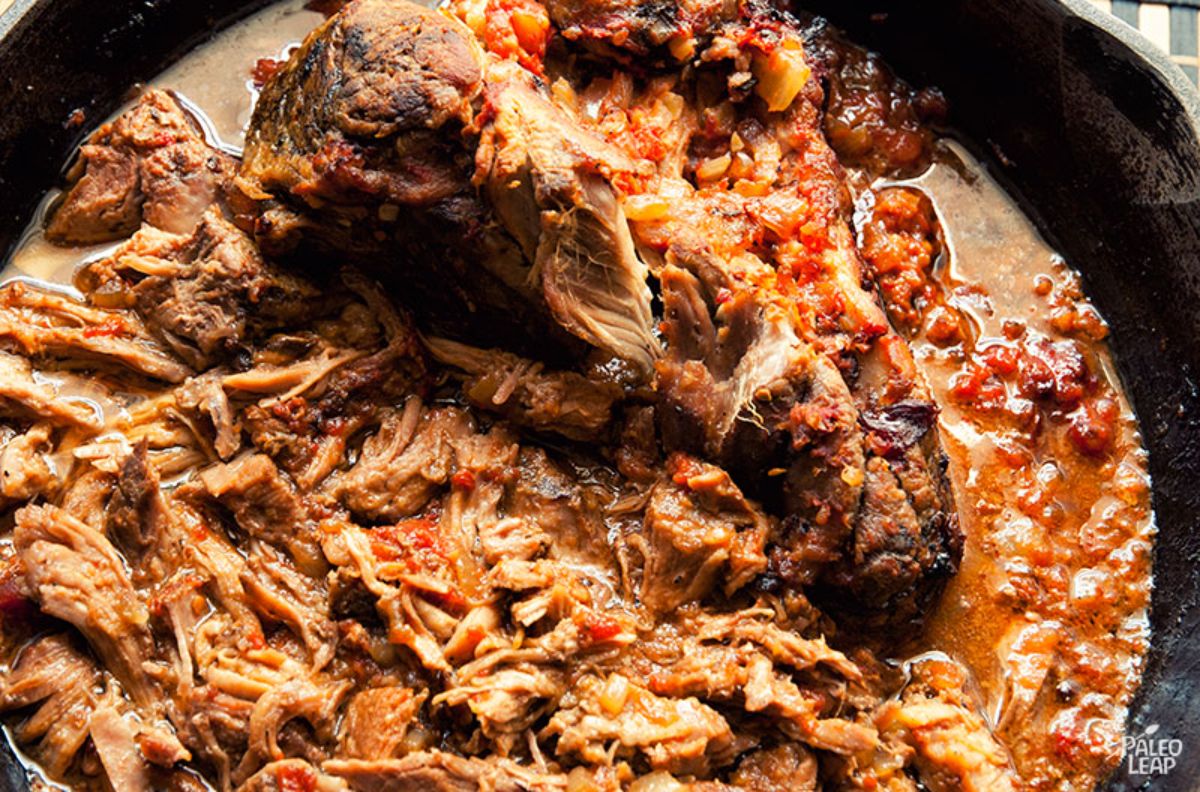 You can easily convert this to a slow-cooker recipe: just follow the directions up to step 5, and then put the meat and sauce in the slow cooker instead of the oven. Set the temperature to low and cook for 8-9 hours.
Traditionalists might insist on barbecue sauce for their pulled-pork feasts, but if you're willing to experiment a little you can play around with all kinds of flavors, like this Asian-inspired variation with ginger and sriracha.
It's still got that spicy seasoning to complement the fatty meat, but with a slightly different flavor profile. And the coconut aminos (a Paleo-friendly substitute for soy sauce) give it a delicious savory taste, although if you can't get coconut aminos, you can just substitute some more fish sauce. Why not give it a spin to see how you like it?
Asian Pulled Pork Recipe
SERVES: 4 PREP: 20 min COOK: 5 h
Ingredients
3 to 4lbs pork shoulder;
2 cups diced tomatoes;
1 onion, diced;
5 cloves garlic, minced;
2 tbsp. finely grated fresh ginger
1 tbsp. fish sauce;
2 tbsp. coconut aminos;
2 tbsp. sriracha sauce;
1 tbsp. Dijon mustard;
¼ cup raw honey: (optional)
Freshly ground black pepper;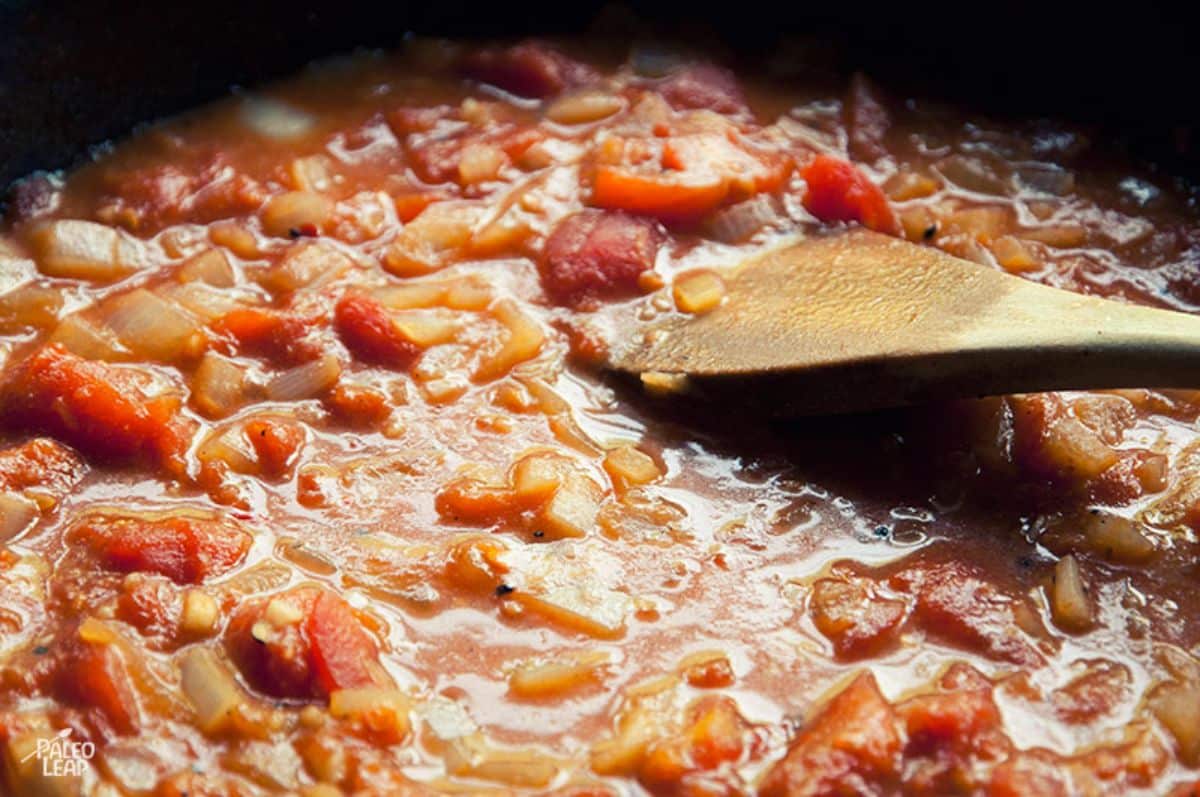 Preparation
Preheat your oven to 325 F.
Melt some cooking fat in a skillet placed over medium-high heat, and cook the onion and garlic until soft.
Add the tomatoes, ginger, fish sauce, coconut aminos, sriracha, mustard, honey, and season with black pepper to taste.
Let everything simmer on low heat for 5 to 6 minutes.
In a large skillet placed over high heat, brown the pork shoulder on all sides (it should take about 3 to 4 minutes per side).
Place the pork in an oven-proof dish and pour the sauce all over it. Cover the dish with a lid or aluminum foil.
Place in the oven and cook for 4 to 5 hours or until the pork is easy to shred with a fork.
Completely shred the pork, mix well with the sauce, and serve
📖 Recipe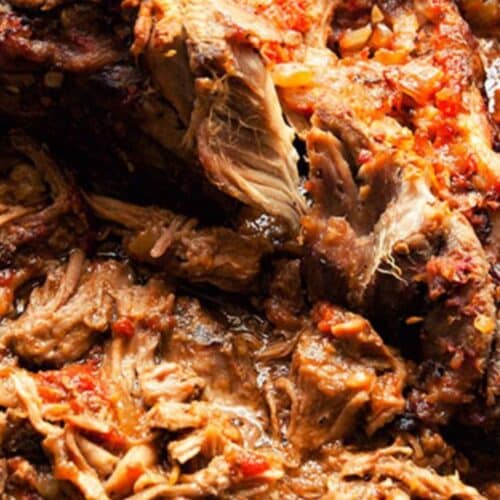 Asian Pulled Pork Recipe
Tender pulled pork with a new and different twist on the seasonings.
Ingredients
3 to 4

lbs

pork shoulder

2

cups

diced tomatoes

1

onion

diced

5

cloves

garlic

minced

2

tbsp.

finely grated fresh ginger

1

tbsp.

fish sauce

2

tbsp.

coconut aminos

2

tbsp.

sriracha sauce

1

tbsp.

Dijon mustard

¼

cup

raw honey:

optional

Cooking fat

Freshly ground black pepper
Instructions
Melt some cooking fat in a skillet placed over medium-high heat, and cook the onion and garlic until soft.

1 onion,

Cooking fat,

5 cloves garlic

Add the tomatoes, ginger, fish sauce, coconut aminos, sriracha, mustard, honey, and season with black pepper to taste.

2 cups diced tomatoes,

2 tbsp. finely grated fresh ginger,

1 tbsp. fish sauce,

2 tbsp. coconut aminos,

2 tbsp. sriracha sauce,

1 tbsp. Dijon mustard,

¼ cup raw honey:,

Freshly ground black pepper

Let everything simmer on low heat for 5 to 6 minutes.

In a large skillet placed over high heat, brown the pork shoulder on all sides (it should take about 3 to 4 minutes per side).

Place the pork in an oven-proof dish and pour the sauce all over it. Cover the dish with a lid or aluminum foil.

Place in the oven and cook for 4 to 5 hours or until the pork is easy to shred with a fork.

Completely shred the pork, mix well with the sauce, and serve
Nutrition
Calories:
432
kcal
Carbohydrates:
28
g
Protein:
42
g
Fat:
16
g
Saturated Fat:
5
g
Polyunsaturated Fat:
2
g
Monounsaturated Fat:
8
g
Cholesterol:
139
mg
Sodium:
866
mg
Potassium:
1042
mg
Fiber:
2
g
Sugar:
22
g
Vitamin A:
168
IU
Vitamin C:
21
mg
Calcium:
80
mg
Iron:
4
mg