In this skillet dish, broccoli florets and wild mushrooms are combined with a spicy-balsamic sauce that works well with almost any main course.
The benefits of this dish are numerous – all ingredients are fairly low-cost (especially if you source your mushrooms from truly wild sources); the dish is easy and quick to prepare, and all of the ingredients are very adjustable.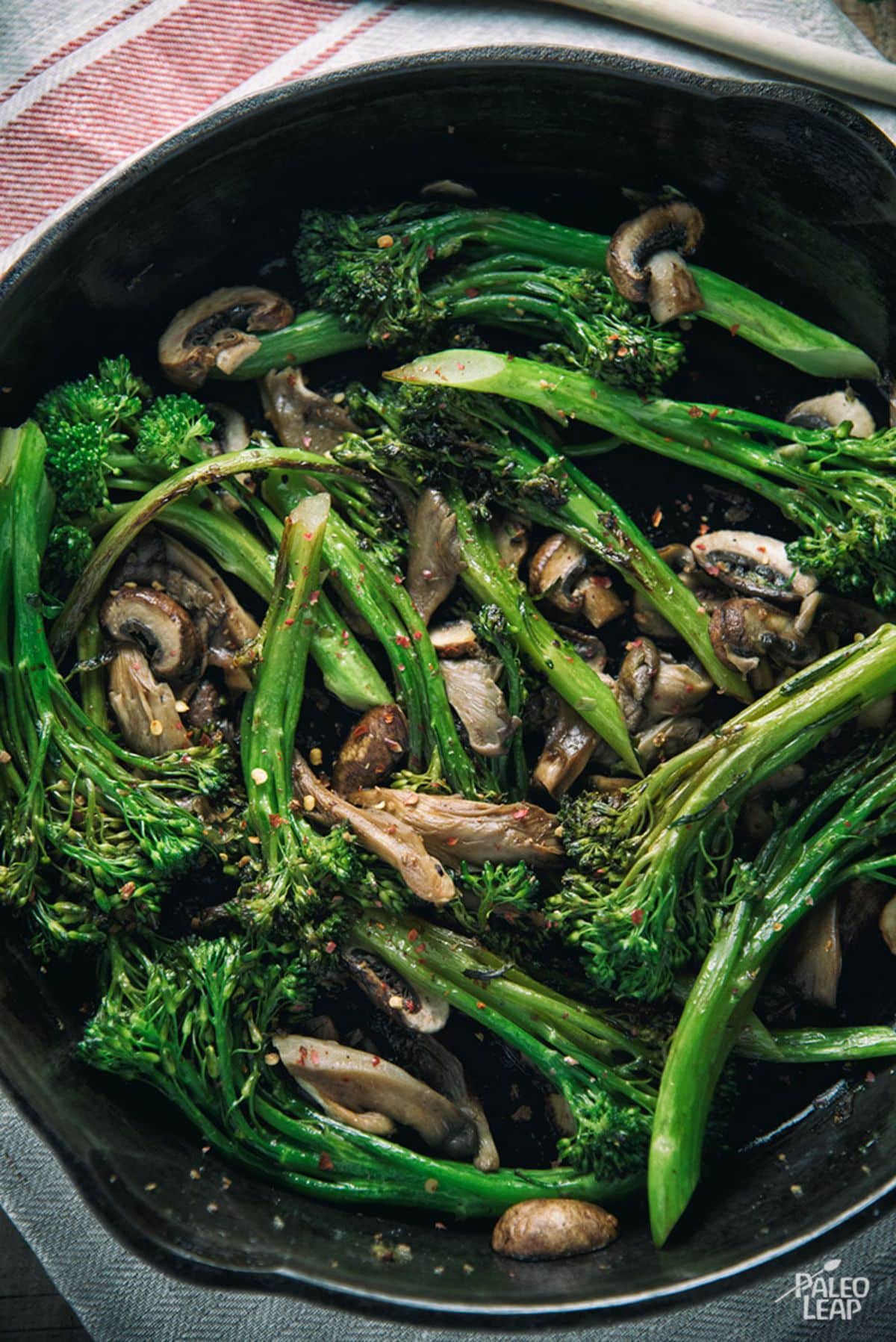 If you don't love mushrooms, try doubling your broccoli and substituting wild mushrooms with a more neutral flavor option. You can also switch out the broccoli for other brassicas, like cauliflower or bok choy.
It makes this dish a great option for busy weeknights when you don't have time for a lot of prep and need to use ingredients you already have on hand.
Sourcing wild mushrooms can be hit or miss depending on the time of year, where you are located, and your experience finding them.
A more conventional option is to check out your local farmer's market or the produce section of a locally-owned grocery store. If wild mushrooms aren't an option, try cremini or button mushrooms in their place.
Another component of this dish that can be adjusted is the spice – red pepper flakes add a substantial bit of heat, so increase or decrease these based on your preferences.
There are a few dishes that work well for serving with this skillet. Try a traditional pork and mushroom plate like these Old-Fashioned Slow Cooker Pork Chops – you can get things started in the morning and have minimal prep at dinnertime. To serve this dish with a vegetarian twist, try serving it with eggs prepared to your preference.
Balsamic Broccoli And Wild Mushroom Skillet Recipe
Serves: 4 Prep: 15 min Cook: 12 min
Ingredients
1 lb. broccoli or broccolini
½ lb. wild mushrooms, sliced
2 garlic cloves, minced
4 tbsp. balsamic vinegar
¼ cup vegetable stock
Pinch of red chili flakes
2 tbsp. ghee
Sea salt and freshly ground black pepper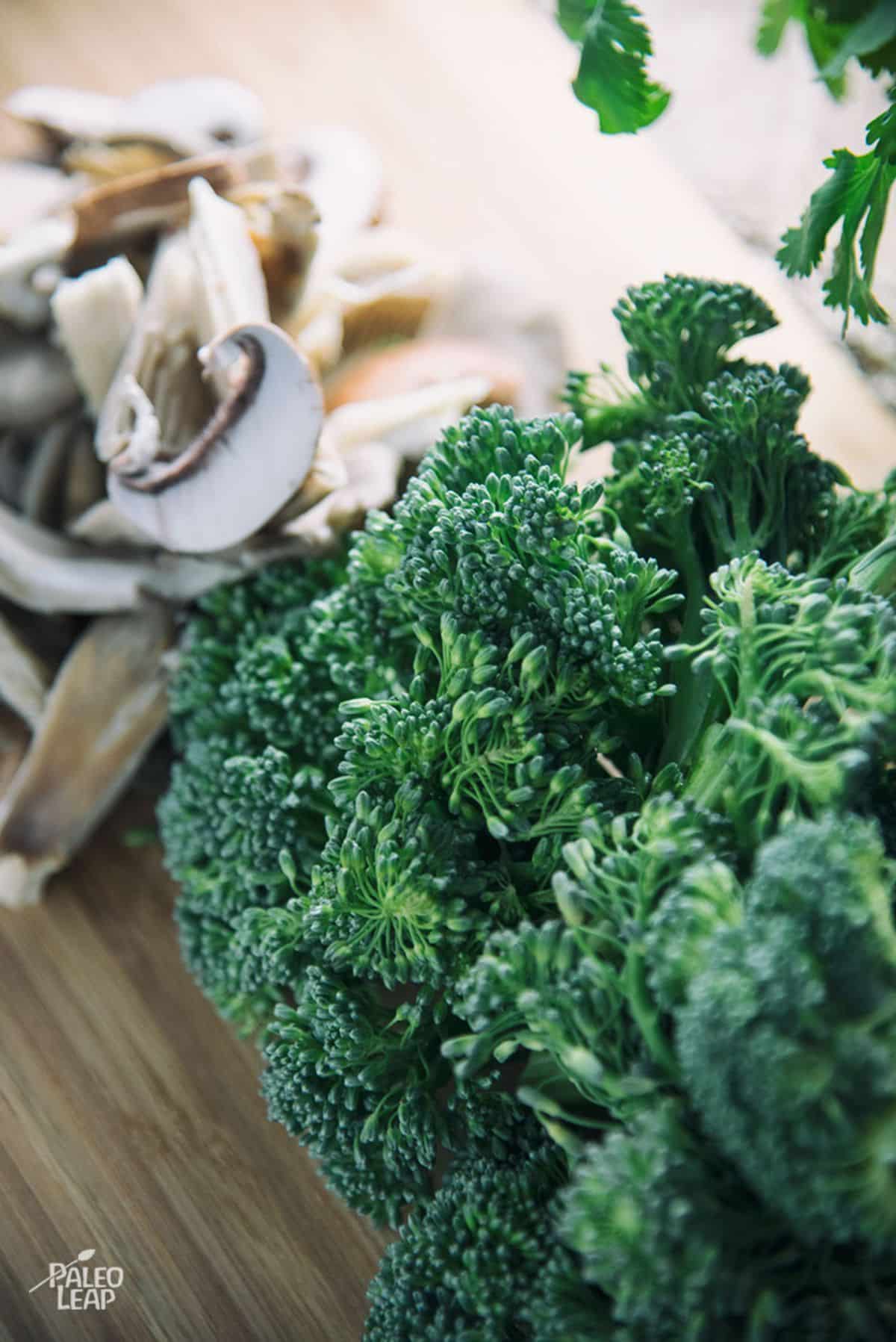 Preparation
Melt the ghee in a skillet over medium heat.
Add the garlic and cook for 1 to 2 minutes.
Add in the broccoli and cook for 4 to 5 minutes.
Add in the mushrooms and cook another 4 to 5 minutes.
Pour in the vegetable stock and scrape the bottom with a wooden spatula, deglazing the pan.
Drizzle with the balsamic vinegar, sprinkle with chili flakes and toss.
Season with salt and pepper, then serve.
📖 Recipe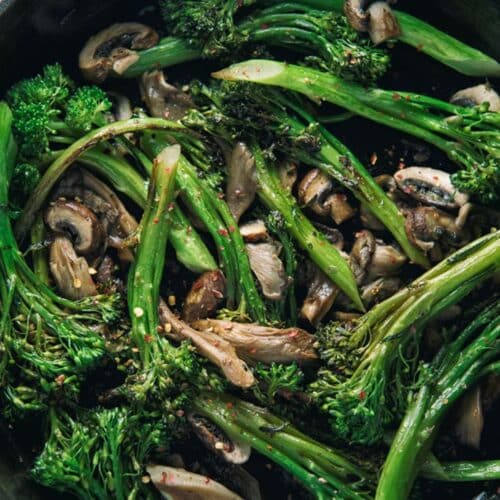 Balsamic Broccoli And Wild Mushroom Skillet Recipe
Skillet recipes like this one are a great way to make healthy and quick sides for any main course.
Instructions
Melt the ghee in a skillet over medium heat.

Add the garlic and cook for 1 to 2 minutes.

Add in the broccoli and cook for 4 to 5 minutes.

1 lb. broccoli or broccolini

Add in the mushrooms and cook another 4 to 5 minutes.

Pour in the vegetable stock and scrape the bottom with a wooden spatula, deglazing the pan.

Drizzle with the balsamic vinegar, sprinkle with chili flakes and toss.

4 tbsp. balsamic vinegar,

Pinch of red chili flakes

Season with salt and pepper, then serve.

Sea salt and freshly ground black pepper
Nutrition
Calories:
132
kcal
Carbohydrates:
13
g
Protein:
5
g
Fat:
8
g
Saturated Fat:
5
g
Polyunsaturated Fat:
0.5
g
Monounsaturated Fat:
2
g
Cholesterol:
19
mg
Sodium:
103
mg
Potassium:
561
mg
Fiber:
4
g
Sugar:
5
g
Vitamin A:
738
IU
Vitamin C:
103
mg
Calcium:
62
mg
Iron:
1
mg