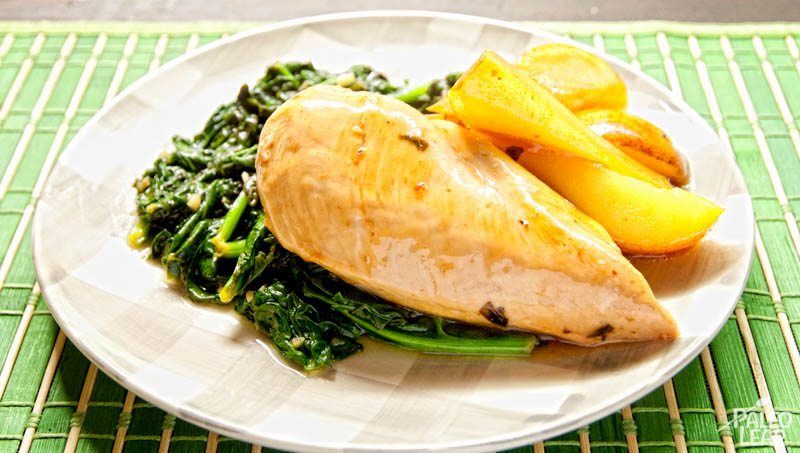 Last week's article on vinegar described all its interesting health benefits; this recipe gives you a delicious new way to take advantage of them. Vinegar and fruit isn't an obvious combination, but try it just once, and you'll be hooked at the first bite: the contrasting tastes bring each other out perfectly for a rich, intense flavor. A simple chicken breast and some sautéed spinach are the perfect accompaniments to keep the recipe from getting too overwhelming.
It can sometimes be tricky to find a pear that's perfectly ripe but not overly mushy. Cooking them gives you a little more flexibility compared to eating them straight, but wooden or overripe pears still won't do you any favors. To check, gently squeeze the neck of the pear, and then the body. The neck should give a little under your fingers, but the body should still be hard. If the neck doesn't give, the pear is underripe (grab these if you're going to wait a few days before using them); if the body itself is soft, it's overripe.
Technically, this is a two-part recipe: the balsamic chicken and pears are one part, and the spinach is the other. You don't have to make both parts at the same time, but I'm giving directions for both because I think they complement each other perfectly. If you aren't big on spinach, the chicken and pears would also go with plenty of other vegetables, and the spinach is versatile enough to complement almost anything.
Balsamic Chicken and Pears with Spinach Recipe

SERVES: 4

PREP: 12 min.

COOK: 25 min.
Values are per portion. These are for information only & are not meant to be exact calculations.
Ingredients
4 skinless boneless chicken breasts;
2 Bosc pears, cored and cut into wedges;
1 cup chicken stock;
2 tbsp. fresh basil, minced;
4 garlic cloves, minced;
3 tbsp. balsamic vinegar;
2 tsp. tapioca starch;
Sea salt and freshly ground black pepper;
Ingredients for the sautéed spinach
2 lb. spinach;
5 garlic cloves, minced;
1 tsp. lemon juice;
Sea salt and freshly ground black pepper;
2 tbsp. extra-virgin olive oil;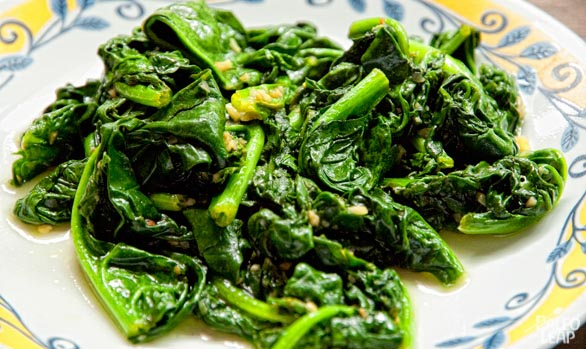 Balsamic Chicken and Pears
Preparation
Over a medium-high heat, add the cooking fat on a 12-inch skillet.
Add the garlic to the skillet and cook until brown (about 2 minutes). Then add the chicken and basil, and season to taste. Cook for 12 to 15 minutes or until the chicken is well-cooked.
Once the chicken is done, transfer it to a plate.
In a small bowl, combine the chicken stock, the balsamic vinegar, and the tapioca starch.
In the same skillet that you just used for the chicken, cook the pears for 4 to 5 minutes until they're slightly browned. Then add the balsamic mixture to the skillet. Bring to a boil and cook for another minute.
Reduce the heat to low. Return the chicken to the skillet and heat through.
Sautéed Spinach
Preparation
In a skillet over a medium-high heat, warm up the olive oil. Add the garlic and cook for a minute.
Add the spinach and lemon juice, and season to taste. Cook for about 2 minutes.
Transfer the spinach to a plate; top with the chicken and pears, and serve.