The dramatic crimson of this soup matches the deep, vibrant taste of the beets and tomatoes that fill it with flavor, not to mention nutrition.
Both are excellent sources of Vitamin C and provide substantial amounts of other nutrients as well: beets are packed with folate (especially important for pregnant women), potassium, and manganese, while tomatoes are full of vitamins A and K, and also add even more potassium to the mix.
And this is without even mentioning the antioxidants in the vegetables: the visually striking red of both vegetables actually comes from their high antioxidant content.
Beets can be a little intimidating to cook with, but a few tricks will make it a lot easier. A pair of rubber gloves will prevent the red pigment from staining your hands, and an apron or an old shirt is a wise decision.
Many people's first instinct is to peel the beets before boiling them, but if you wait, they're actually easier to peel: you can just wrap each beet in a paper towel and rub them around a bit, and the peel will come right off without wasting any of the beets underneath.
Adding even more beauty to the visual presentation of this dish is a swirl of coconut milk and a few sprigs of fresh parsley – if you're hunting for a beautiful, seasonal dish to serve at Christmas time, this would be a perfect choice.
But even in August, this soup is a visually striking addition to the menu, and with tomatoes and beets both in season, it's a wonderful way to appreciate the late-summer vegetable bounty from your garden, CSA basket, or grocery store.
Beet and Tomato Soup Recipe
SERVES: 6 PREP: 1h COOK: 30 min
Ingredients
1 lb. beets;
3 big tomatoes, chopped;
4 medium green onions, thinly sliced;
3 tablespoons extra-virgin olive oil;
4 cups vegetable or chicken stock;
1 tbsp. tomato paste;
1 tsp. ground cumin, plus more for garnish;
6 tbsp. coconut milk for garnishing;
Chopped fresh parsley for garnishing;
Sea salt and freshly ground black pepper, to taste;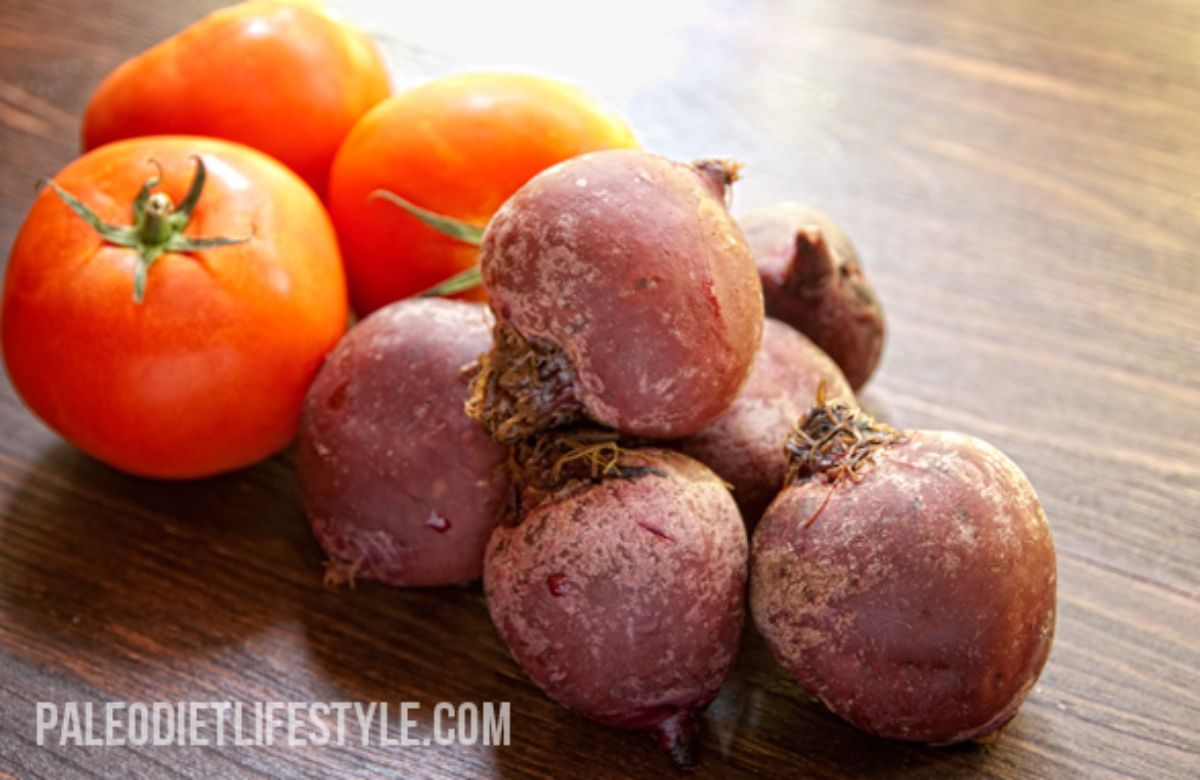 Preparation
In a large saucepan, cover the beets with water (leave the skin on). Bring to a boil and cook 45 minutes to 1 hour, or until tender, over medium-high heat.
Drain the beets. Peel them, and chop them coarsely.
In the same saucepan, warm the olive oil over medium heat. Add the green onions, and cook until softened (about 5 min).
Add the tomatoes and beets, and season to taste. Cook, frequently stirring, for about 5 min.
Add the cumin. Stir and cook for about 1 minute. Then add the vegetable or chicken stock and the tomato paste, and bring to a boil.
Lower the heat. Cover the saucepan, and let it simmer for 10 minutes.
Puree the soup in a food processor or blender (you can do this in batches if your processor isn't big enough to handle it all at once).
Re-warm the soup and season it to taste.
Pour the soup into bowls and top each bowl with 1 tablespoon of coconut milk, cumin, and fresh parsley.
📖 Recipe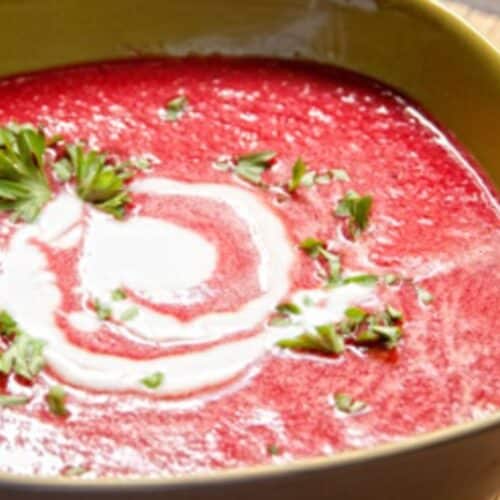 Beet and Tomato Soup Recipe
Feast your eyes as well as your stomach with this gorgeous, flavorful soup.
Ingredients
1

lb.

beets

3

big tomatoes

chopped

4

medium green onions

thinly sliced

3

tablespoons

extra-virgin olive oil

4

cups

vegetable or chicken stock

1

tbsp.

tomato paste

1

tsp.

ground cumin

plus more for garnish

6

tbsp.

coconut milk for garnishing

Chopped fresh parsley for garnishing

Sea salt and freshly ground black pepper

to taste
Instructions
In a large saucepan, cover the beets with water (leave the skin on). Bring to a boil and cook 45 minutes to 1 hour, or until tender, over medium-high heat.

Drain the beets. Peel them, and chop them coarsely.

In the same saucepan, warm the olive oil over medium heat. Add the green onions, and cook until softened (about 5 min).

3 tablespoons extra-virgin olive oil,

4 medium green onions

Add the tomatoes and beets, and season to taste. Cook, frequently stirring, for about 5 min.

3 big tomatoes,

Sea salt and freshly ground black pepper

Add the cumin. Stir and cook for about 1 minute. Then add the vegetable or chicken stock and the tomato paste, and bring to a boil.

4 cups vegetable or chicken stock,

1 tsp. ground cumin,

1 tbsp. tomato paste

Lower the heat. Cover the saucepan, and let it simmer for 10 minutes.

Puree the soup in a food processor or blender (you can do this in batches if your processor isn't big enough to handle it all at once).

Re-warm the soup and season it to taste.

Pour the soup into bowls and top each bowl with 1 tablespoon of coconut milk, cumin, and fresh parsley.

6 tbsp. coconut milk for garnishing,

Chopped fresh parsley for garnishing
Nutrition
Calories:
150
kcal
Carbohydrates:
13
g
Protein:
2
g
Fat:
11
g
Saturated Fat:
4
g
Polyunsaturated Fat:
1
g
Monounsaturated Fat:
5
g
Sodium:
713
mg
Potassium:
486
mg
Fiber:
3
g
Sugar:
9
g
Vitamin A:
999
IU
Vitamin C:
14
mg
Calcium:
35
mg
Iron:
2
mg