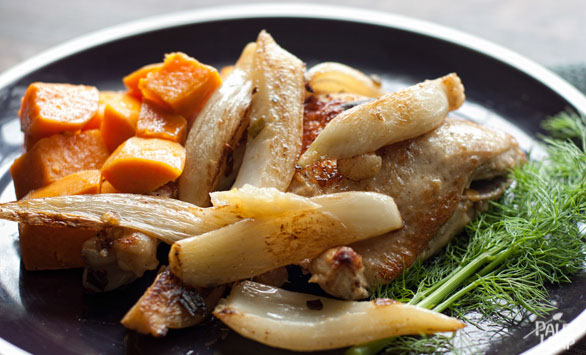 The following is a recipe for chicken legs braised in a flavorful combination of fennel bulb, sweet potatoes, lemon juice, green onions and garlic. This is a really great recipe that is once again simple to prepare and ready to be enjoyed in just about an hour.
I recently shared a delicious salad recipe with steak, cranberries and fennel, and I think fennel is one of those vegetables that are underused and that help bring such a light and distinct flavor to any dish. Fennel bulb, with its liquorice flavor, is not something common on most people's shopping list but it's nonetheless a really healthy choice rich in nutrients that brings a texture and a taste that is unique and delicious.
A good amount of lemon juice is called upon for this recipe. It helps give a great taste to the final dish and combines wonderfully with all the ingredients. Lemon juice added to a recipe is something that I think we all know can be a great addition to many dishes. It brings a natural tangy and sour flavor that is enjoyed almost universally. Lemon juice is more than just a great tasting ingredient as it can also be used as a tool for cleaning naturally around the house when combined with hot water and salt. It can even be used to cook fish without the use of any heat (e.g.: with a ceviche). In India, it's also often used as a natural remedy to kill bacteria. Lemon, like most other citrus fruits is an excellent source of ascorbic acid (vitamin C), which is a powerful and essential antioxidant.
The sweet potatoes used here almost serve as a side dish on their own. They help bring a full and filling meal that cooks all at once, which can be a great time saver. On top of it all, apart from being a great safe starch option, sweet potatoes are delicious and a great source of vitamin C and potassium.
Braised chicken with fennel and sweet potatoes recipe

SERVES: 4

PREP: 15 min.

COOK: 65 min.
Values are per portion. These are for information only & are not meant to be exact calculations.
Ingredients
4 whole chicken legs;
2 large sweet potatoes;
1 fennel bulb, thinly sliced;
4 green onions, thinly sliced;
4 cloves garlic, minced;
2 cups of chicken stock;
Zest and juice of 2 lemons;
2 tbsp Paleo cooking fat;
Sea salt and freshly ground black pepper to taste;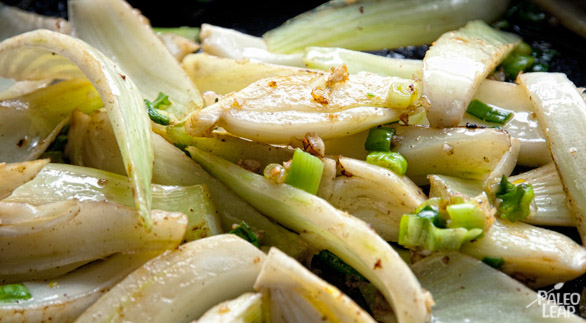 Preparation
Preheat your oven to 300 F.
In a skillet placed over a medium-high heat, add the cooking fat and sear the chicken legs until browned, about 5 minutes on each side.
Once browned, transfer the chicken legs to an oven ready pot and set aside.
In the same skillet, cook the fennel for 4 to 5 minutes until golden brown and then add the green onions and garlic and cook for another 2 to 3 minutes.
Transfer the fennel and green onions to the oven ready pot with the chicken legs, add the chicken stock, the lemon juice and half of the le zest, season with sea salt and fresh ground black pepper to taste, cover, and place in the oven for 20 minutes.
While the chicken cooks, peel and cut your sweet potatoes into evenly sized cubes.
Once the 20 minutes is done add the sweet potatoes to the mixture and cook for another 45 minutes or until the chicken is cooked through.
Serve on a plate and add some of the lemon zest on top of each chicken leg for extra flavor.