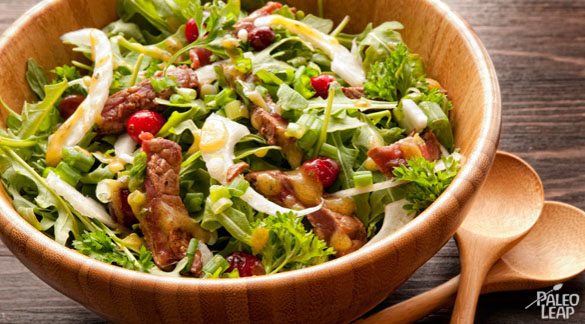 This recipe is more than just a quick and simple salad, but also a meal in and of itself. It's a reliable dish for any occasion and, above all, it's simply delicious. The fresh cranberries, the fennel bulb and the arugula are just a few of the ingredients that makes this salad delicious and highly nutritious  but what tops it all is the addition of the steak. Skirt steak is not known for being a tender cut of steak but the flavors that come out of it are quite surprising. It's one of my favorite cuts to use in salads. Of course, you can also try different cuts for this recipe. Flank steak would be a good option. Both flank and skirts steaks are also usually pretty cheap, especially when compared to cuts that are usually enjoyed on their own like the t-bone or the rib-eye.
Fresh cranberries can be tricky to use in recipes because of their tartness and sourness. That's why I recommend here to cook them in some boiling water for 3 to 5 min in order to reduce some of sourness. Once cooked and combined with the savory flavor of the steak and bitter flavor of the arugula, the remaining sourness from the cranberries is a welcome addition that make the salad pop. On top of it all, cranberries are a great source of vitamin C, which is a vital antioxidant that becomes even more important when the times are cold and our immune systems are tested.
The fennel bulb adds great texture to the salad because of its crunchy and striated feel, similar to the texture of celery. Its taste is quite unique, distinctive and very similar to the taste of anise. It's one of those vegetables that takes a little bit of getting used to, but that most people end up enjoying very much.
For this recipe I prepared a simple vinaigrette with olive oil and red wine vinegar. I used a small amount of mustard to help with the emulsion of the oil and the vinegar, but you can achieve a very similar result without the mustard.
Steak salad with cranberries recipe
Values are per portion. These are for information only & are not meant to be exact calculations.
Ingredients
½ cup fresh or frozen cranberries;
1 pound skirt steak;
2 green onions, thinly sliced;
1 large fennel bulb, sliced;
1 tbsp fresh thyme leaves;
4 cups baby arugula, washed;
Fresh parsley;
1 tbsp Paleo cooking fat;
Sea salt and freshly ground black pepper;
Vinaigrette ingredients
3/4 cup extra-virgin olive oil;
1 tbsp Dijon or homemade mustard;
1 tbsp fresh thyme;
1 tbsp red wine vinegar;
Sea salt and freshly ground black pepper to taste;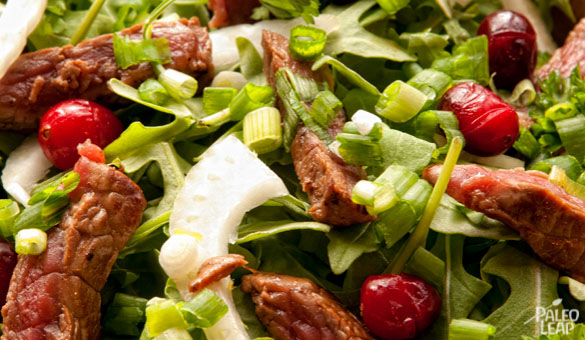 Preparation
Bring a small pot of water to a boil. Add the cranberries and let the water simmer for 3 to 5 minutes, until the cranberries soften. Drain the water and set the cranberries aside to cool.
Sprinkle thyme leaves all over the skirt steak and season with sea salt and black pepper to taste.
Over a medium-high heat and using the Paleo cooking fat, add the previously seasoned steak and cook to the desired doneness. Refer to my article on the art of cooking steak.
Once the steak is cooked to your liking, transfer to a cutting board and let it rest for about 5 minutes.
In the mean time, use a whisk  to combine all the ingredients for the vinaigrette together in a bowl until well emulsified and then season to taste with sea salt and black pepper.
In a large bowl, mix the baby arugula, the fennel and the cranberries. Add half of the vinaigrette and give everything a good toss.
Cut the steak into thin slices.
Divide the salad into four portions on plates or small bowls and add the steak slices on top.
Drizzle with the remaining vinaigrette and add some chopped fresh parsley on top.