When you are in need of a low-carb, high-protein fix with a garlicky twist, broiled halibut with broccoli will never let you down. This dish is beyond simple to bake, and it will leave you feeling like one of the greatest chefs in the world - take all the compliments you can get!
Halibut fillets are coveted by fish connoisseurs around the world, for they are mild and sweet, with a flavor similar to tilapia. At the same time, they are more firm than cod, so they hold up well as a "steak" option on the dinner plate.
We recommend you choose wild Pacific halibut if you can get it; these fish are caught between the Californian and the Alaskan coasts, as opposed to Atlantic halibut. You may also discover farm-raised Atlantic halibut as an alternative, though wild caught is packed with the most complex nutrients. Either way, it is a healthy treat.
As for the toasted garlic broccoli, we love it completely the way it is, though if you happen to have a spicy tooth, go ahead and add one teaspoon of red pepper flakes to make a hotter version of chili and garlic roasted broccoli.
A dash of cayenne pepper is sufficient to make your mouth water, while a generous sprinkle of ground sumac will take this dish to a whole other level of exquisite dining. Whatever spice you choose, do not skimp on the toasted garlic!
Broiled Halibut With Toasted Garlic Broccoli Recipe
Serves: 4 Prep: 40 min Cook: 25 min
Ingredients
4 6 oz. halibut fillets, skin on
3 tbsp. grass-fed butter or ghee
3 garlic cloves, minced
2 tbsp. lemon juice
½ tsp. dried basil
1 tbsp. fresh parsley, finely chopped
Sea salt and freshly ground black pepper
1 lemon, wedged
Cooking fat
Toasted Garlic Broccoli Ingredients
1 lb. broccoli, cut into florets
1 tbsp. olive oil
3 cloves garlic, thinly sliced
Sea salt and freshly ground black pepper
Preparation
Grease a large baking sheet and place the fish fillets' skin side down, making sure not to overlap. Season with salt and pepper.
In a small saucepan over medium-low heat, melt the butter and combine it with the minced garlic, lemon juice, basil, and parsley. Cook for about 2 minutes. Pour the mixture over the fillets and allow them to marinate for at least 30 minutes.
Turn the broiler on high and broil the halibut for about 10 minutes, or until the fish is white and flaky. Serve with lemon wedges.
For the broccoli: Bring a saucepan full of water to a boil. Place broccoli in the pot and cook until tender, about 5 minutes.
Add olive oil to a large skillet over medium heat. Sauté the sliced garlic in the oil. Stir frequently and allow the garlic to become golden brown, about 3 minutes. Remove garlic and set aside for later use.
Transfer the cooked broccoli to the skillet used above. Add more olive oil if desired and allow to sauté for about 3 minutes. Toss in toasted garlic and season with salt and pepper to taste.
📖 Recipe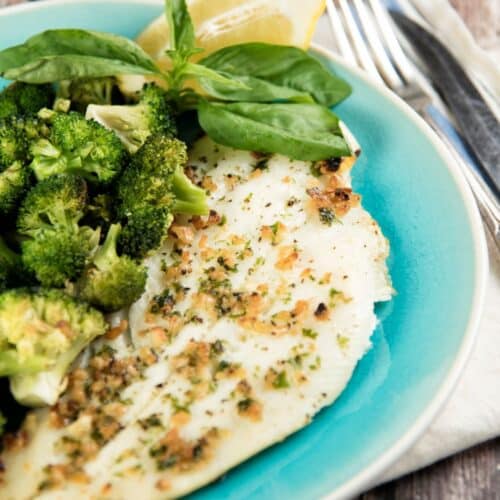 Broiled Halibut with Broccoli and Toasted Garlic Recipe
When you are searching for seafood flavors outside of shrimp and lobster for a restaurant-worthy meal, look no further than halibut.
Ingredients
Toasted Garlic Broccoli Ingredients
Instructions
Grease a large baking sheet and place the fish fillets' skin side down, making sure not to overlap. Season with salt and pepper.

4 6 oz. halibut fillets,

Sea salt and freshly ground black pepper,

Cooking fat

In a small saucepan over medium-low heat, melt the butter and combine it with the minced garlic, lemon juice, basil, and parsley. Cook for about 2 minutes. Pour the mixture over the fillets and allow them to marinate for at least 30 minutes.

3 tbsp. grass-fed butter or ghee,

3 garlic cloves,

2 tbsp. lemon juice,

½ tsp. dried basil,

1 tbsp. fresh parsley

Turn the broiler on high and broil the halibut for about 10 minutes, or until fish is white and flaky. Serve with lemon wedges.

For the broccoli: Bring a saucepan full of water to a boil. Place broccoli in the pot and cook until tender, about 5 minutes.

Add olive oil to a large skillet over medium heat. Sauté the sliced garlic in the oil. Stir frequently and allow the garlic to become golden brown, about 3 minutes. Remove garlic and set aside for later use.

3 cloves garlic,

1 tbsp. olive oil

Transfer the cooked broccoli to the skillet used above. Add more olive oil if desired and allow to sauté for about 3 minutes. Toss in toasted garlic and season with salt and pepper to taste.

Sea salt and freshly ground black pepper
Nutrition
Calories:
230
kcal
Carbohydrates:
9
g
Protein:
17
g
Fat:
15
g
Saturated Fat:
7
g
Polyunsaturated Fat:
1
g
Monounsaturated Fat:
6
g
Trans Fat:
0.4
g
Cholesterol:
59
mg
Sodium:
160
mg
Potassium:
723
mg
Fiber:
3
g
Sugar:
2
g
Vitamin A:
1347
IU
Vitamin C:
110
mg
Calcium:
84
mg
Iron:
2
mg