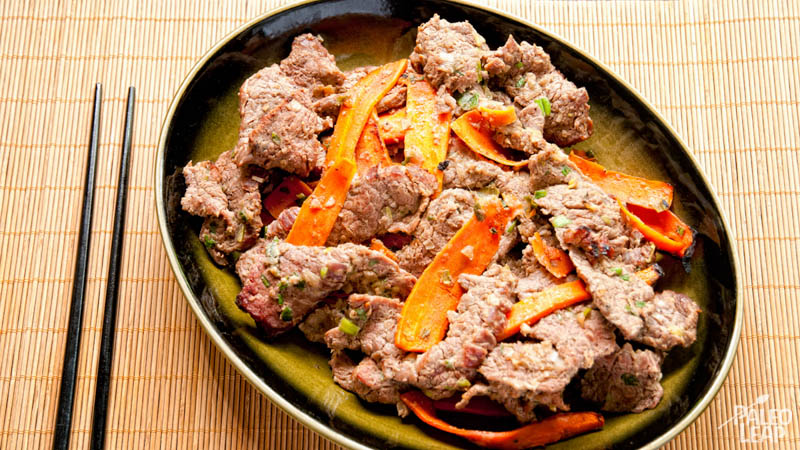 Bulgogi is a smoky Korean barbecue dish featuring grilled slices of beef and vegetables with salty-sweet seasoning. If you're craving something rich and hearty like lasagna or cheesy pizza, this is definitely a recipe to try instead: it's different enough in taste that it won't just feed your cravings, but still hits all the traditional "comfort food" buttons.
Unfortunately, restaurant Bulgogi usually includes sesame oil, sesame seeds, and soy sauce: not exactly a Paleo-friendly dinner. But the heart of the recipe is really the grilled beef, so creating a Paleo version is just a matter of a few quick substitutions. Coconut oil instead of sesame oil and coconut aminos instead of regular soy sauce make this meal as healthy as it is delicious. If you've never cooked with coconut aminos, they deliver the same flavor as regular soy sauce, only they're made from coconut sap without soy or gluten. You can find them at Whole Foods next to the soy sauce, or order them online.
The perfect vegetable side for this dinner would be kimchi, a fermented Korean cabbage recipe. Kimchi is deliciously crunchy and spicy, and also full of healthy probiotic bacteria; you can buy it already prepared, or dive right in to creating your own. Or simply serve the Bulgogi with a big bowl of bone broth, and enjoy a quick but satisfying meal.
Bulgogi Recipe

SERVES: 4

PREP: 1h15 min.

COOK: 15 min.

Values are per portion. These are for information only & are not meant to be exact calculations.
Ingredients
1 lb. flank steak, thinly sliced;
1 big Asian pear, roughly chopped;
1 small onion, roughly chopped;
4 cloves garlic, minced;
2 green onions, thinly sliced;
2 tbsp. coconut aminos;
1 tbsp. coconut oil;
2 carrots, sliced horizontally;
Freshly ground black pepper, to taste;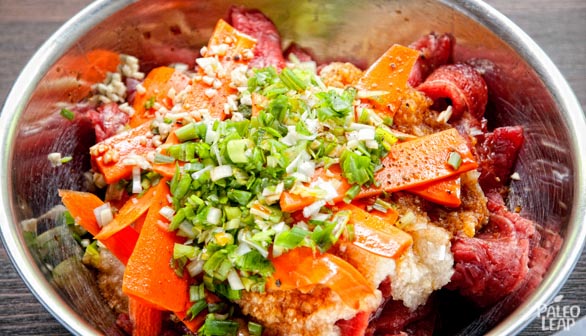 Preparation
In a food processor or blender, puree the onion and the pear together.
Combine all the ingredients in one bowl and season to taste with freshly ground black pepper. Cover and refrigerate for at least an hour.
Preheat the BBQ or grill to a high heat and cook the bulgogi until well-done, 10 to 15 minutes.
Serve with kimchi.