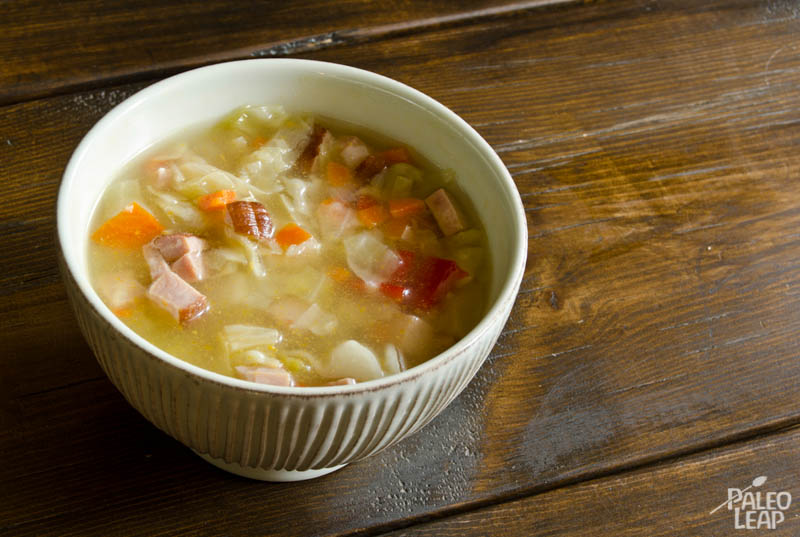 I have a unique outlook on leftovers – they shouldn't be viewed as a repeat meal, but more like another ingredient  in the fridge that can become part of a great dish. Just the other night I went to a friend's house for dinner and she was cooking a large piece of ham. It was wonderful, but there was far too much leftover, so she was kind enough to send me home with a nicely packaged doggy bag. It did not take me long to figure out what I was going to do with the ham – a traditional homemade soup. Before calling it a night, I removed some of my homemade chicken stock from the freezer, just to make sure it would be thawed in time. The next day I woke up bright and early to attend the local farmers market where I got fresh pickings of all the essentials, everything that would make for a delicious soup.
I'll share with you my recipe, but it's really anything but that. It was easy to select the ingredients, as it just so happened that I was in one of those moods where anything that looked good and caught my eye was going to be part of the final soup. Also, you can make use of whatever stock you have available, whether it be vegetable or even ham. Finally, make sure you do all your chopping ahead of time. Like most soups, this recipe requires that everything be thrown in the pot at practically the same time.
Cabbage turns out to be a perfect vegetable for soups because, while quite though when raw, it becomes soft and takes on a great texture when slowly cooked in a liquid like chicken stock. Here I used leftover ham, but you could just as well use leftover chicken or beef. If you do decide to use ham for this soup and unless you decide to prepare your own ham, you'll have to be somewhat careful with the ham you end up buying. Most options available in grocery stores will be packed with preservatives and sugar so the only real option is to find a local butcher that makes one with good ingredients only. Good butchers will know what's in their ham and you shouldn't be shy to ask them about it.
I hope you'll enjoy this heartwarming soup just as much as I did.
Cabbage soup recipe
Values are per portion. These are for information only & are not meant to be exact calculations.
Ingredients
1/2 head cabbage;
2 tbsp Paleo cooking fat;
1 onion, chopped;
1 bell pepper, chopped;
2 carrots, chopped;
1 lb cooked ham, cubed;
2 cloves garlic, minced;
2 bay leaves;
8 to 10 cups homemade stock;
Sea salt and freshly ground black pepper to taste;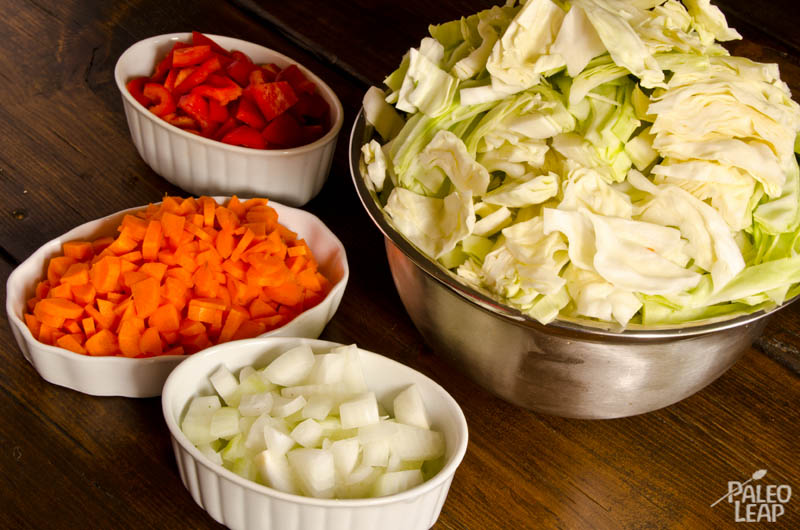 Preparation
In a large saucepan over a medium-high heat melt the cooking fat. Sautee the onions and garlic in the cooking fat for 5 to 7 minutes, just until the onions are translucent and tender.
Add the cabbage, bell pepper, carrots and ham and toss with the onions and garlic. Cook for 3 to 5 minutes, frequently stirring to prevent anything from burning or sticking to the bottom of the pot.
Pour in the stock with the bay leaves. Allow the soup to come to a simmer and cook partially covered for 35 to 45 minutes. Season to taste with freshly cracked black pepper, but taste the liquid before adding any salt, as the ham will most likely give off enough saltiness on its own.
Remove the bay leaves and serve.