When you imagine a steaming pot of cabbage soup, your mind naturally adds meat to the ingredient list, some kind of ground beef or pork, yet it doesn't have to be this way.
A soup without meat can be refreshing, hearty, and wholesome all the same, as in the case of this vegetable cabbage soup.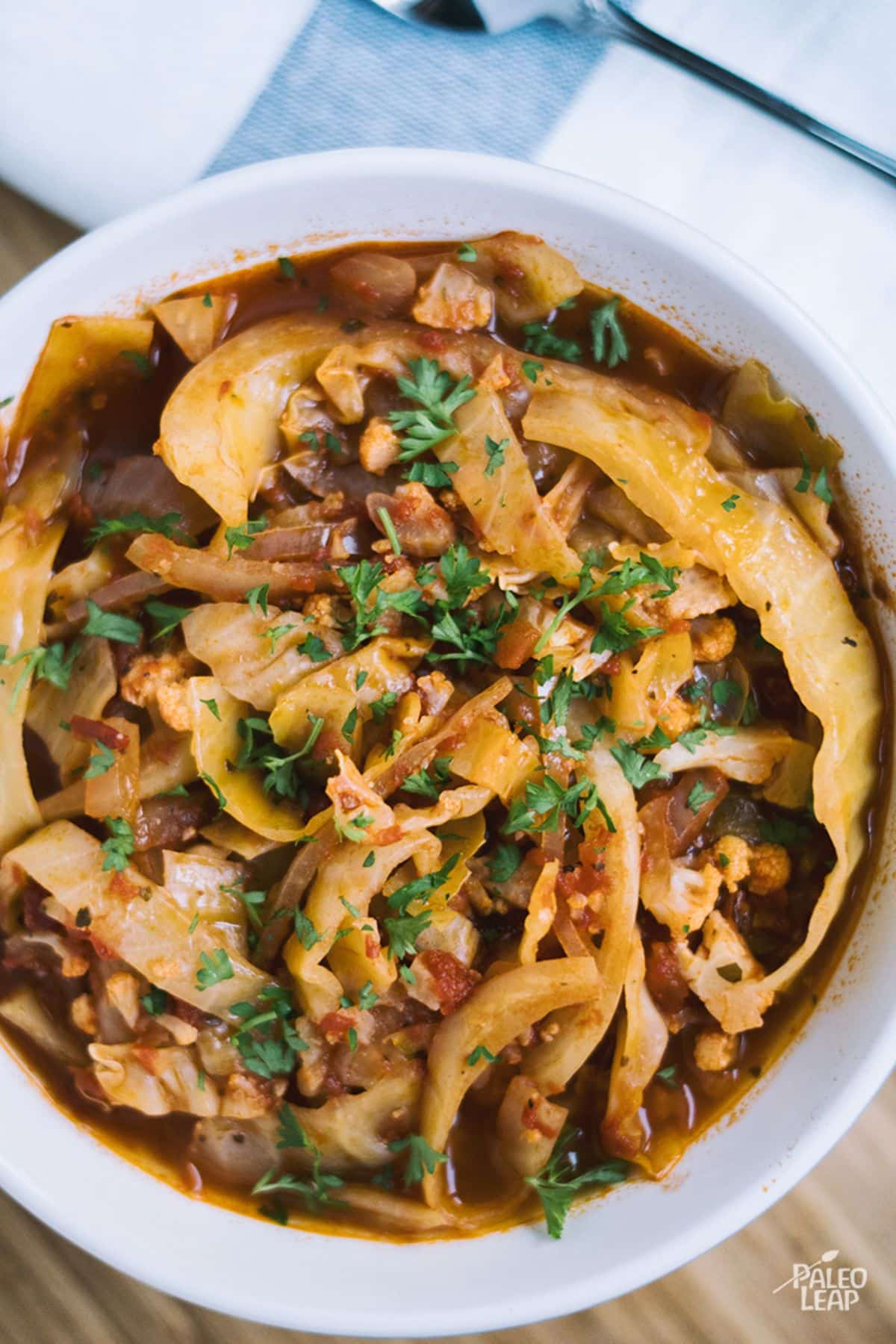 Let's start off by saying it is a humble soup, but in a world of super-charged, over-flavored meals that look better than they taste, this soup will get you grounded and bring you right back down to earth.
All of the ingredients are readily available, they are basic, yet not old-fashioned - in fact, they are timeless. Your grandparents could have easily made the same cabbage soup as their grandparents before them.
Of course, they would have had to grow some of their own vegetables in a garden to achieve such a multifarious soup, but with modern conveniences (farmers' markets and grocery stores), we are in luck and can make just about anything that we fancy at any given time - no growing, foraging or hunting required!
You can and should be proud of making such a simple soup, either as a main course or as an appetizer. All the vegetables go in the pot at once, and the mass is brought to a boil, then lowered to a gentle simmer. Done.
If you are up for soup and salad, why not try a beet, broccoli and mache salad with almond vinaigrette on the side to bring about some modern simplicity to the meal?
Cabbage Soup Recipe
Serves: 4 Prep: 20 min Cook: 50 min
Ingredients
1 head of cabbage, thinly sliced
1 red onion, sliced
2 cups cauliflower florets
2 garlic cloves, minced
2 cups diced tomatoes
2 cups tomato sauce or marinara sauce
3 to 4 cups vegetable stock
1 tsp. dried parsley
1 tsp. dried oregano
Fresh parsley for garnish
Sea salt and freshly ground black pepper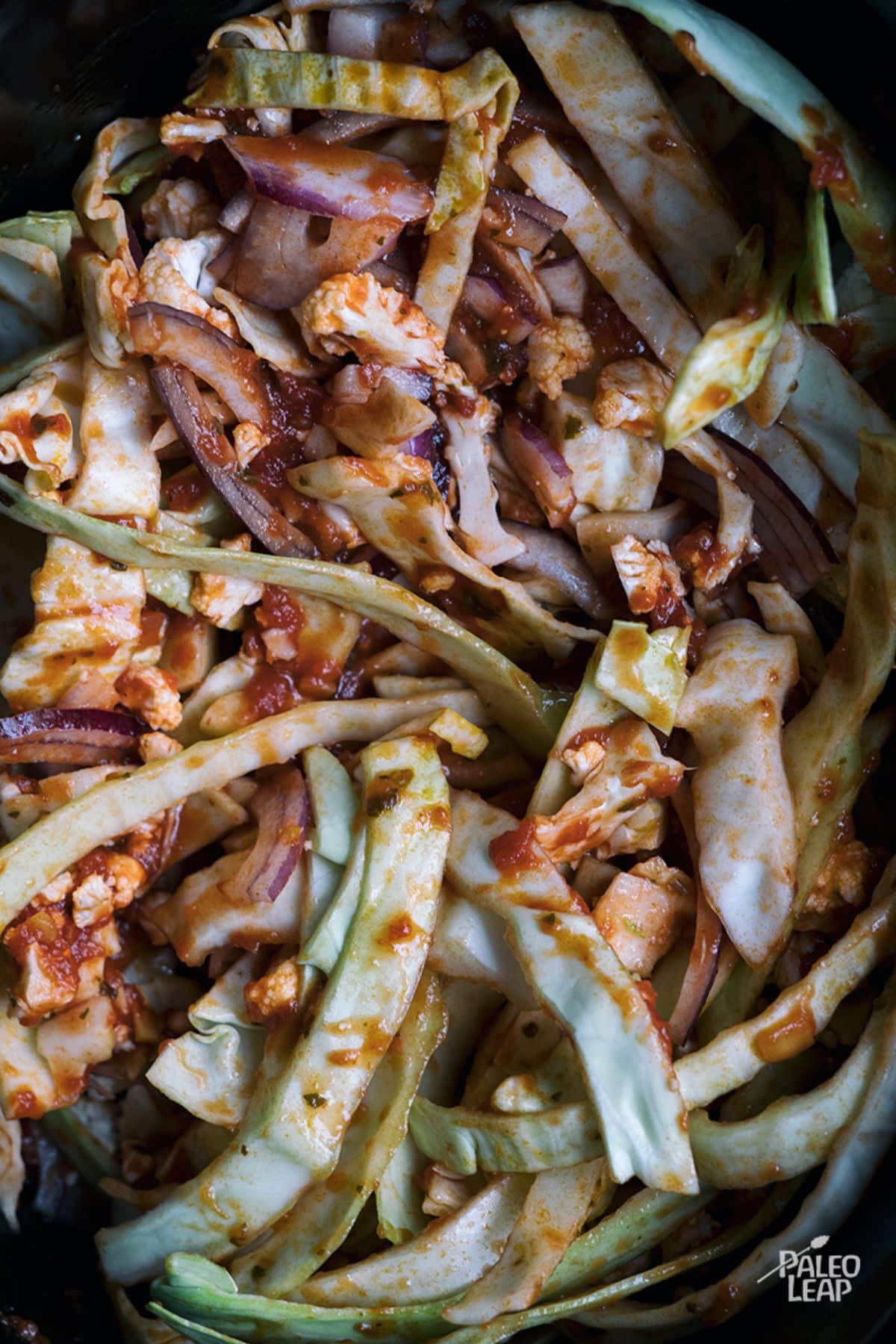 Preparation
Place all the ingredients in a large saucepan.
Bring the soup to a light boil over medium-high heat.
Lower heat and bring to a light simmer, then cover.
Let the soup simmer for 45 to 50 minutes or until everything is soft.
Adjust the seasoning and serve with fresh parsley.
📖 Recipe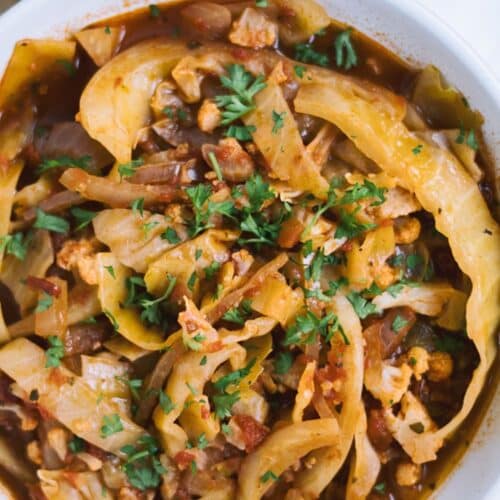 Cabbage Soup Recipe
Meatless cabbage soup is not without flavor or integrity, in fact, it will nourish the mightiest of appetites and second helpings are waiting in the pot.
Instructions
Place all the ingredients in a large saucepan.

1 head of cabbage,

1 red onion,

2 cups cauliflower florets,

2 garlic cloves,

2 cups diced tomatoes,

2 cups tomato sauce or marinara sauce,

3 to 4 cups vegetable stock,

1 tsp. dried parsley,

1 tsp. dried oregano

Bring the soup to a light boil over medium-high heat.

Lower heat and bring to a light simmer, then cover.

Let the soup simmer for 45 to 50 minutes or until everything is soft.

Adjust the seasoning and serve with fresh parsley.

Sea salt and freshly ground black pepper,

Fresh parsley for garnish
Nutrition
Calories:
148
kcal
Carbohydrates:
34
g
Protein:
7
g
Fat:
1
g
Saturated Fat:
0.3
g
Polyunsaturated Fat:
0.3
g
Monounsaturated Fat:
0.2
g
Sodium:
1361
mg
Potassium:
1220
mg
Fiber:
11
g
Sugar:
18
g
Vitamin A:
1314
IU
Vitamin C:
131
mg
Calcium:
199
mg
Iron:
4
mg