If the Paleo movement has a right to brag about any culinary achievement, that achievement has got to be the grain-free pizza. We've got vegetable crusts of various types. Protein-rich chicken "crusts." Tapioca-flour crusts. Mini-pizzas in pepperoni "crusts." Various other forms of grain-free delights.
If "replacing pizza crust" were an art form, this probably would be the Renaissance.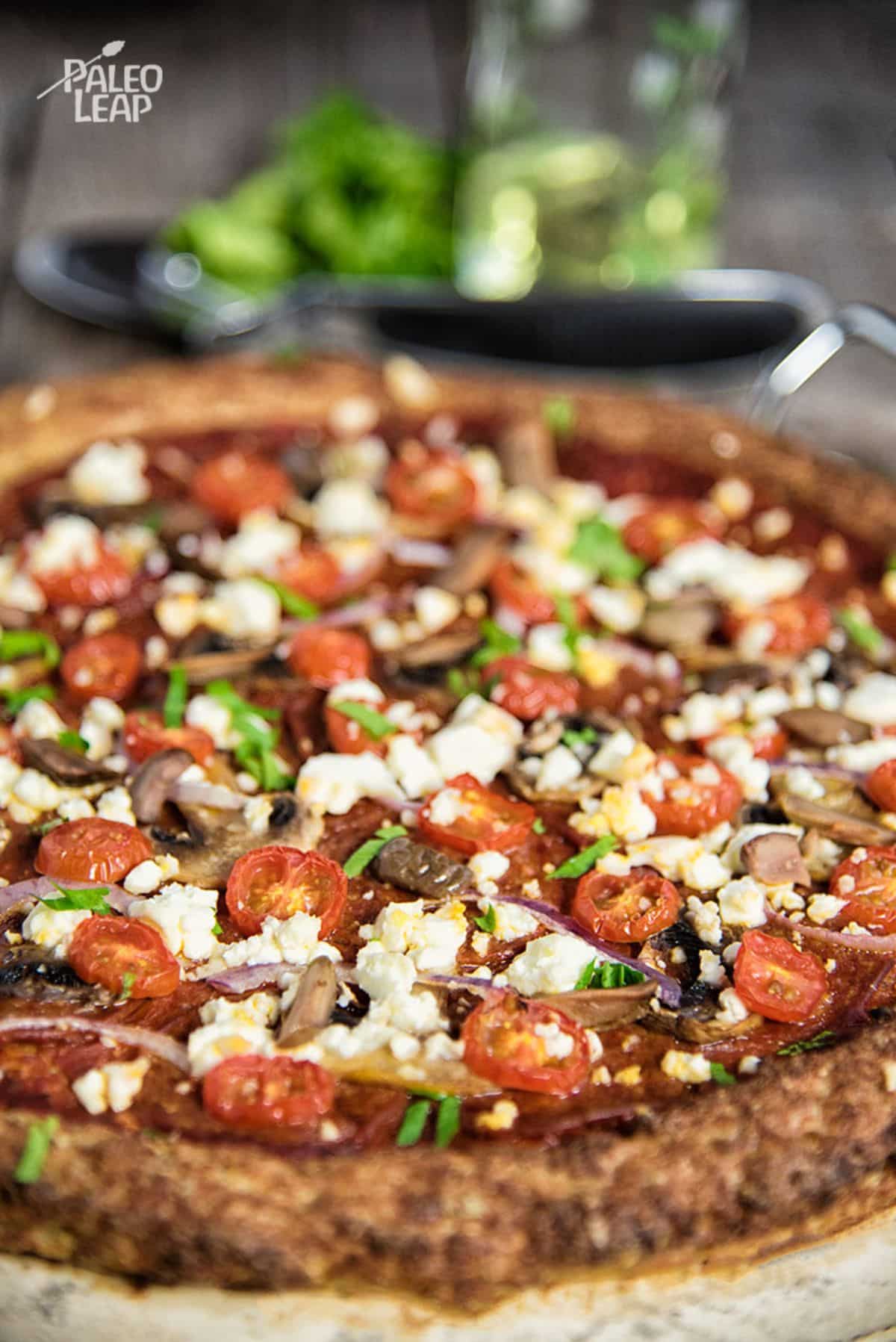 Here's one more for the list: the classic cauliflower crust. Just to get one thing out of the way: no, not everyone likes cauliflower. If you hate it, check out one of the other options above.
But plenty of people do actually like cauliflower as a crust for their Paleo baking adventures, so here's a recipe for them.
The cauliflower crust is a nice balance between taste re-creation and nutritional value. It's vegetable-heavy, but it looks and tastes a little more "normal" than most other styles of vegetable crust.
To make this one easy, you can make use of a great new convenience food: pre-shredded cauliflower. Yep, it's a thing; you can get it at Trader Joe's, and you might luck out with some other grocery stores, too, since the Trader Joe's product got really popular really fast.
Or go the old-fashioned way and food-process your own cauliflower into submission, and then load it down with whatever toppings you feel like, and pizza night is on!
Cauliflower Crust Pizza Recipe
SERVES: 4 PREP: 25 min COOK: 35 min
Ingredients
1 head cauliflower, stalk removed
2 eggs, lightly beaten
¼ cup almond or tapioca flour
1 tsp. dried oregano
1 teaspoon dried basil
½ tsp. garlic powder
Sea salt and freshly ground black pepper
Pizza topping Ingredients (Pick your Favorites)
Pizza sauce
Pepperoni
Mushrooms
Grape tomatoes, sliced
Almond cheese (optional)
Fresh basil
Any other toppings you like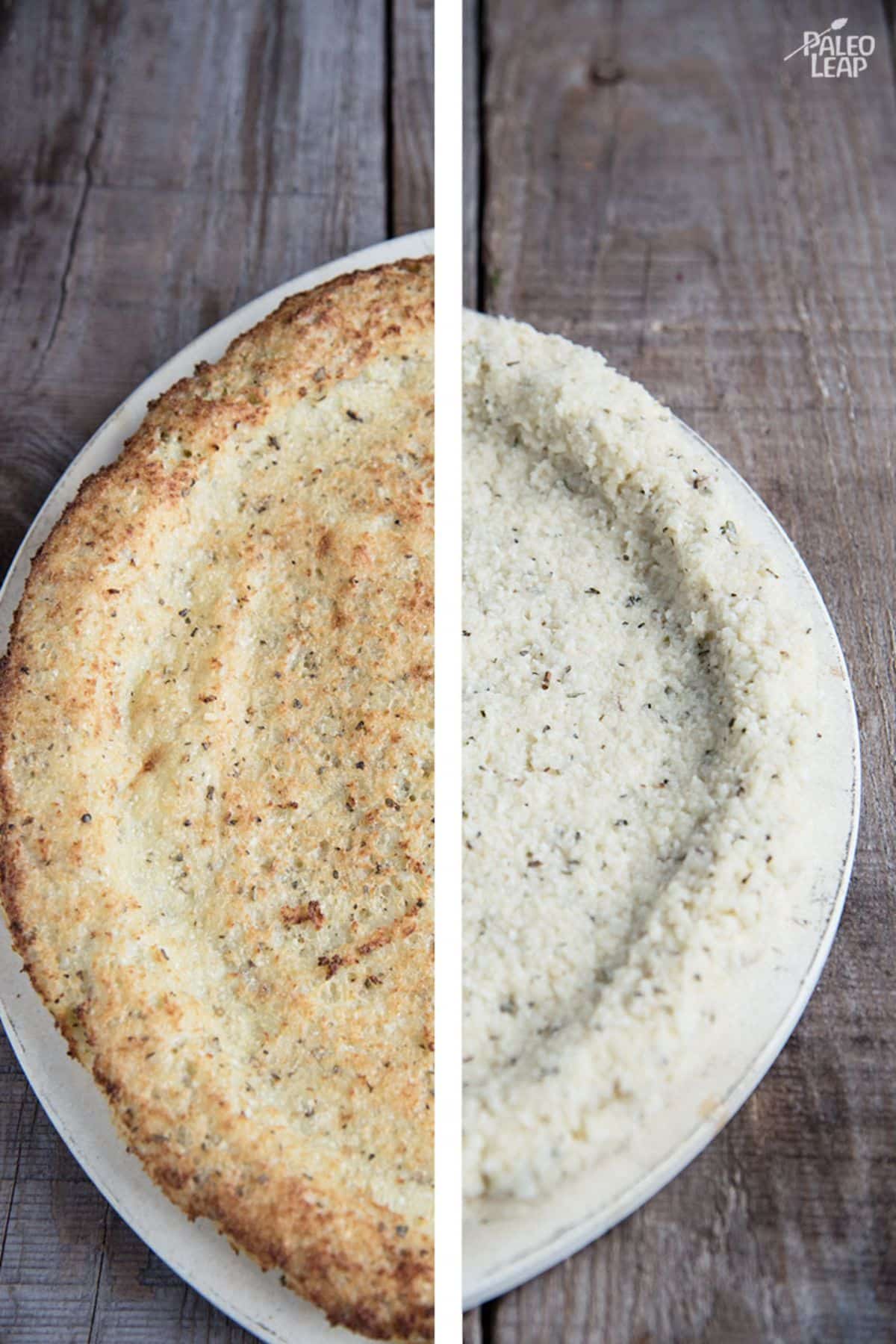 Preparation
Preheat your oven to 400 F.
Place the cauliflower in a food processor and pulse until finely shredded (you may want to do this in different batches).
Steam the shredded cauliflower for 3 to 4 minutes. Drain well, let cool, and strain any excess water using a towel.
In a bowl, combine the cauliflower, eggs, oregano, dried basil, garlic powder, and almond flour, and season with salt and pepper to taste. Mix everything thoroughly.
Transfer to a pizza pan or baking sheet and shape into a pizza crust shape.
Bake in the preheated oven for 15 to 18 minutes.
Spread pizza sauce on top of the crust. Add all your desired toppings and bake for another 8 to 10 minutes or until the toppings are nicely cooked.
📖 Recipe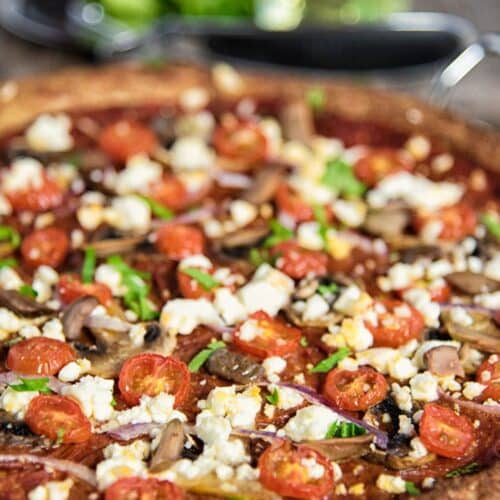 Cauliflower Crust Pizza Recipe
Yet another take on Paleo pizza, this time using shredded cauliflower for a crust (with your choice of toppings).
Instructions
Preheat your oven to 400 F.

Place the cauliflower in a food processor and pulse until finely shredded (you may want to do this in different batches).

Steam the shredded cauliflower for 3 to 4 minutes. Drain well, let cool, and strain any excess water using a towel.

In a bowl, combine the cauliflower, eggs, oregano, dried basil, garlic powder, and almond flour, and season with salt and pepper to taste. Mix everything thoroughly.

2 eggs,

¼ cup almond or tapioca flour,

1 tsp. dried oregano,

1 teaspoon dried basil,

½ tsp. garlic powder,

Sea salt and freshly ground black pepper

Transfer to a pizza pan or baking sheet and shape into a pizza crust shape.

Bake in the preheated oven for 15 to 18 minutes.

Spread pizza sauce on top of the crust. Add all your desired toppings and bake for another 8 to 10 minutes or until the toppings are nicely cooked.

Pizza sauce,

Pepperoni,

Mushrooms,

Almond cheese,

Fresh basil,

Any other toppings you like,

Grape tomatoes
Nutrition
Calories:
125
kcal
Carbohydrates:
11
g
Protein:
8
g
Fat:
7
g
Saturated Fat:
1
g
Polyunsaturated Fat:
2
g
Monounsaturated Fat:
4
g
Trans Fat:
0.01
g
Cholesterol:
82
mg
Sodium:
75
mg
Potassium:
555
mg
Fiber:
5
g
Sugar:
3
g
Vitamin A:
142
IU
Vitamin C:
69
mg
Calcium:
94
mg
Iron:
2
mg