Charmingly rustic, but sophisticated enough to appeal to a crowd that's grown out of Dominos and Pizza Hut, this surprisingly simple Paleo pizza is ready almost as fast as it would take to order in, especially if you already have some sauce on hand (but just in case you don't, I've included a sauce recipe here for you to use).
The big difference between this and the other Paleo pizza recipe on the site is that this crust has no nuts at all: it's all tapioca starch, with an egg to bind it together, plus a few spices baked right into the dough for extra flavor. You can also feel free to add even more fresh herbs or spices to the dough recipe, depending on what you're planning for the toppings and how you like your crust. This still doesn't make pizza a great staple food (since tapioca starch isn't very nutrient-dense), but it avoids the big problem with almond-flour baking, namely the high amounts of Omega-6 PUFA in nuts.
Once you're done with the dough, the really fun part of the recipe starts: picking your toppings. I gave a few suggestions, but don't worry about going your own way if you like something different. Go crazy with exotic additions or stick to tried-and-true favorites like pepperoni, olives, and hot peppers. If you tolerate dairy well, ricotta cheese makes this a little more like a traditional pizza recipe, but if not, the pizza is just as tasty without.
The toppings are a perfect way to get the whole family involved in cooking – even younger kids can get involved with picking their favorites. For whatever reason, even the pickiest eaters soften up a little if they get a choice about what they want to eat, so this is a hassle-free way to sneak some vegetables into the dinner menu without a fuss. Slice it up while it's hot, and enjoy!
Hot Skillet Pizza Recipe

2 PIZZAS

PREP: 40 min.

COOK: 15 min.
Ingredients for dough
2 ½ cups tapioca starch;
½ cup of full-fat coconut milk;
2 tbsp. olive oil;
1 large egg, beaten;
1/4 tsp. dried oregano or basil;
Sea salt and freshly ground black pepper to taste;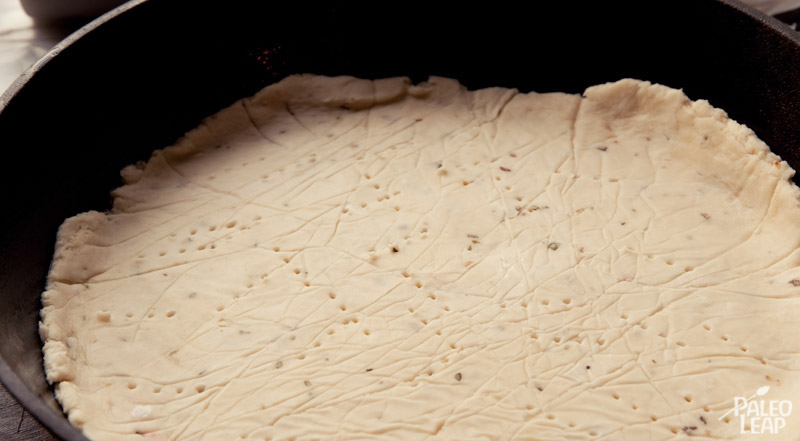 Ingredients for toppings
2 red onions, thinly sliced;
2 bell peppers, chopped;
12 Cherry tomatoes, chopped;
14 slices Pepperoni;
Homemade ricotta cheese; (optional)
Anything else you'd enjoy on a pizza!
Ingredients for sauce
1 garlic clove, minced;
1 shallot, minced;
2 cups of tomato puree;
1 tsp. oregano;
1 tsp. dry basil;
1 tbsp. ghee or other cooking friendly fat;
Sea salt and freshly ground black pepper to taste;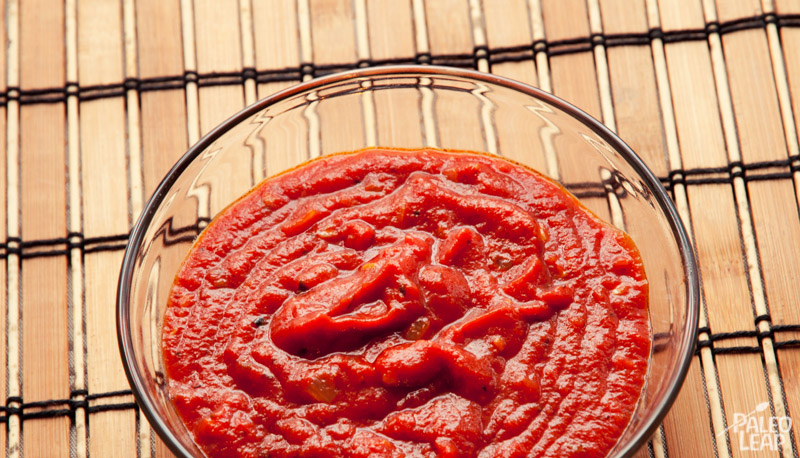 Preparation for the sauce
Add the minced shallot and the garlic in a saucepan placed over a medium heat along with the ghee. Cook until soft and golden (about 4 to 5 minutes).
Add the tomato puree, oregano, basil, and season to taste with salt and pepper.
Lower the heat and let it simmer for 20 minutes.
Preparation for the pizza
Preheat your oven to 450 F.
In a large bowl, combine the coconut milk, and olive oil.
Add the tapioca starch and combine everything together (it will be lumpy at this stage and that's OK).
Add the beaten egg to the tapioca mixture, and mix with your hands until you get the proper doughy texture. Add the oregano and season to taste while mixing the dough.
Split the dough in half. Place one half between two pieces of wax paper and flatten it using a rolling pin. Try to get close to the size of the bottom of the skillet. Keep the other half of the dough for another pizza.
Place the flattened dough in a cast-iron skillet and poke it a few times with a fork.
Place the skillet in the middle of the oven and cook for 7 minutes.
Remove the skillet from oven and add the pizza sauce and your topping. (This is the part where you can go all-out with whatever you want on the pizza)
Place the pizza back in the oven and cook for another 10 to 12 minutes, or until you see that the topping are nicely cooked and brown. If you like it crunchy on top, set the oven to broil for 2 to 3 minutes at the end.
Serve warm.