Here, instead of tapioca starch or almond flour, I've used Portobello mushrooms as the base to make miniature personal-sized pizzas that everyone at the table can customize to their liking.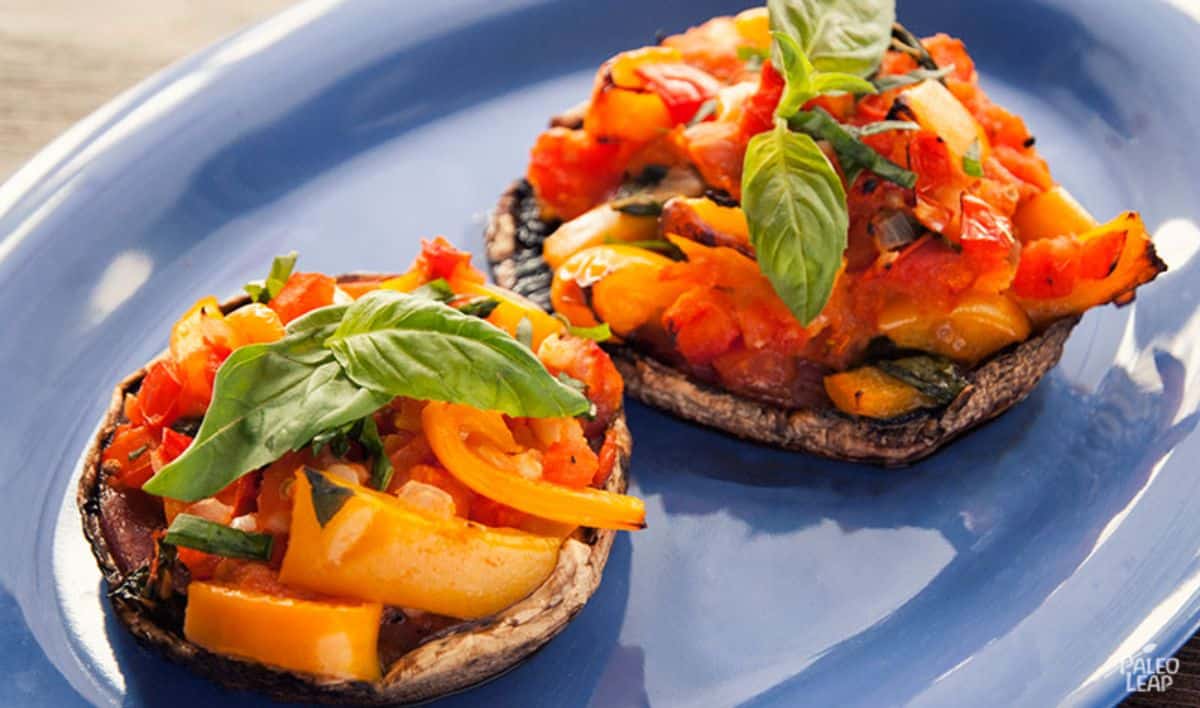 While this doesn't quite give you that crispy bite of crust at the end of every slice, this also has a significant bonus: it's a lot faster. Unlike dough, the mushrooms don't need any special preparation; just fill them up and slide them into the oven.
In fact, you can probably get this recipe on the table in less time than it would take for takeout to arrive. This is also a great recipe for anyone with a nut sensitivity or for people who just want to keep their carbohydrate intake on the lower side.
The directions below give you one possible set of toppings, but this is the type of recipe that just begs you to play around with it: add what you want, take away what you don't, and change it as much as you feel like.
You could even include some cheese if dairy sits well in your stomach. Or let everyone at the table pick their own and make the meal into a family cooking night – great for getting kids involved in the kitchen, and the results are delicious!
Portobello Pizza Recipe
SERVES: 4 PREP: 15 min COOK: 30 min
Ingredients
4 Roma tomatoes, seeded and diced;
4 large Portobello mushrooms, stems removed;
4 cloves garlic, minced;
Good quality natural salami or pepperoni slices;
1 bell pepper, chopped;
1 onion, chopped;
4 to 5 fresh basil leaves, minced;
Coconut oil;
Juice from half a lemon;
Sea salt and freshly ground black pepper to taste;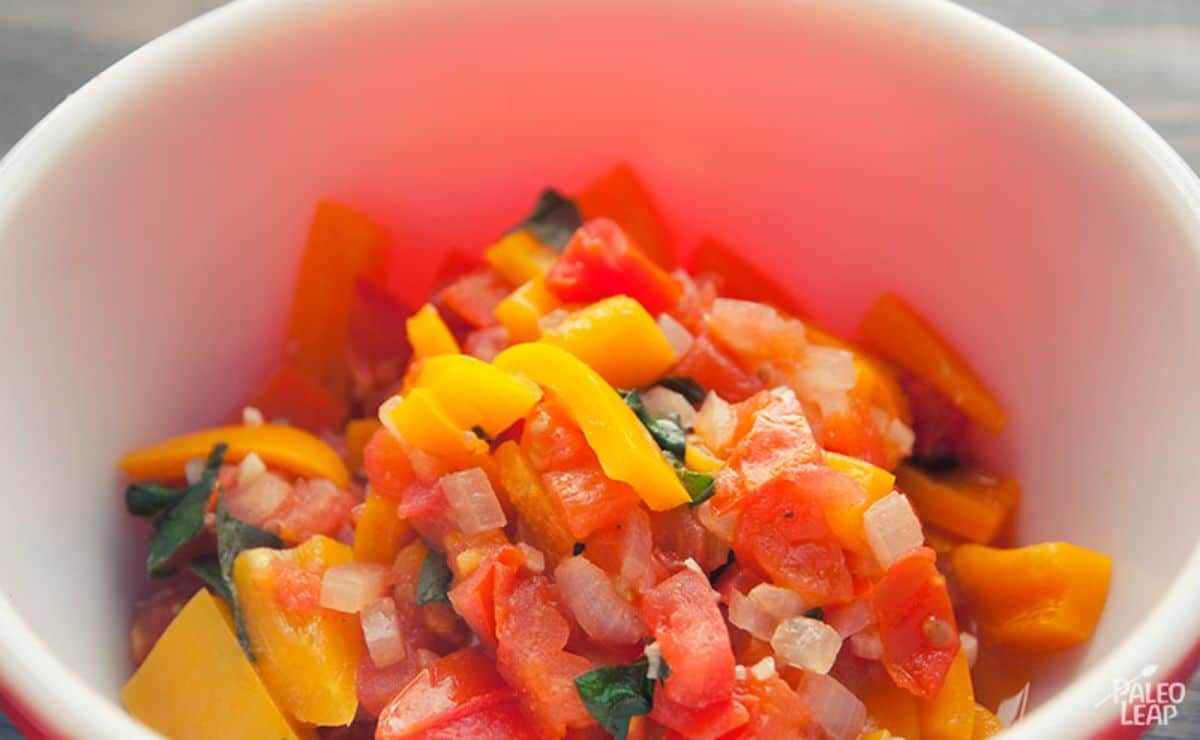 Preparation
Preheat your oven to 400 F.
In a skillet placed over medium heat, warm up some coconut oil. Add the onion and cook until golden.
Add the tomatoes, garlic, and bell pepper, and season to taste. Sauté the ingredients until the tomatoes are soft.
Add the lemon juice and fresh basil. Give everything a good stir, and remove from the heat.
Coat a baking sheet with melted coconut oil, and place the mushrooms on the sheet, bottom side up.
Add a slice of salami and pepperoni on top, and top with the ingredients from the skillet.
Place the mushrooms in the oven and bake for 12 minutes.
Top with fresh basil, leave and serve.
📖 Recipe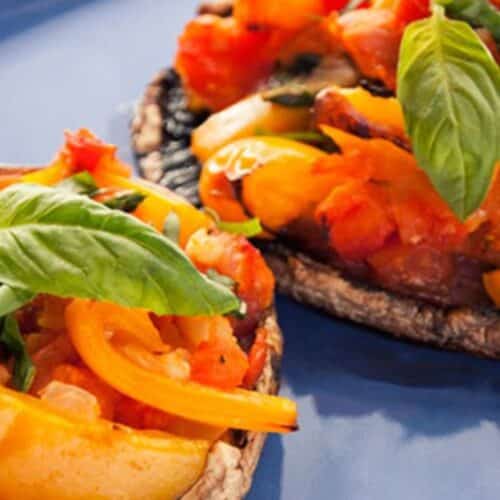 Portobello Pizza Recipe
If you're not big on nut-based pizza crusts, try out these easy and satisfying personal pizzas, each baked inside a meaty Portobello cap.
Ingredients
4

Roma tomatoes

seeded and diced

4

large Portobello mushrooms

stems removed

4

cloves

garlic

minced

Good quality natural salami or pepperoni slices

1

bell pepper

chopped

1

onion

chopped

4 to 5

fresh basil leaves

minced

Juice from half a lemon

Sea salt and freshly ground black pepper to taste
Instructions
Preheat your oven to 400 F.

In a skillet placed over medium heat, warm up some coconut oil. Add the onion and cook until golden.

Add the tomatoes, garlic, and bell pepper, and season to taste. Sauté the ingredients until the tomatoes are soft.

4 Roma tomatoes,

4 large Portobello mushrooms,

4 cloves garlic,

Sea salt and freshly ground black pepper to taste,

1 bell pepper

Add the lemon juice and fresh basil. Give everything a good stir, and remove from the heat.

Juice from half a lemon,

4 to 5 fresh basil leaves

Coat a baking sheet with melted coconut oil, and place the mushrooms on the sheet, bottom side up.

Add a slice of salami and pepperoni on top, and top with the ingredients from the skillet.

Good quality natural salami or pepperoni slices

Place the mushrooms in the oven and bake for 12 minutes.

Top with fresh basil, leave and serve.

4 to 5 fresh basil leaves
Nutrition
Calories:
57
kcal
Carbohydrates:
10
g
Protein:
3
g
Fat:
2
g
Saturated Fat:
0.2
g
Polyunsaturated Fat:
0.3
g
Monounsaturated Fat:
1
g
Trans Fat:
0.003
g
Sodium:
13
mg
Potassium:
557
mg
Fiber:
3
g
Sugar:
6
g
Vitamin A:
1470
IU
Vitamin C:
49
mg
Calcium:
18
mg
Iron:
1
mg