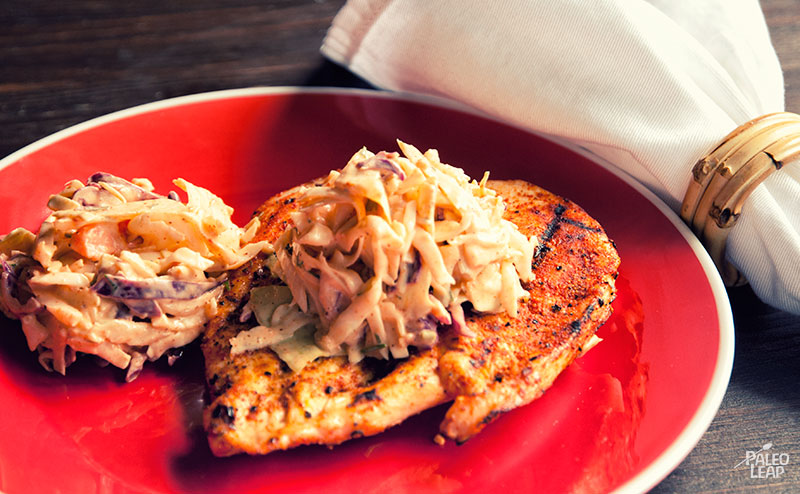 Chicken with coleslaw is a no-frills comfort food classic, and perfect for summer when a cooler side is just what you want. To put a special twist on the recipe, this version uses a buffalo ranch sauce instead of just mayonnaise for the slaw: on top of a paprika rub for the chicken, it adds a bolder taste to the final dish.
I've included a chicken recipe here to go with the coleslaw, but you can also make just the salad to enjoy with another meal – it's equally delicious with sausages, barbecue ribs, or another chicken recipe (maybe some buttermilk grilled chicken if you're in the mood for a slightly different kind of comfort food). Coleslaw will keep in the fridge (in fact, it's actually better after a few hours of refrigerating), so you can make it in advance, and then just pull it out when you need something
You can also play with the amount of hot sauce you use. 2 tablespoons will give you a bit of a kick; if you like it really spicy, you can ramp it up all the way to ¼ cup (4 tablespoons), or tone it down if spicy isn't your favorite flavor. And don't be shy about mixing things up with the cabbage, either: if you like a little more color to your slaw, just throw in a mix of red and green cabbage. Bring it to a picnic, or just keep it all for yourself and enjoy a classic taste of summer.
Chicken With Buffalo Ranch Coleslaw Recipe

SERVES: 4

PREP: 20 min.

COOK: 20 min.
Values are per portion. These are for information only & are not meant to be exact calculations.
Ingredients
1 head green cabbage, finely shredded;
1 large carrot, finely shredded;
4 boneless skinless chicken breasts, butterflied and lightly pounded (omit if making just the coleslaw);
1 tbsp. smoked paprika (omit if making just the coleslaw);
½ tbsp. garlic powder (omit if making just the coleslaw);
Sea salt and freshly ground black pepper;
Ingredients for the buffalo ranch sauce
¼ cup homemade mayonnaise;
¼ cup coconut milk;
1 tsp. raw garlic, minced;
2 tsp. fresh dill, minced;
2 tsp. fresh chives, minced;
½ tsp. paprika;
2 tbsp. apple cider vinegar;
2 tbsp. hot cayenne pepper sauce;
Sea salt and freshly ground black pepper;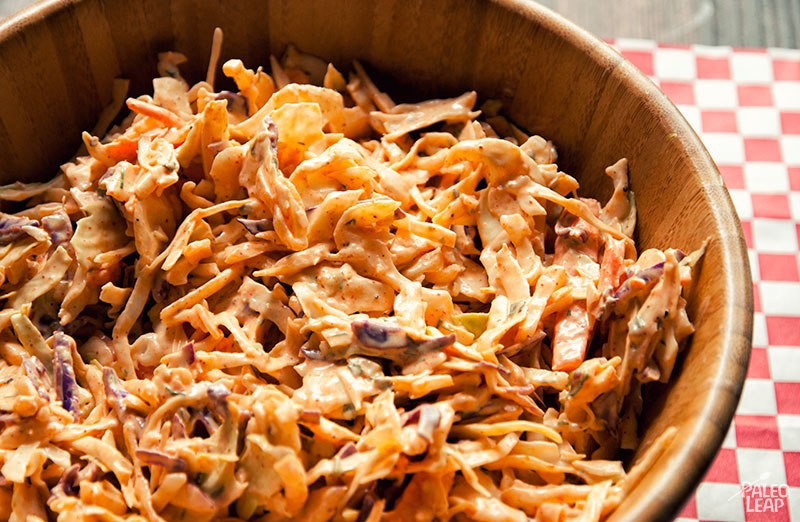 Preparation
Preheat your grill or BBQ to  a medium-high heat.
In a bowl, combine all the ingredients for the buffalo ranch sauce. Season to taste with salt and pepper and stir well.
In another large bowl, combine the cabbage, carrot, and buffalo ranch sauce. Cover and keep cold. If you're making the coleslaw only, you can stop here and enjoy.
In a small bowl, combine the paprika, garlic powder, and salt and pepper to taste.
Coat the chicken breasts with the paprika seasoning.
Cook the chicken on the pre-heated grill for 10 to 12 minutes per side.
Top the chicken with the coleslaw and serve.