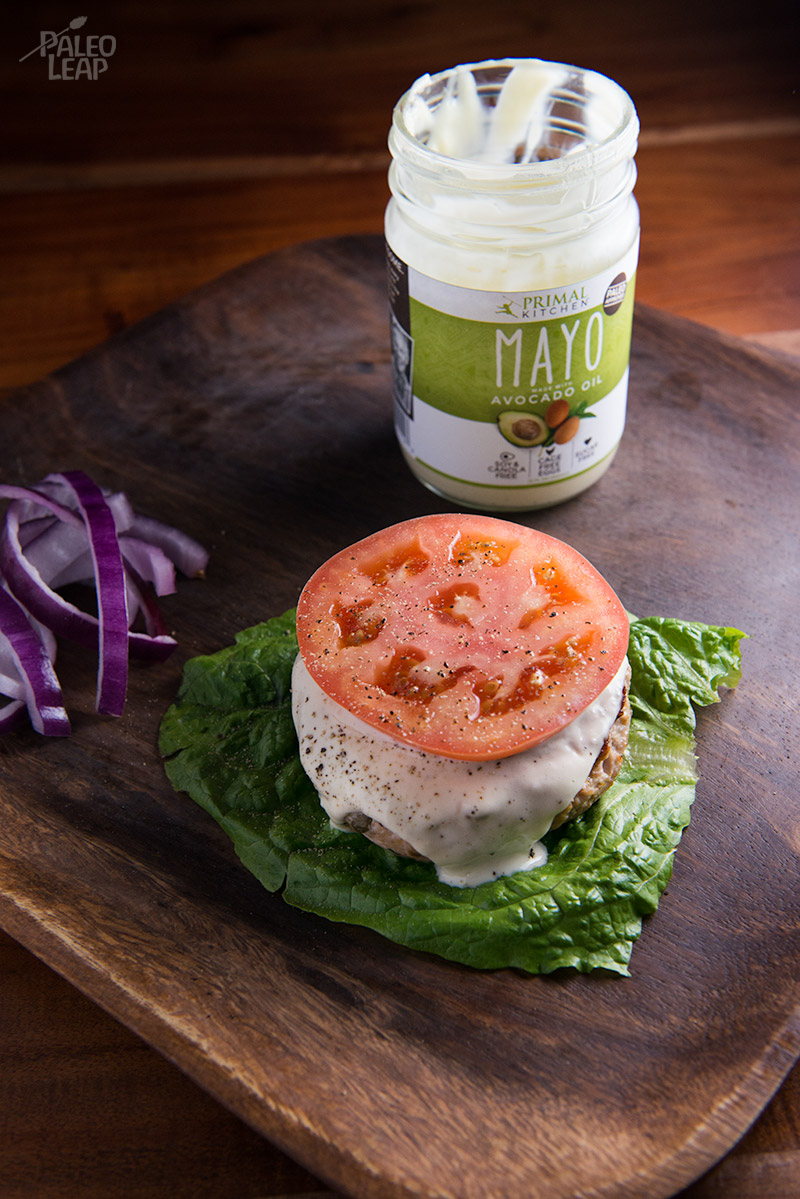 Mayonnaise is the all mighty sauce for Paleo food. It's creamy, delicious, full of healthy fats and it can be a carrier for just about any flavor. That is, if you make it yourself at home with the right ingredients. Until recently there was no way to get a truly healthy mayo from the store. Even the ones that are supposedly better are made with canola, safflower or soybean oil, which is not acceptable by our standards. Making it a home is great and rewarding, but sometimes the convenience of a pre-made mayonnaise could help so much.
Mark Sisson and his team at Primal Kitchen have now decided to change that and offer a true Paleo mayonnaise. It's made with avocado oil, cage-free eggs, vinegar and sea salt. They were kind enough to send us a jar, so we had to try it out right away. One word: delicious! Exactly the taste and texture you would be looking for in a mayonnaise, but without the bad ingredients.
We used it to whip up a creamy Caesar dressing to use on some chicken burgers. It's our little play on deconstructing a Caesar salad and turning it into a burger. The chicken burgers themselves have this special flavor from the capers and coconut aminos, and with the Caesar dressing on top it makes the whole thing truly decadent.
You might have to hit the grocery store to get items like the capers, coconut aminos, and anchovies, but the final product is so worth it!
Chicken Caesar Burgers Recipe

SERVES: 4

PREP: 20 min.

COOK: 10 min.
Values are per portion. These are for information only & are not meant to be exact calculations.
Ingredients
1 lb ground chicken
2 tbsp onion, minced
1⁄2 tbsp capers, chopped
1⁄2 tbsp fresh parsley, minced
1 clove garlic, minced
1⁄2 tbsp coconut aminos
Sea salt and freshly ground black pepper to taste
Romaine lettuce leaves
Tomato, sliced thinly
Red onion, sliced thinly
Ingredients for the Caesar dressing
1 cup mayonnaise
3 tbsp lemon juice
2 anchovy fillets, chopped
2 cloves garlic, minced
2 tsp Dijon or homemade mustard
Freshly ground black pepper to taste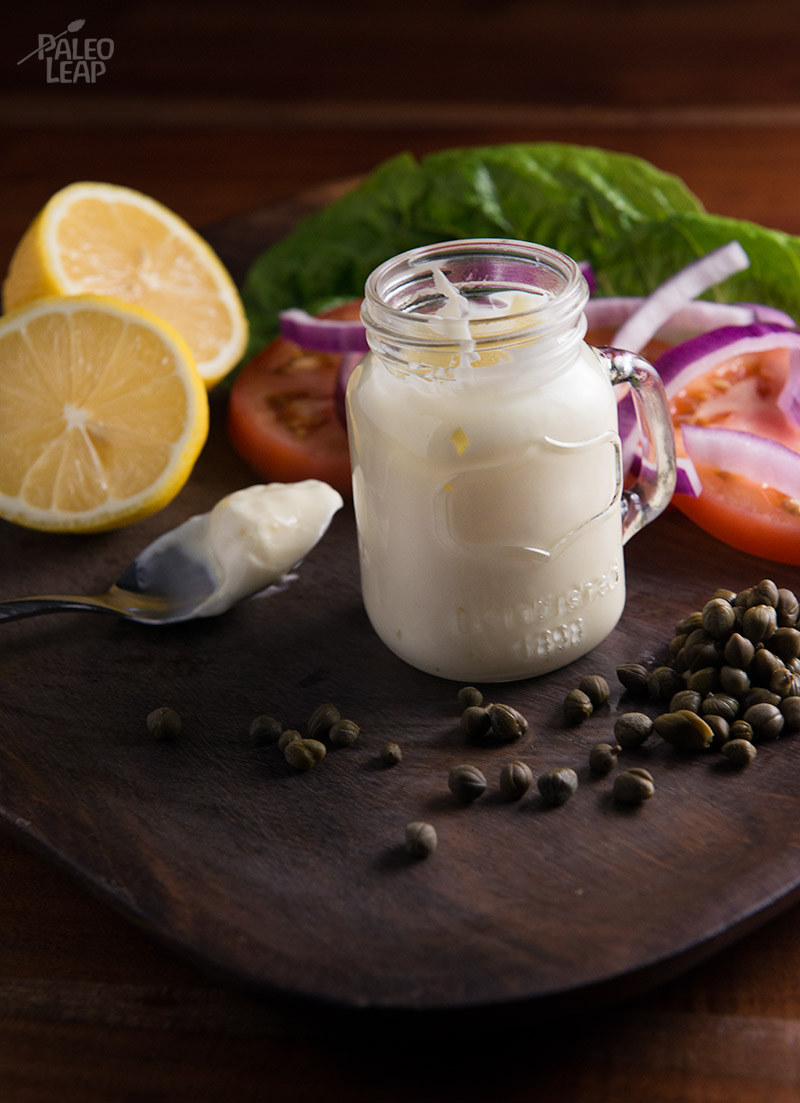 Preparation
For the dressing, combine all of the ingredients in a food processor and blend until smooth. Transfer to a bowl and set aside, or store in refrigerator until using.
For the burgers, gently mix all of the ingredients into a bowl and form 4 equally sized patties.
Heat a grill pan or skillet with a small amount of cooking fat over a medium-high heat.
When hot, add the chicken patties and cook for 4-5 minutes on each side, or until the center reaches 165 degrees and the juices run clear.
Serve the burgers on a bed of romaine topped with Caesar dressing, and tomato slices or onion if you'd like.
Store any remaining dressing in an airtight container in the refrigerator for up to 1 week.