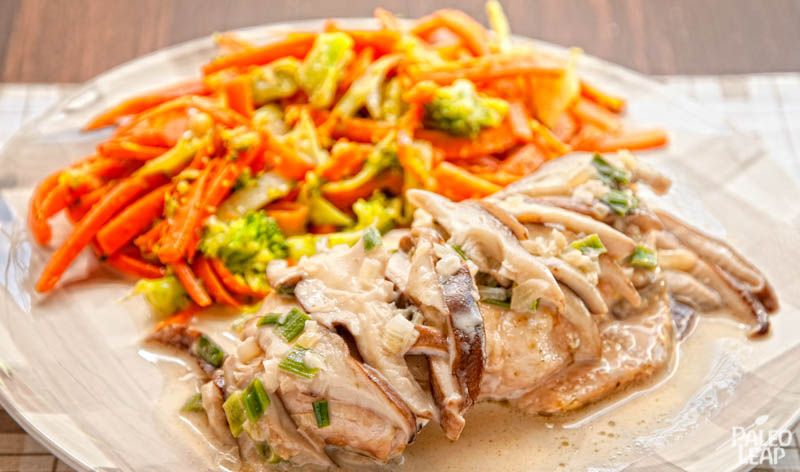 Mushrooms are often underappreciated in vegetable recipes, maybe because they really aren't much to look at. It's true that they don't share the bright color of tomatoes or carrots, but they taste a lot better than they look. For one thing, mushrooms are a healthy and natural source of the same flavor that makes MSG such an addicting additive in processed foods: umami. Especially since chicken breast is quite a lean meat on its own, the mushrooms in the sauce are perfect for making this recipe hearty and satisfying.
Mushrooms also deliver a surprising amount of nutrients. They're quite high in B vitamins and copper, and they're one of the few plant foods that contain conjugated linoleic acid, an extremely beneficial fat. Enthusiastic vegans might even tell you that mushrooms contain Vitamin B12, although strictly speaking, this is from micro-organisms growing on the mushrooms, not the mushrooms themselves. In any case, it's not really relevant for Paleo dieters, since any kind of meat is a source of Vitamin B12. For this recipe, you can use whatever species of mushrooms you like best: I used a mix of shiitake and crimini mushrooms, but any kind will work if you have strong preferences one way or the other.
To get that perfectly smooth and rich texture for the sauce, try to use only the cream from the coconut milk. Don't shake the can before you open it, and skim the thicker, fattier layer off the top to use in the sauce. If you leave the can in the fridge overnight this  cream will float to the top and be easier to get. Use the rest of the coconut milk in some coconut squares for dessert, or just add it to any curry or smoothie recipe for a delicious taste and a boost of healthy fats.
Chicken With Mushroom Cream Sauce Recipe

SERVES: 4

PREP: 15 min.

COOK: 40 min.
Values are per portion. These are for information only & are not meant to be exact calculations.
Ingredients
4 boneless, skinless chicken breasts;
1 medium shallot, minced;
1 cup of mushrooms, thinly sliced;
2 tbsp. fresh chives, minced;
½ cup of chicken stock;
4 tbsp. full-fat coconut milk;
1 tbsp. extra-virgin olive oil;
Sea salt and freshly ground black pepper to taste;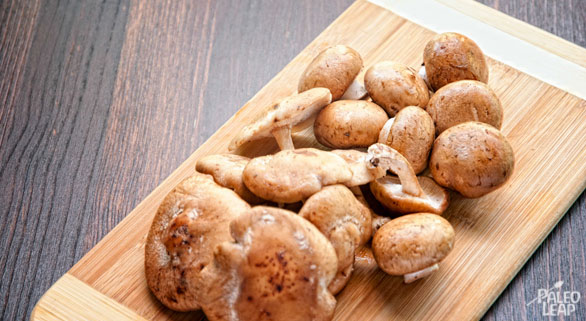 Preparation
Preheat your oven to 350 F.
Place the chicken breast in a casserole dish and bake for 30 to 40 minutes.
When the chicken is almost done, heat the oil in a skillet over a medium heat.
Add the shallots to the skillet and cook about 30 seconds, then add the mushrooms and cook until tender, about 2 to 3 minutes.
Pour in the broth and cook for around 2 minutes.
Stir in the coconut milk and chives. Bring to a simmer and cook for 1 minute.
Once the chicken is done, cover it with the mushroom sauce and serve.