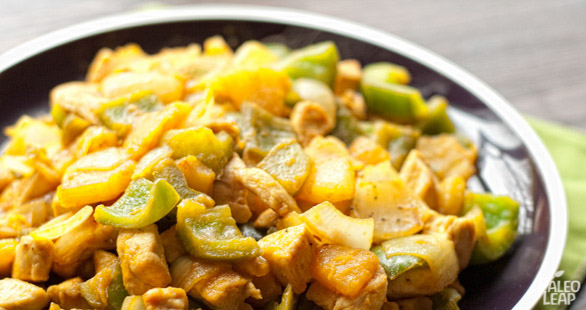 This two-part recipe puts a tropical twist on a cut of meat that could otherwise be bland and boring (skinless chicken breast), proving that with a great recipe it's possible to make any cut shine.
The first step is to make the pineapple sauce. If you can get a Paleo-friendly pineapple sauce at the store, you can save some time, but finding one might be a challenge because most commercial sauces are loaded with sugar and preservatives. Plus, store-bought sauces don't give you the option of adjusting them exactly to your liking: you can lower the heat of this sauce by taking out some or all of the chili peppers, if you like it a little less spicy.
Even making the sauce by hand, you can still save yourself some prep time by making the sauce the night before and letting it age; the flavor gets even better, and the preparation of the actual recipe becomes much shorter with the sauce already made. The instructions given here make 4 cups of the sauce, but you only need 1 cup for the recipe, so you can save some for another night when you might need to whip up a quick dinner. For even more variety, it would also be good over pork, with the same combination of vegetables.
This quick stir fry is a sure kid-pleaser recipe; the pineapple makes it sweet without needing to use any sugar, and the onions and green peppers add a pleasant crunch. For a Paleo version of Chinese takeout, try it over some cauliflower "rice" and seize the opportunity to practice your chopstick skills with no MSG attached.
Chicken pineapple stir-fry recipe

SERVES: 4

PREP: 15-30 min.

COOK: 20-45 min.
Values are per portion. These are for information only & are not meant to be exact calculations.
Ingredients
1 lb. skinless boneless chicken breast, cut into chunks;
1 large green bell pepper, chopped;
1 large onion, chopped;
1 lb pineapples cubes;
2 tbsp. cooking fat;
Sea salt and freshly ground black pepper;
Ingredients for the spicy pineapple sauce (yields 4 cups)
1 lb pineapples cubes;
1 small onion, cubed;
1 carrot, roughly chopped;
2 garlic cloves;
The zest and juice of 1 lime;
½ oz. fresh ginger, roughly chopped;
½ tsp. ground ginger;
½ tsp. cumin;
¼ tsp. cinnamon;
¼ cup fresh pineapple juice;
½ cup of white wine vinegar;
4 chili peppers (optional);
Sea salt and freshly ground black pepper;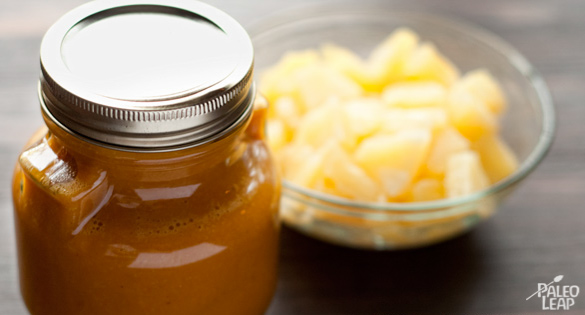 Preparation
Place all the ingredients for the sauce in a food processor, except for the white wine vinegar, and process until you get a smooth sauce.
Add the sauce to a pot with the vinegar and cook on a medium heat for 15 minutes.
Pour the sauce into bottles or glass jars, and place in a water bath of simmering water for 10 minutes.
In a skillet placed over a medium-high heat, preheat the cooking fat. Then add the chicken cubes and cook for 10 minutes, or until the chicken is no longer pink.
Remove the chicken from the skillet and set aside. Add the pineapple cubes, the green bell peppers and the onions. Cook for 5 minutes, just enough so the vegetables are still nice and crisp.
Add the pineapple sauce to the mixture and bring to a boil. Simmer for about 4 minutes.
Bring the chicken back to the skillet, combine it all together and cook for another 3 minutes, making sure everything is warm.
If you find the sauce a bit too spicy, you can always add some pineapple juice.
Season to taste and serve.