There's beauty in creating a delicious meal using simple, fresh ingredients, but this requires applying what you know about great ingredients while you are shopping. Take a shot at testing these skills by trying this recipe – a delicious chicken dish that focuses on adding a variety of vegetables to your protein and cooking together.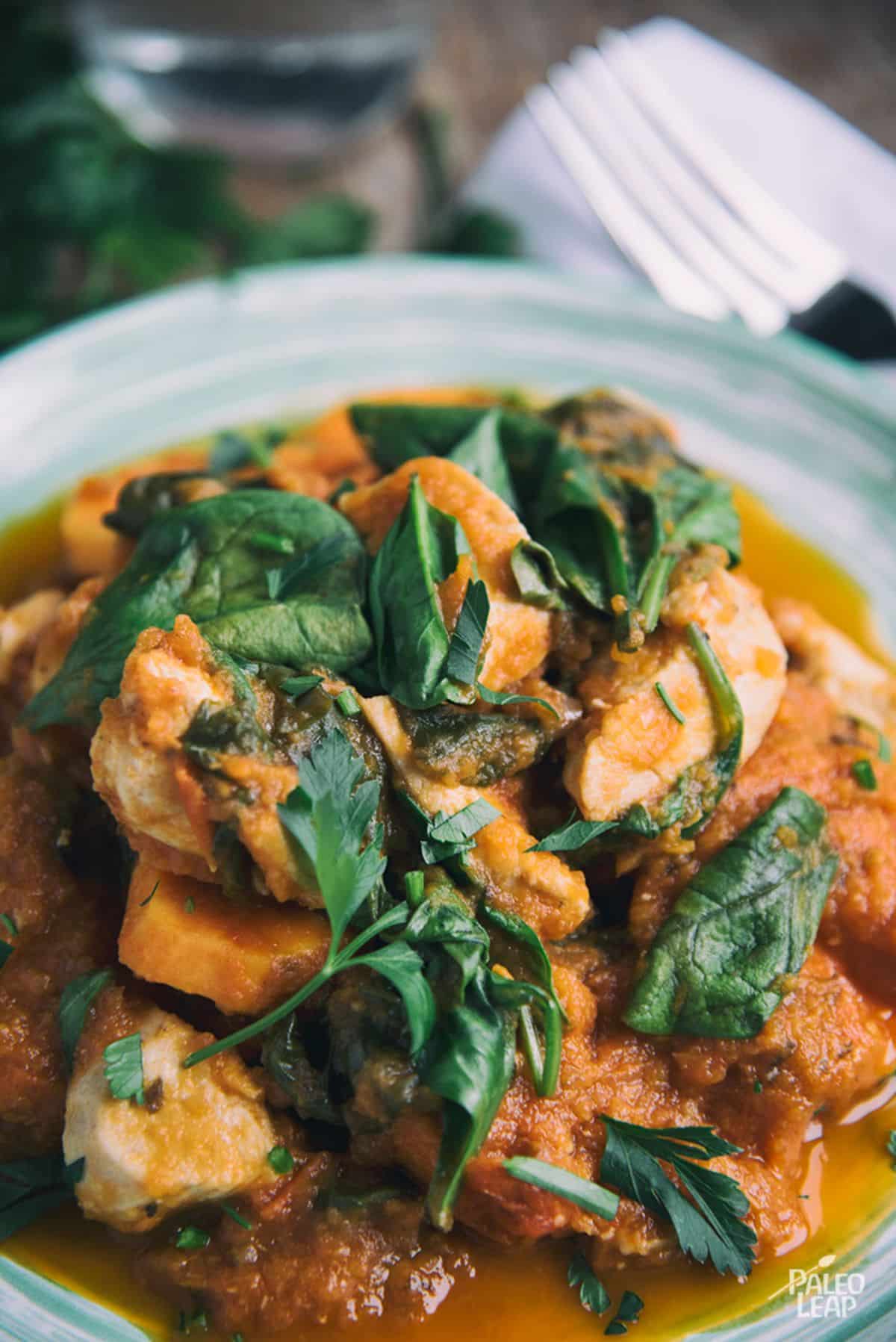 This is a perfect dish to make when your local farmer's market is open for the season – take some time to get to know your local growers, try the same product from different vendors to see which you like best, and really get to know the food you're eating.
For whatever reason, a lot of people are hesitant to use eggplant in their dishes, associating it with the heavily breaded Italian courses that show up in popular cuisine most often. A few things to note about eggplant: Make sure to select one that has a deep purple color and is firm to the touch.
Suppose you cut the veggie and find brown spotting on the inside; it's overripe. In this recipe, you'll be blending the eggplant and tomatoes together to create a thicker sauce. This is an excellent way to try and sneak it into a picky eaters' meal.
The inclusion of basil and tomato sauce in this dish gives it a distinctive Italian twist, so try serving this dish on top of some Paleo zoodles or spaghetti squash for a complete meal.
Chicken and Vegetable Skillet Recipe
Serves: 4 Prep: 20 min Cook: 40 min
Ingredients
2 chicken breasts, diced
1 onion, diced
4 garlic cloves, minced
4 tomatoes, diced
1 eggplant, peeled and diced
2 sweet potatoes, peeled and diced
2 cups lightly packed spinach
1 ½ cups tomato sauce
½ cup fresh basil, minced
¼ cup olive oil
Cooking fat
Sea salt and freshly ground black pepper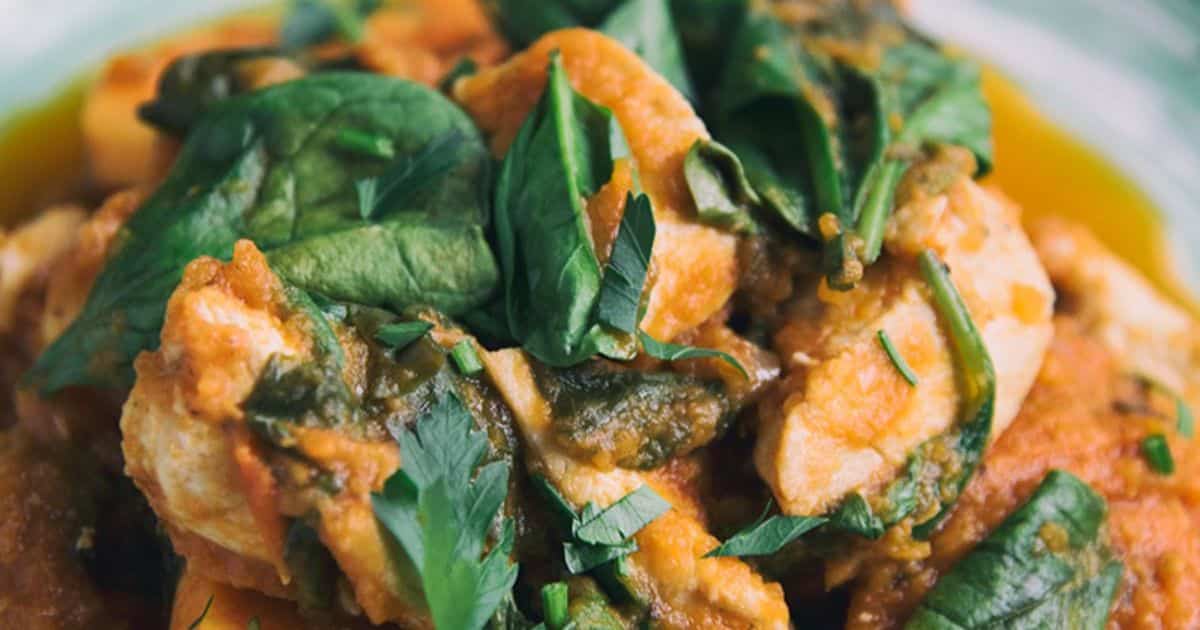 Preparation
Heat olive oil in a skillet over medium-high heat.
Add onion and garlic; cook for 4 to 5 minutes or until soft.
Add the tomatoes and eggplant to the skillet and cook for 8 to 10 minutes or until soft.
Sprinkle with the fresh basil and season with salt and pepper to taste; then, pour in the tomato sauce and stir well.
Simmer for 8 to 10 minutes, stirring occasionally.
Blend sauce and vegetables using a blender or immersion blender, pulsing until the sauce is smooth. Add more tomato sauce for a thinner consistency.
Melt cooking fat in another skillet over medium heat and cook the diced potatoes for 5 to 8 minutes.
Add the chicken and cook for 4 to 5 minutes or until no longer pink.
Pour the tomato sauce over the chicken and mix well.
Add in the spinach and cook for 4 to 5 minutes or until wilted.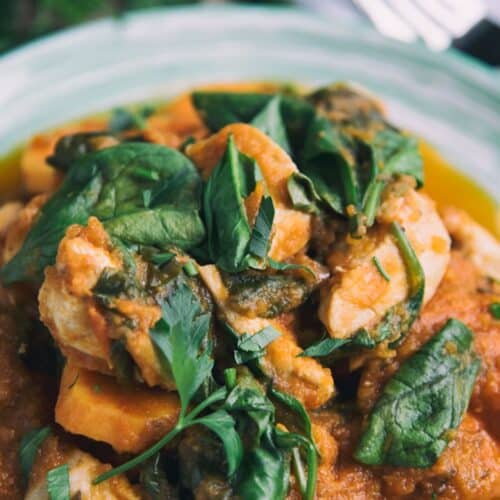 Chicken and Vegetable Skillet Recipe
Test your vegetable know-how with this recipe by creating a simple yet elegant dish that relies on the best ingredients.
Ingredients
2

chicken breasts

diced

1

onion

diced

4

garlic cloves

minced

4

tomatoes

diced

1

eggplant

peeled and diced

2

sweet potatoes

peeled and diced

2

cups

lightly packed spinach

1 ½

cups

tomato sauce

½

cup

fresh basil

minced

¼

cup

olive oil

Cooking fat
Instructions
Heat olive oil in a skillet over medium-high heat.

Add onion and garlic; cook for 4 to 5 minutes or until soft.

Add the tomatoes and eggplant to the skillet and cook for 8 to 10 minutes or until soft.

Sprinkle with the fresh basil and season with salt and pepper to taste; then, pour in the tomato sauce and stir well.

½ cup fresh basil,

1 ½ cups tomato sauce

Simmer for 8 to 10 minutes, stirring occasionally.

Blend sauce and vegetables using a blender or immersion blender, pulsing until the sauce is smooth. Add more tomato sauce for a thinner consistency.

Melt cooking fat in another skillet over medium heat and cook the diced potatoes for 5 to 8 minutes.

2 sweet potatoes,

Cooking fat

Add the chicken and cook for 4 to 5 minutes or until no longer pink.

Pour the tomato sauce over the chicken and mix well.

Add in the spinach and cook for 4 to 5 minutes or until wilted.

2 cups lightly packed spinach
Nutrition
Calories:
388
kcal
Carbohydrates:
29
g
Protein:
31
g
Fat:
17
g
Saturated Fat:
3
g
Polyunsaturated Fat:
2
g
Monounsaturated Fat:
11
g
Cholesterol:
73
mg
Sodium:
552
mg
Potassium:
1122
mg
Fiber:
8
g
Sugar:
11
g
Vitamin A:
11232
IU
Vitamin C:
18
mg
Calcium:
88
mg
Iron:
3
mg