If you're looking for an elegant but quick dinner meal, this chicken in a creamy sauce recipe is the perfect option. In this dish, you'll be combining some simple ingredients, including chicken thighs, spinach, tomatoes, coconut milk, and chicken stock, to create a yummy and filling meal that's perfect for busier weeknights.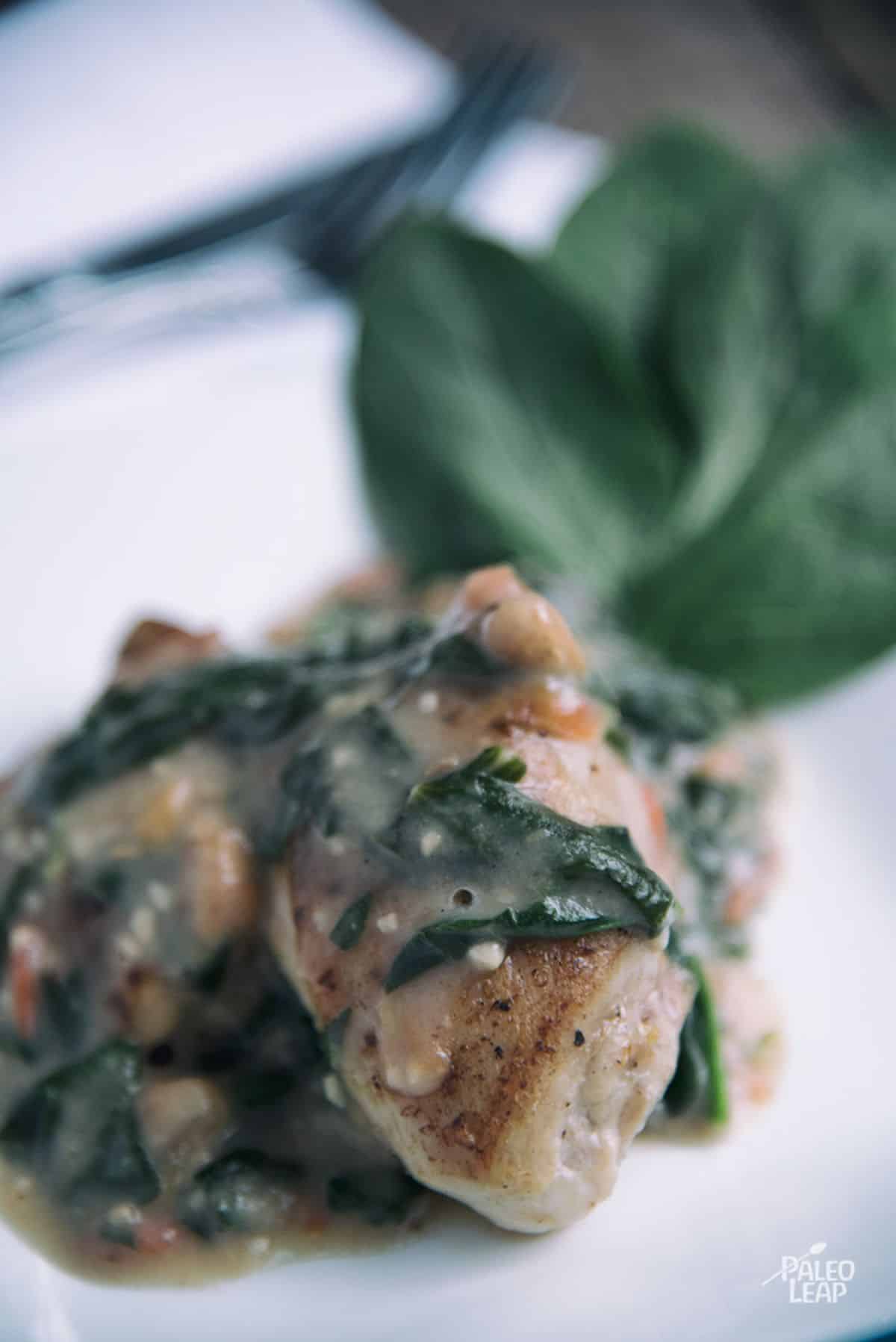 We especially love this dish because of its versatility – while the instructions listed below are perfect for a simpler flavor, you can also incorporate a variety of herbs and spices to influence the theme of the dish a bit. Cilantro and cumin make this a great Mexican main course, while parsley and oregano will lean more toward the Italian side.
When prepping to buy your ingredients for this dish, remember that the simpler a dish, the more important it is to invest in the freshest ingredients possible. Almost everything needed here can be bought at a local farmer's market (yes, even the chicken!).
If you've never visited yours, consider making a trip and seeing what you can find there. You'll be surprised at the reasonable prices, delicious produce, and the ability to communicate directly with the people who grow and harvest your food.
Depending on the "direction" you choose for this dish, several sides to complete your plate comes to mind. If you cook this as is, then a serving of roasted vegetables of your choosing, seasoned with salt and pepper, works well. You can also add zoodles to serve this on top of an Italian-themed dish.
Chicken with Creamy Tomato-Spinach Sauce Recipe
Serves: 4 Prep: 12 min Cook: 25 min
Ingredients
6 to 8 chicken thighs, boneless and skinless
2 cups fresh spinach, chopped
½ onion, diced
1 cup tomatoes, diced
2 garlic cloves, minced
1 cup chicken stock
½ cup full-fat coconut milk
2 tbsp. cooking fat
Sea salt and freshly ground black pepper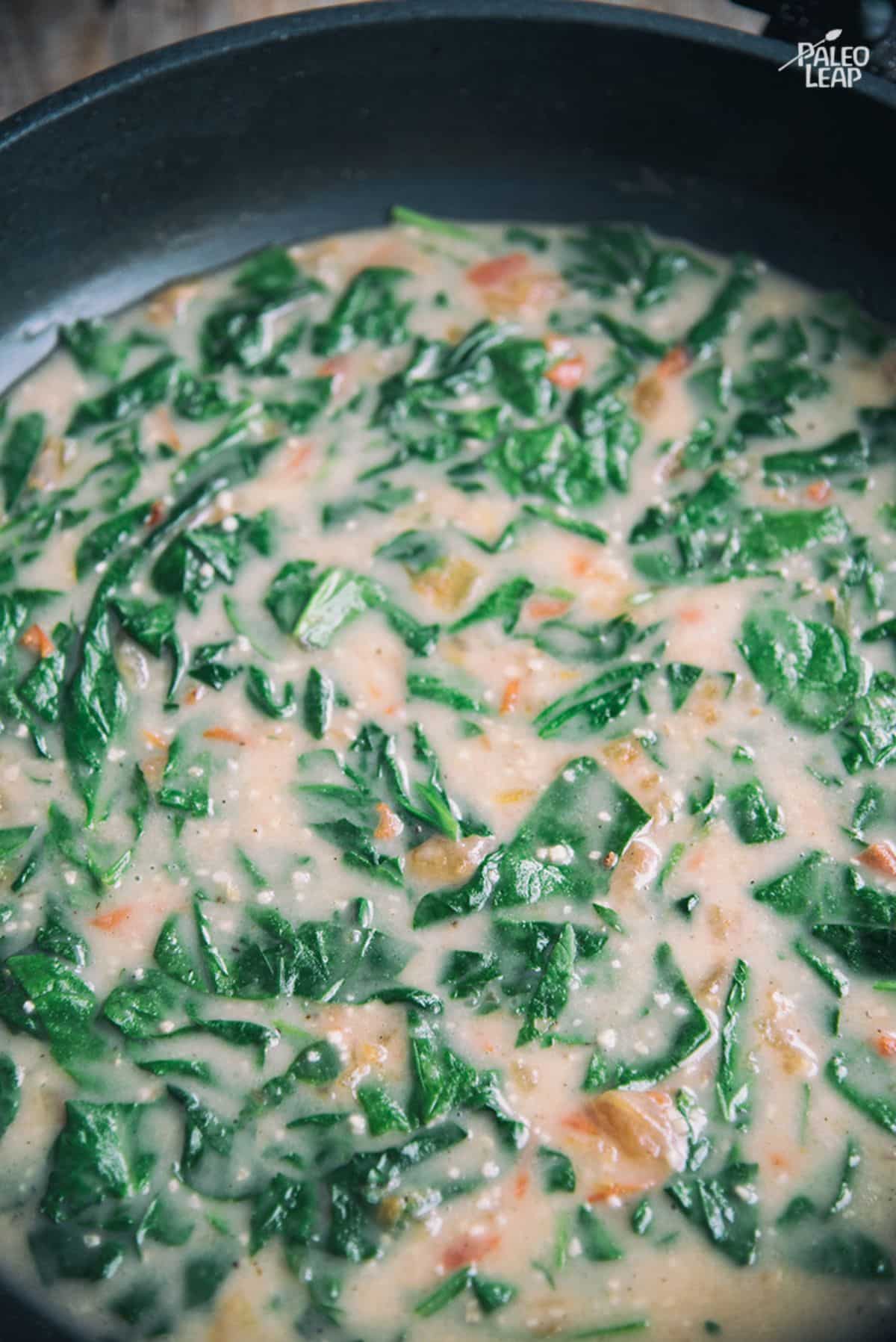 Preparation
Melt cooking fat in a skillet over medium-high heat.
Season the chicken to taste with sea salt and freshly ground black pepper.
Brown the chicken thighs on both sides for 4 to 5 minutes per side and set aside.
Add the garlic, onion, and tomatoes to the skillet and cook for 2 to 3 minutes.
Pour in the chicken stock and bring to a light boil, then simmer for 4 to 5 minutes.
Add the spinach and chicken to the pan.
Pour in the coconut milk and simmer for 10 to 12 minutes or until the chicken is cooked through.
📖 Recipe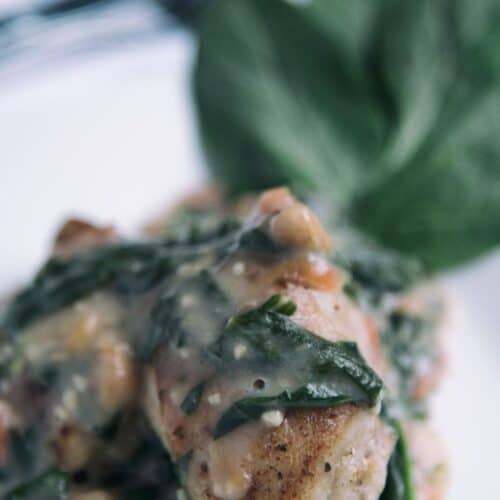 Chicken with Creamy Tomato-Spinach Sauce Recipe
This simple dish combines classic flavors of chicken, tomato, and spinach in a creamy sauce - allowing you to use choose your own seasonings if you'd like.
Instructions
Melt cooking fat in a skillet over medium-high heat.

Season the chicken to taste with sea salt and freshly ground black pepper.

6 to 8 chicken thighs,

Sea salt and freshly ground black pepper

Brown the chicken thighs on both sides, 4 to 5 minutes per side, and set aside.

Add the garlic, onion, and tomatoes to the skillet and cook 2 to 3 minutes.

½ onion,

2 garlic cloves,

1 cup tomatoes

Pour in the chicken stock and bring to a light boil, then simmer 4 to 5 minutes.

Add the spinach and chicken to the pan.

Pour in the coconut milk and simmer 10 to 12 minutes or until chicken is cooked through.

½ cup full-fat coconut milk
Nutrition
Calories:
546
kcal
Carbohydrates:
10
g
Protein:
36
g
Fat:
40
g
Saturated Fat:
14
g
Polyunsaturated Fat:
10
g
Monounsaturated Fat:
13
g
Trans Fat:
0.2
g
Cholesterol:
132
mg
Sodium:
303
mg
Potassium:
740
mg
Fiber:
2
g
Sugar:
4
g
Vitamin A:
1782
IU
Vitamin C:
14
mg
Calcium:
67
mg
Iron:
4
mg