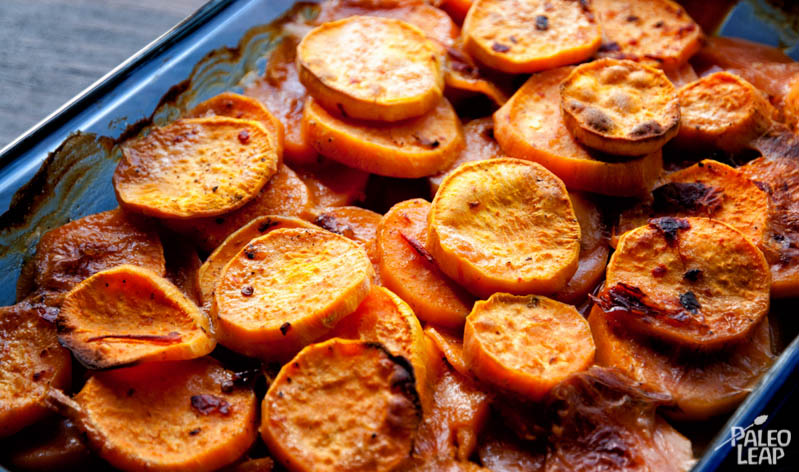 Scalloped potatoes are a classic family recipe – creamy, starchy, and irresistible under a nice roasted chicken thigh or pork chop. But what's a dairy-sensitive, sugar-avoiding Paleo dieter to do when the dish comes around? That's where this recipe comes in. Sweet potatoes in place of white, and a spicy version of the typical seasonings add an interesting twist to these scalloped potatoes, without compromising the smooth, comfort-food texture that makes them so delicious in the first place.
You'll need some chipotle pepper puree for this recipe. If you're very lucky, you'll be able to find an adobo sauce with chipotle peppers in the grocery store, but it's almost impossible to get a Paleo-friendly version so you'll probably save more time just by making it yourself. This isn't hard: just combine a chipotle pepper, adobo sauce, and olive oil in a food processor and puree it (you could also work in batches with a mortar and pestle, if you don't have a food processor). Making it yourself also allows you to adjust the spiciness by adding more or less of the pepper.
Once you're done with that step, the rest of the recipe isn't difficult. In fact, this is a great recipe for kids to help out with, since it's mostly layering and pouring. Then just pop the potatoes into the oven to bake, and remember to uncover them half an hour in – this allows the top layer to get that crispy, browned crust while the rest of the dish stays soft and creamy. It's a great dinner party dish because it just cooks along in the background while you work on other things, but comes out of the oven all dressed up and ready to impress: perfect for busy hosts who don't have time or energy to deal with 10 finicky side dishes and their guests all at once.
Chipotle scalloped sweet potatoes Recipe

SERVES: 4

PREP: 15 min.

COOK: 1h15 min.

Values are per portion. These are for information only & are not meant to be exact calculations.
Ingredients
2 cups of full-fat coconut milk;
2 tbsp. chipotle pepper puree;
4 medium sweet potatoes, peeled and cut into 1/8-inch thick slices;
Sea salt and freshly ground black pepper to taste;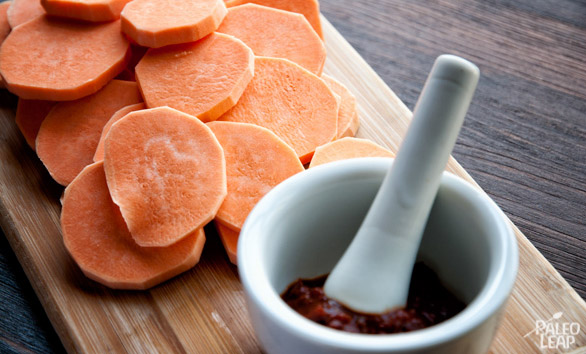 Preparation
Preheat your oven to 375 F.
In a bowl, whisk together the coconut milk and the chipotle puree until smooth.
In a casserole dish, arrange the potatoes in an even layer covering the bottom of the dish. Drizzle some of the coconut mixture on top and season to taste.
Add another layer of sweet potatoes on top, and drizzle this layer with the coconut mixture as well. Repeat the process until you used all the potatoes, and drizzle the remaining coconut mixture on top.
Cover and cook for 30 minutes in the oven.
Remove the cover and continue cooking for 45 minutes to 1 hour.