Once you have thoroughly explored the smoothies, the hashes, and the overwhelming variety of meats, chances are good that you will return to the humble egg, the one that has been providing glorious nutrition since the beginning of time.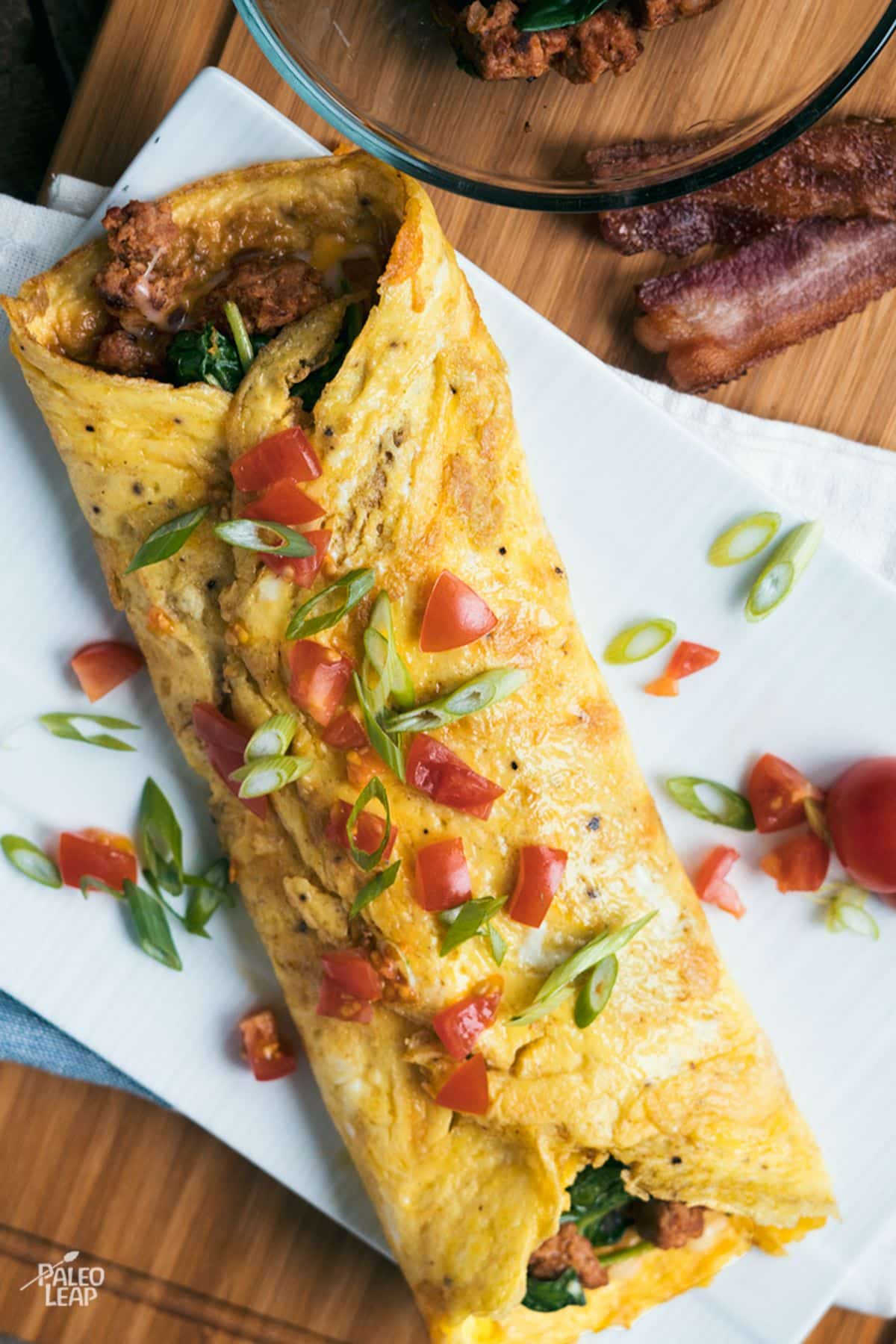 Besides, spicy chorizo and spinach tucked up nicely in a golden omelet? Who could pass that up for breakfast?
And it couldn't be easier to whip up an amazing meal for 2! Or a simple dish for now, and a lunch to be rewarmed later. Never be intimidated by cooking an omelet, as it is much easier than it seems.
Start by removing the chorizo from its casing and cook it well with onion and garlic; then, gently wilt the spinach and set the skillet aside. Next, you will want to whisk the eggs with a small amount of coconut milk and add that mix to the already hot skillet with ghee (or your Paleo fat of choice).
Flip when ready, add the chorizo mix and fold the egg "pancake." It is now ready to be cut and served.
Want to go all out with the breakfast-in-bed surprise factor? Consider adding some Paleo sour cream as a generous topping and a finely chopped jalapeño to start the day with some sweet spice for your loved ones.
Chorizo And Spinach Omelette Recipe
Serves: 2 Prep: 10 min Cook: 15 min
Ingredients
5 eggs
¼ cup spinach, chopped
½ onion, diced
2 tbsp. coconut milk
2 chorizo sausages, casing removed
¼ cup tomatoes, diced
1 green onion, sliced
1 garlic clove, minced
4 tbsp. ghee
Sea salt and freshly ground black pepper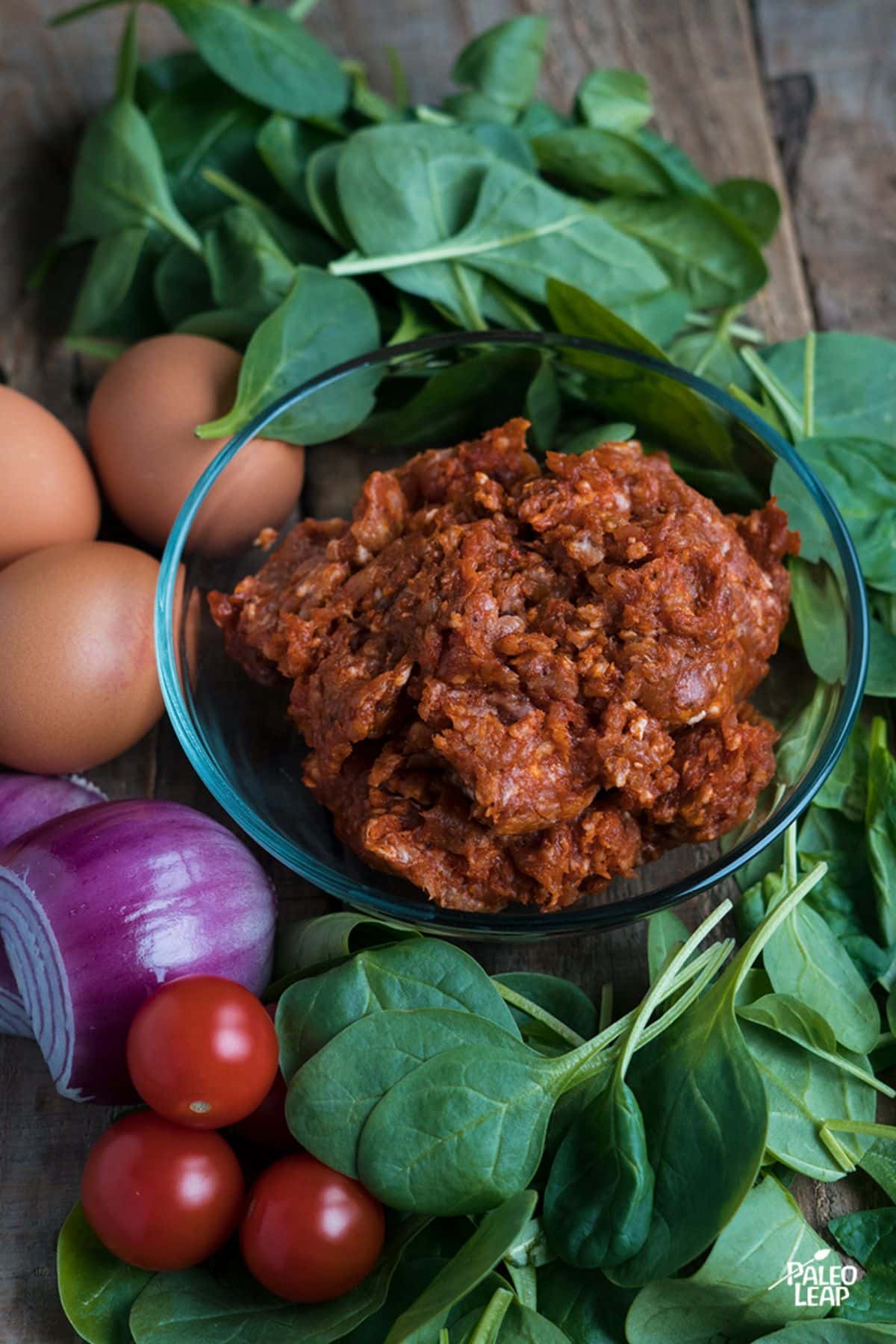 Preparation
Melt 2 tablespoons of ghee in a skillet, over medium-high heat.
Add the onion and garlic; cook for 1 to 2 minutes, or until soft.
Add the chorizo to the skillet and cook, breaking apart until cooked for 5 to 6 minutes.
Add the spinach, remove from heat and toss everything.
In a bowl, break the eggs, add the coconut milk, and season to taste; whisk until well combined.
In another skillet, melt the remaining ghee over medium heat.
Pour the beaten egg into the skillet and cook until firm enough to flip.
Flip the omelet and add the chorizo mixture on top, and roll or fold the egg to cover the chorizo.
Serve the omelet topped with diced tomatoes and green onions.
📖 Recipe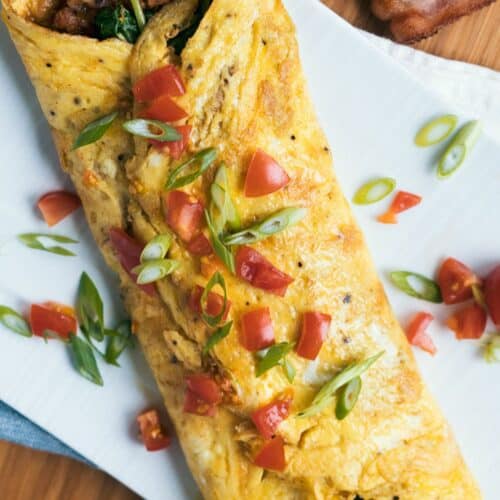 Chorizo And Spinach Omelette Recipe
You have already eaten your share of ham and cheese omelets in life, now is the time to move onwards and upwards to experience the wonderful flavors of a chorizo and spinach omelet.
Instructions
Melt 2 tablespoons of ghee in a skillet, over medium-high heat.

Add the onion and garlic; cook for 1 to 2 minutes, or until soft.

Add the chorizo to the skillet and cook, breaking apart until cooked through 5 to 6 minutes.

Add the spinach, remove from heat and toss everything.

In a bowl, break the eggs, add the coconut milk, and season to taste; whisk until well combined.

5 eggs,

2 tbsp. coconut milk,

Sea salt and freshly ground black pepper

In another skillet, melt the remaining ghee over medium heat.

Pour the beaten egg into the skillet and cook until firm enough to flip.

Flip the omelet and add the chorizo mixture on top, and roll or fold the egg to cover the chorizo.

Serve the omelet topped with diced tomatoes and green onions.

¼ cup tomatoes,

1 green onion
Nutrition
Calories:
623
kcal
Carbohydrates:
7
g
Protein:
24
g
Fat:
55
g
Saturated Fat:
32
g
Polyunsaturated Fat:
3
g
Monounsaturated Fat:
13
g
Trans Fat:
0.04
g
Cholesterol:
551
mg
Sodium:
205
mg
Potassium:
357
mg
Fiber:
1
g
Sugar:
3
g
Vitamin A:
1545
IU
Vitamin C:
25
mg
Calcium:
111
mg
Iron:
4
mg