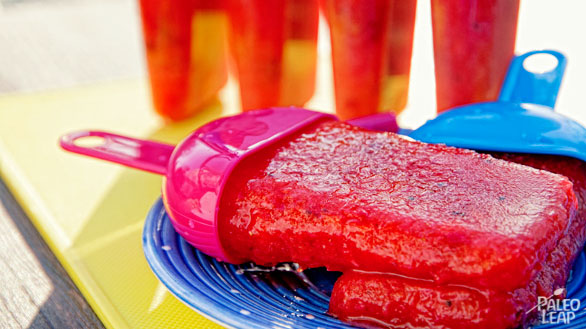 There's really no way to make a popsicle sophisticated. Licking your dessert off a stick will always be an undignified exercise in drippy, sticky fingers and accidental slurping sounds – that's what makes it so much fun. It's a way for grown-ups to peel off a layer of inhibitions and get back in touch with their inner sixth grader who just got let loose for summer vacation. It's even more fun for kids, especially if they're feeling restricted on Paleo and want to have the same kind of treats that their friends are enjoying.
These popsicles give you all the juicy fun without the cough-medicine-cherry flavor you'll find in the freezer section. I chose a tropical blend of papayas, strawberries, kiwis, and pineapples, but the recipe is easily customizable with whatever kind of fruit you like. If there's something in your fruit bowl that's about to go bad, don't hesitate to throw it in! You could even make double-decker popsicles by pouring two layers of different fruit blends into the mold.
To make this recipe, you'll need your own popsicle molds, but you can usually find these very cheaply. After just a few batches of popsicles, it becomes a lot cheaper to make your own than buy them from the store. Homemade popsicles don't have all the preservatives that hold the store-bought kind together, so be careful when you're taking them out of the molds. If you're too rough, they'll sometimes break.
Chunky Fruit Popsicles Recipe

MAKES: 8-10

PREP: 20 min.

FREEZE: 3-4 hrs.

Values are per portion. These are for information only & are not meant to be exact calculations.
Ingredients
1 lb. of your favorite fruits;
Juice of 1 lemon;
Juice from 1 orange;
½ cup of water;
¼ tsp. vanilla extract;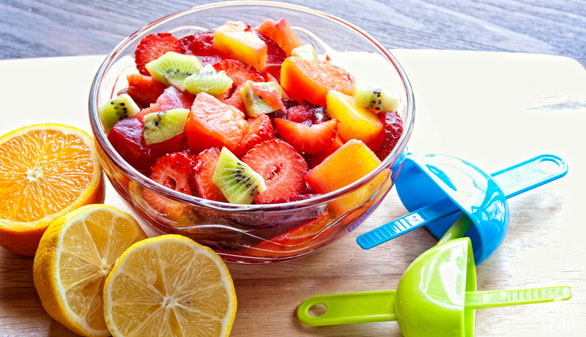 Preparation
Cut 1 cup of the fruits into small chunks and set aside.
Using a food processor, puree the remaining fruits, the lemon juice, the orange juice, and the water until smooth.
Add the mixture to the bowl containing the chunky fruits, and stir in the vanilla extract.
Divide the mixture equally among the Popsicle molds.
Freeze for 3 to 4 hours.