Give an ordinary taco salad or a keto taco salad a black tie makeover with crab and avocado: it's sophisticated and elegant without losing the fresh salsa and crunchy base that makes its humbler cousin such a family favorite. For adults who want a slightly more mature version of the taco experience, this is the perfect solution.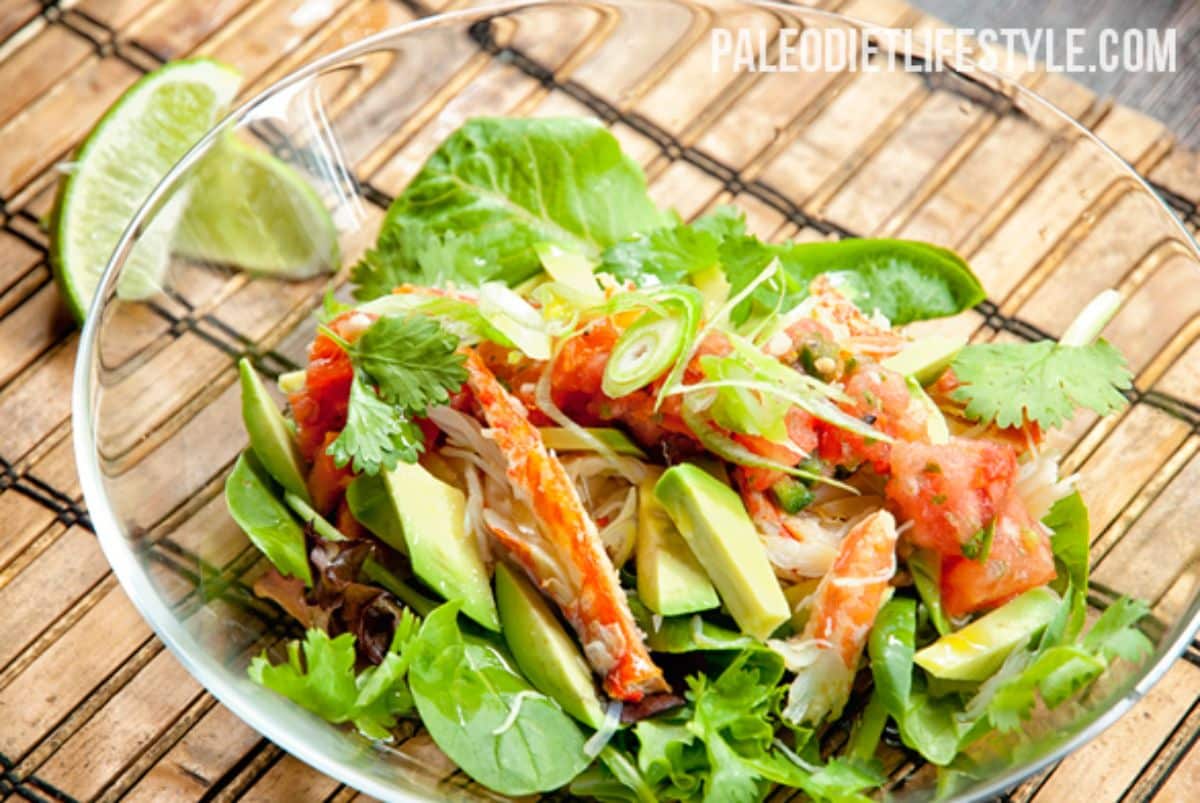 To make a salad for four, you'll need about 1 pound of crab. If you can afford to get real crab, you can feel very good about enjoying it because it's not only delicious but also extremely healthy, with very high levels of Vitamin B12 and several different minerals.
As always, try to get a crab that was sustainably caught. Domestically caught crab is better overall, and stone crab is a particularly good choice. Imported blue or red king crabs are kinds to avoid.
If the crab is just out of your budget, you can easily replace it with white fish or shrimp or even use a combination of both. Stay away from imitation crab, though, since it usually contains gluten, and some brands also have soy. It's cheaper, but unfortunately, it's not doing any favors for your health.
Some stores sell pre-cooked crab, but if you're buying it fresh and cooking it yourself, the process is very simple. All you need to do is bring a pot of water to a boil and add the crab.
Wait for the water to start boiling again, and set a timer for 10 minutes. When the 10 minutes are up, your crab will be cooked and ready to go.
Crab Taco Salad Recipe
SERVES: 4 PREP: 10 min COOK: 6 min
Ingredients
1 lb. cooked crab, flaked;
8 cups mixed salad greens;
1 avocado, sliced;
¼ cup green onions, sliced;
½ cup onion, chopped;
4 Roma tomatoes, seeded and diced;
1 large garlic clove, minced;
2 jalapeño chiles, halved, seeded, and sliced;
3 tbsp. fresh lime juice;
½ cup fresh cilantro;
1 tsp. extra-virgin olive oil;
Sea salt and freshly ground black pepper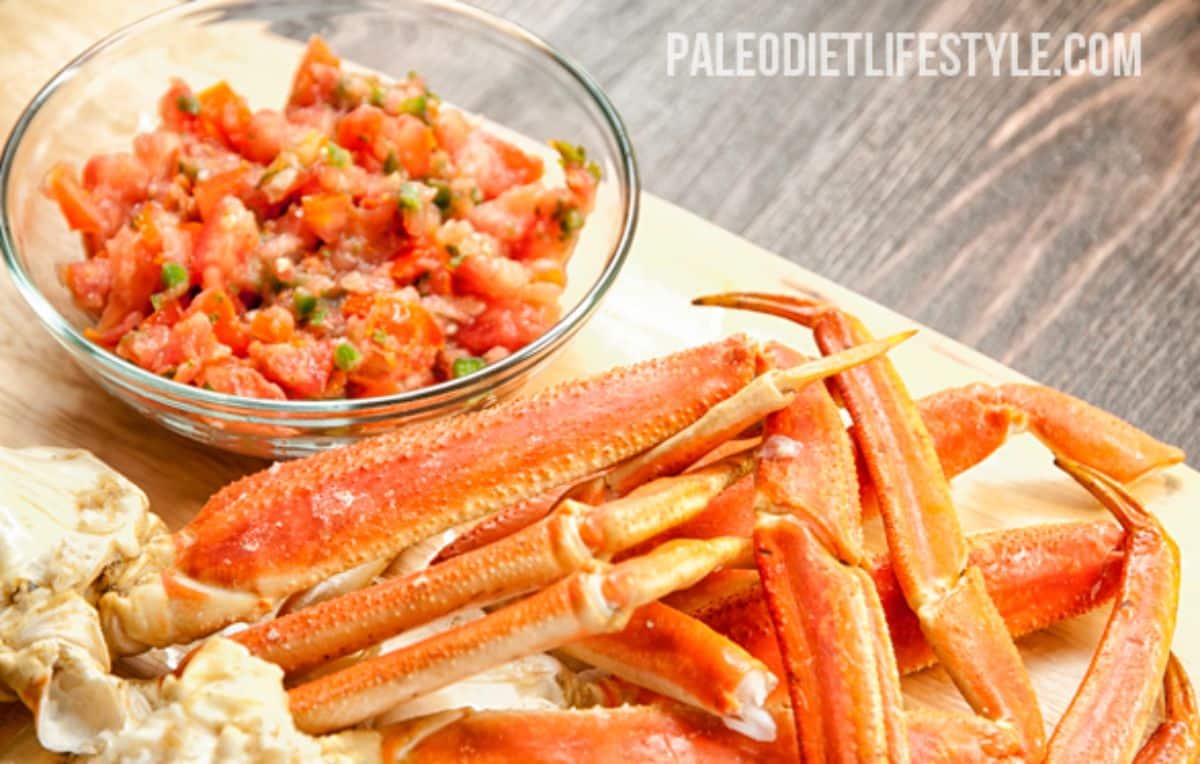 Preparation
In a food processor, combine the tomatoes, the garlic, one jalapeño, half the cilantro, and the lime juice. Pulse a few times and season to taste. Set the salsa aside.
In a skillet placed over medium heat, sauté the onion and the other jalapeño with some olive oil until soft (about 4 minutes).
Add the crab to the skillet and cook until warm (about 2 minutes).
In a bowl or separate plates, top lettuce with the crab meat, avocado, green onions, and remaining cilantro. Serve with the salsa on top or on the side.
📖 Recipe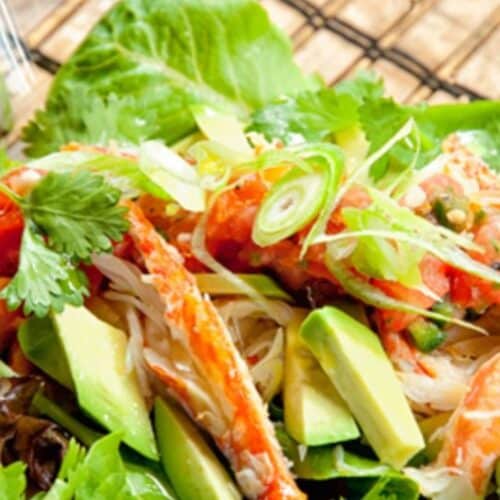 Crab Taco Salad Recipe
Crab and avocado add a fancy touch to the classic taco salad - a delicious luxury for those times when you're cooking to impress.
Instructions
In a food processor, combine the tomatoes, the garlic, one jalapeño, half the cilantro, and the lime juice. Pulse a few times and season to taste. Set the salsa aside.

4 Roma tomatoes,

1 large garlic clove,

2 jalapeño chiles,

3 tbsp. fresh lime juice,

½ cup fresh cilantro,

Sea salt and freshly ground black pepper

In a skillet placed over medium heat, sauté the onion and the other jalapeño with some olive oil until soft (about 4 minutes).

2 jalapeño chiles,

1 tsp. extra-virgin olive oil,

½ cup onion

Add the crab to the skillet and cook until warm (about 2 minutes).

In a bowl or separate plates, top lettuce with the crab meat, avocado, green onions, and remaining cilantro. Serve with the salsa on top or on the side.

1 avocado,

¼ cup green onions,

½ cup fresh cilantro,

8 cups mixed salad greens
Nutrition
Calories:
226
kcal
Carbohydrates:
13
g
Protein:
23
g
Fat:
10
g
Saturated Fat:
2
g
Polyunsaturated Fat:
1
g
Monounsaturated Fat:
6
g
Trans Fat:
0.01
g
Cholesterol:
110
mg
Sodium:
669
mg
Potassium:
912
mg
Fiber:
5
g
Sugar:
3
g
Vitamin A:
1780
IU
Vitamin C:
51
mg
Calcium:
140
mg
Iron:
2
mg