Maybe it's the fun of filling your own shell exactly to your taste, or maybe it's the fresh, juicy salsa setting off the richness of the meat, but whatever the reason, taco night is a dinner tradition that families love – and a tradition you don't have to give up when you ditch the corn tortilla.
Re-creating the shell with Paleo ingredients is always an option (some people make shells out of mashed plantains for example), but it's even easier to do away with the shell entirely and enjoy the taco experience with a more sophisticated presentation.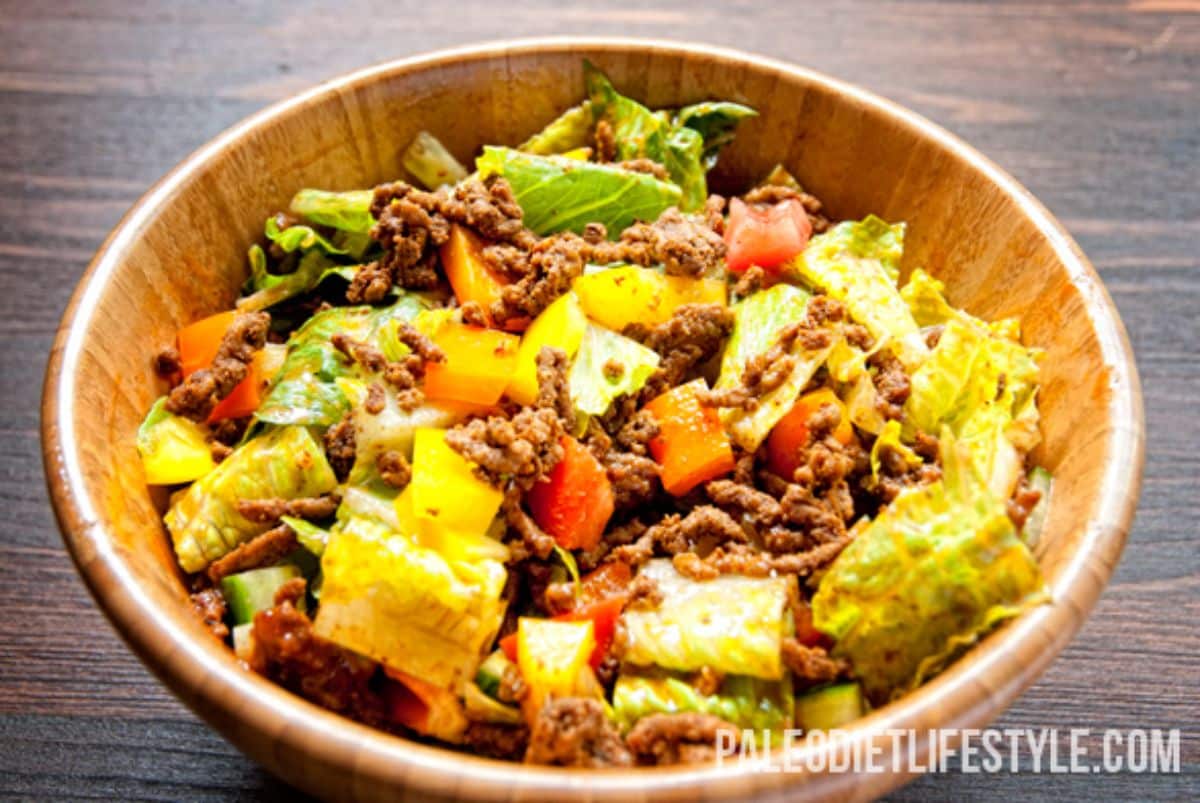 To get the full taco flavor, this recipe calls for homemade Catalina dressing and taco seasoning; I've included both recipes below if you don't already know how to make Paleo versions.
The Catalina dressing uses homemade ketchup, so make sure you have a batch of that before tackling this recipe (it's really easy to make). The dressing and the seasoning recipes will probably give you some leftovers, but you can always store these and use them another day.
The directions given here are for one big bowl of salad. If you like taco dinners because everyone can make their own, simply skip the last step and instead lay out all the ingredients on the table in separate bowls.
That way, everyone can construct an individual meal, and you won't waste any tomatoes or cucumbers on the picky eaters. It's a perfect easy recipe for introducing skeptical friends to Paleo since tacos are a familiar meal that everyone likes, so you can put to rest all their fears about eating "weird" food.
Serve up your salad with some Mexican chicken soup on the side and enjoy!
Taco Salad Recipe
Serves: 4 Prep: 25min Cook: 10 min
Ingredients
1 lb. ground beef;
1 large head of romaine lettuce, coarsely chopped;
2-3 Roma tomatoes, diced;
5 green onions, thinly sliced;
1 bell pepper, chopped; (an orange or yellow pepper adds more color to the dish)
1 cucumber, chopped;
4 tbsp. taco seasoning (recipe below);
Ingredients for the Catalina vinaigrette
1 cup of extra virgin olive oil;
½ cup homemade ketchup;
½ cup red wine vinegar;
½ cup grated onion or onion powder;
1 tsp. paprika;
½ tsp. Worcestershire sauce; (optional)
⅓ cup honey; (optional)
Sea salt and freshly ground black pepper;
Ingredients for the taco meat seasoning
2 tbsp. chili powder;
2 tsp. paprika;
1 tsp. onion powder;
1tsp. garlic powder;
2 tsp. ground cumin;
1 tsp. dried oregano;
Sea salt and freshly ground black pepper;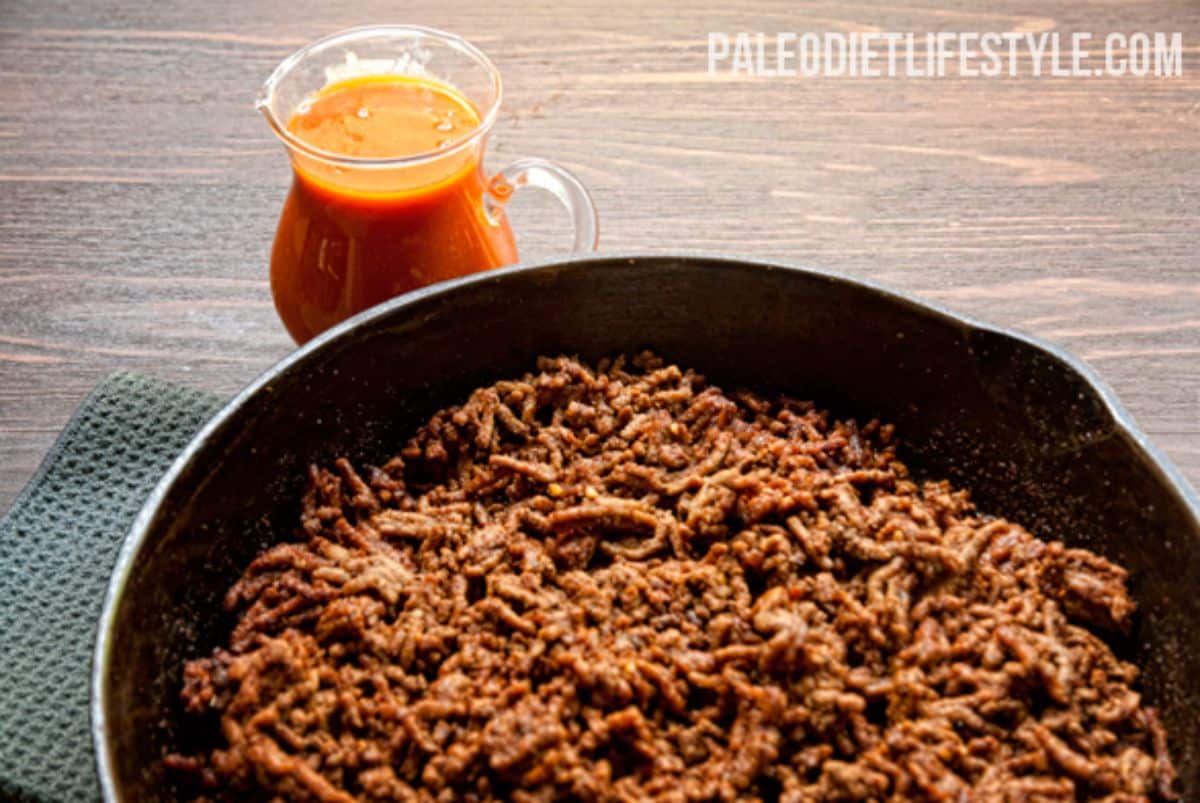 Preparation
In a medium bowl, combine all the ingredients for the Catalina sauce and season with salt and pepper to taste. For a smoother sauce, combine in a food processor and blend.
In a small bowl, combine all the ingredients for the taco seasoning, and season again with salt and pepper to taste.
Over medium-high heat, melt some Paleo cooking fat and toss in the ground beef. Cook until well done (about ten minutes). While the beef is cooking, break it apart with a wooden spoon.
When the beef is almost done, add the taco seasoning and mix well, making sure all the meat is covered. You can also add a little bit of water if it looks dry. Let the meat cool down until it's at room temperature.
In a big salad bowl, combine the bell peppers, cucumbers, tomatoes, green onions, and beef. Top with the Catalina dressing. Gently mix everything and serve.
📖 Recipe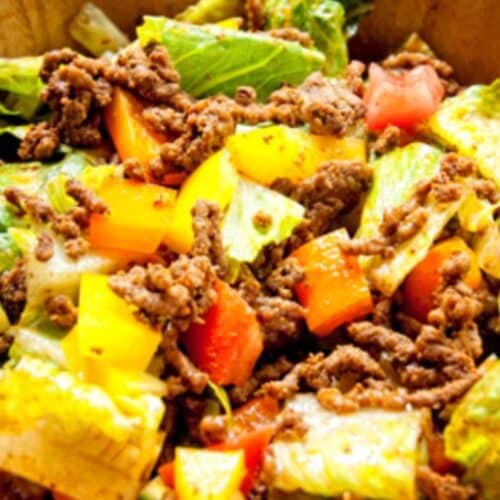 Taco Salad Recipe
Taco night, Paleo-style: lose the tortilla but keep the taco experience going with this Paleo adaptation of a family-friendly classic.
Ingredients
Ingredients for the Catalina vinaigrette
Ingredients for the taco meat seasoning
Instructions
In a medium bowl, combine all the ingredients for the Catalina sauce and season with salt and pepper to taste. For a smoother sauce, combine in a food processor and blend.

1 cup of extra virgin olive oil,

½ cup homemade ketchup,

½ cup red wine vinegar,

½ cup grated onion or onion powder,

½ tsp. Worcestershire sauce,

⅓ cup honey,

2 tsp. paprika,

Sea salt and freshly ground black pepper

In a small bowl, combine all the ingredients for the taco seasoning, and season again with salt and pepper to taste.

1 tsp. paprika,

2 tbsp. chili powder,

1 tsp. onion powder,

1 tsp. garlic powder,

2 tsp. ground cumin,

1 tsp. dried oregano,

Sea salt and freshly ground black pepper

Over medium-high heat, melt some Paleo cooking fat and toss in the ground beef. Cook until well done (about ten minutes). While the beef is cooking, break it apart with a wooden spoon.

1 lb. ground beef,

Cooking fat

When the beef is almost done, add the taco seasoning and mix well, making sure all the meat is covered. You can also add a little bit of water if it looks dry. Let the meat cool down until it's at room temperature.

1 large head of romaine lettuce,

4 tbsp. taco seasoning

In a big salad bowl, combine the bell peppers, cucumbers, tomatoes, green onions, and beef. Top with the Catalina dressing. Gently mix everything and serve.

2-3 Roma tomatoes,

1 bell pepper,

1 cucumber,

5 green onions
Nutrition
Calories:
915
kcal
Carbohydrates:
33
g
Protein:
24
g
Fat:
79
g
Saturated Fat:
17
g
Polyunsaturated Fat:
7
g
Monounsaturated Fat:
50
g
Trans Fat:
1
g
Cholesterol:
81
mg
Sodium:
1692
mg
Potassium:
1052
mg
Fiber:
10
g
Sugar:
15
g
Vitamin A:
7615
IU
Vitamin C:
59
mg
Calcium:
139
mg
Iron:
9
mg