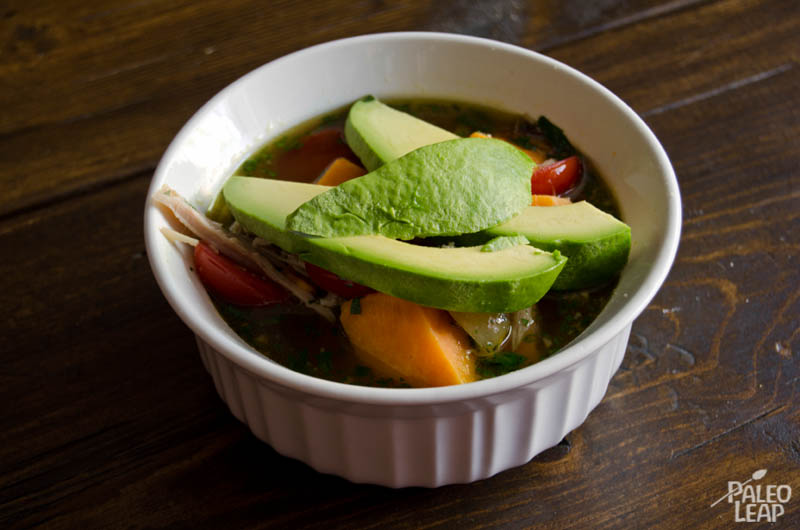 Lately I've been putting a lot of focus on trying to diversify my palate. If you've enjoyed any of the previous recipes found here like the Shakshuka, you may remember me mentioning that a great way to be successful and happy with Paleo is to experiment with cooking other cultural dishes. You'll quickly notice that you no longer feel limited when it comes to what you can and cannot eat. The traditional food of certain cultures will be more difficult to work with in terms of making the food suitable to the Paleo lifestyle, but you will be surprised by how much is actually Paleo-friendly. For example, you will find it easy to follow Thai and Indian recipes, while many Italian specialties tend to require more creativity and substitutions.
I was inspired to make something Mexican, knowing that it would probably be somewhat of a challenge given that most traditional Mexican recipes contain a lot of legumes. The difficult thing with this is that there is not a lot of Paleo alternatives to legumes, so you have to be able to completely eliminate them from the recipe without making it a flop. I opted to make a light soup suitable for these hot summer days. Hot soup is certainly not something usually enjoyed in the summer time, but I find it can be great when a lot of fresh and vibrant flavours are used. For instance, this recipe calls for fresh cherry tomatoes that are not cooked in anyway, just thrown in the finished product at the last minute. When you bite into a ripe tomato, it's bursting with summer flavours. There is also a handful of cilantro used, also a very refreshing taste.
Another great thing about this recipe is that it's the perfect soup to make when you have leftover chicken and especially don't feel like making a more traditional chicken soup. It requires the use of half a chicken roast, but you could also do it with turkey if you preferred. I already prepared my chicken prior to making the soup, so I haven't included instructions on how to cook it, as it really does not matter and it should be more to your liking. Just as a word of advice, you may want to avoid roasting your chicken with any strong flavors, as you do not want it conflicting with the other ingredients included in the soup. Simplicity is best, season it with some fresh herbs, salt and pepper and you're good to go.
This recipe is not only delicious, but also very nutritious, especially since it calls for nutrient-rich avocados and a source of safe starch, sweet potatoes. It's therefore a great recipe to include in a healthy diet that's rich in micronutrients.
Mexican Chicken Soup Recipe
Serves 4
Values are per portion. These are for information only & are not meant to be exact calculations.
Ingredients
1 medium sweet potato, peeled and cubed;
2 tbsp Paleo cooking fat;
2 tbsp extra-virgin olive oil;
1/2 onion, sliced;
4 cloves garlic, minced;
1/4 tsp ground cumin;
4 cups chicken stock;
1/2 roast chicken, shredded;
1 cup cherry tomatoes, halved;
2 tbsp fresh cilantro, finely chopped;
juice of 1/2 lime;
1/2 ripe avocado, sliced;
Sea salt and freshly ground black pepper to taste;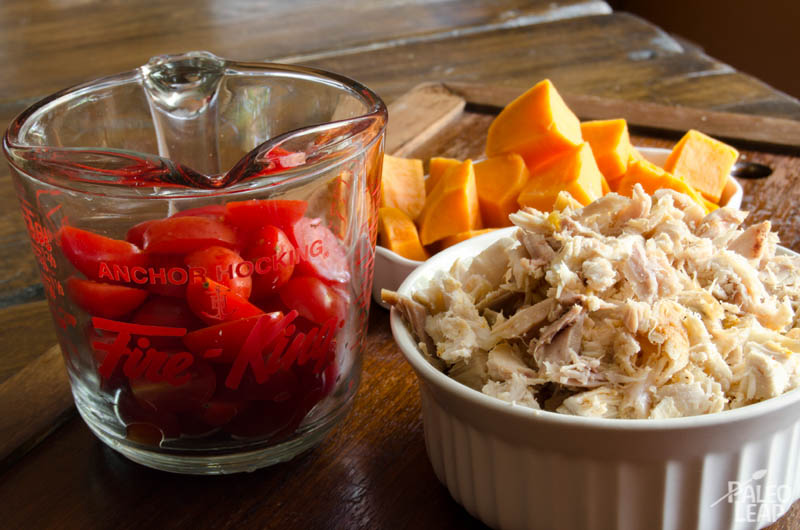 Preparation
In a medium sauce pan over a medium-high heat, bring some water to a boil and add the cubed sweet potatoes. Cook for about 10 minutes, until the sweet potato is tender. Drain the water and set the sweet potatoes aside for later use.
In a large sauce pan over a medium-high heat, combine the cooking fat with the olive oil. Once melted, add the onions to sauté. Cook until the onions are translucent, about 7 minutes. Be sure to stir frequently to prevent the onions from burning.
Add the garlic, cumin as well as salt and pepper to the pot. Mix well and cook for another minute.
Add the chicken stock to the pan and bring to a simmer. Once simmering, add in the shredded chicken, followed by the tomatoes, lime juice, cooked sweet potatoes and cilantro. Immediately remove from the heat. Allow the soup to sit for at least 5 minutes prior to serving to allow the flavours some time to blend.
Serve warm topped with the avocado slices.