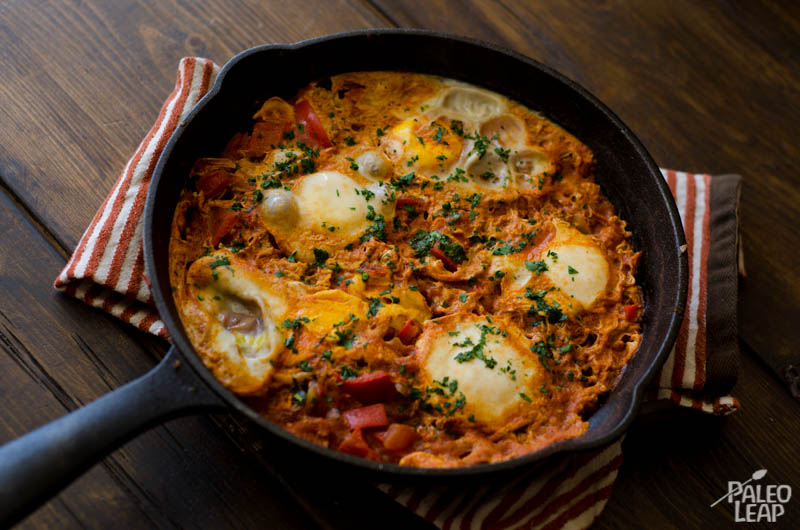 Shakshuka, also often spelled shakshouka, is a middle eastern mixture of tomatoes, red bell peppers and spices. Egg are added to this mixture so they can poach in the tasty liquid. The spices used for the preparation vary from one recipe to another, but cumin, chilli powder, paprika and cayenne pepper are the ones that are most often used. In the following recipe I decided to go without the cumin, but you can always add some if you feel like it and have it on hand.
Thanks to the eggs and their great nutritional value as well as the tomatoes and their lycopene content (a strong antioxidant) and the vitamin C-rich red bell pepper, it makes for a pretty healthy meal. Of course, if you find yourself to be sensitive to nightshades, you'd probably be better off straying away from this dish as both red bell peppers and tomatoes are part of the nightshade family.
This recipe is another great example of the wide variety of preparations that can be enjoyed on a Paleo diet. The easiest way to be creative in a Paleo kitchen is to expand your cooking skills to include various ethnic dishes. For example, I've learned to love cooking Thai, Middle Eastern and Indian dishes. I used to feel that it was too complicated, so I never really gave it a shot. But then I quickly realized that take-out is not an option, because as much as I've tried, there is always something in those dishes that would not agree with me. At this point I didn't really have an option but to teach myself how to cook a variety of ethnic food if I wanted to enjoy it. After some time I mastered the skills and I've even acquired some very unique cooking utensils along the way.
So without further ado, here's one of my favorite middle eastern dishes. It's already completely Paleo and healthy on its own. What I love most about it is that it's perfect for any meal. In fact, it's often enjoyed for breakfast in the middle east so it's perfectly suitable as a Paleo breakfast and gives you yet another option.
Shakshuka recipe
Serves 4 to 6

Values are per portion. These are for information only & are not meant to be exact calculations.
Ingredients
1 tbsp Paleo cooking fat;
1/2 onion, chopped;
1 clove garlic, minced;
1 red bell pepper, seeded and chopped;
4 cups tomatoes, diced;
2 tbsp tomato paste;
1 tsp chilli powder;
1 tsp paprika;
A pinch cayenne pepper;
Sea salt and freshly cracked black pepper to taste;
5 or 6 large eggs;
1/2 tbsp fresh parsley, finely chopped;
Featured video
Preparation
Note: For this recipe, it's most desirable to use a cast-iron skillet; however, if you don't have one, a regular large skillet will also do.
Place a large skillet over a medium heat and add the cooking fat to allow it to melt and grease the surface of the pan. Add the onions and sauté for two minutes. Mix in the garlic and continue to cook until the onions become tender and slightly golden in colour.
Add the chopped bell pepper to the skillet and mix well. Sauté for at least 5 minutes, just until the pepper is tender.
Once the peppers have cooked, add the chopped tomatoes and tomato paste to the skillet, followed by the chilli powder, paprika and cayenne pepper. Give the mixture a taste and add any additional spices, as well as the salt and pepper to your liking. Allow the mixture to simmer. At this point, you may have to lower the heat to prevent the mixture from boiling.
Now crack the eggs into the skillet on top of the tomato mixture. Make sure they are spaced evenly. I placed one in the middle and then surrounded it with the rest of the eggs. Cover the skillet and cook for anywhere between 10 to 15 minutes. You will know when the dish is ready as the eggs will be white and no clear liquids will run.
Once the eggs have cooked through, garnish with the fresh parsley and serve it up.