When you are finally through making the difficult choice of tempting pumpkin desserts, you can use the leftover pumpkin for your entrée. After all, if you cannot finish the food on your plate, then the dessert will just have to wait. There are always exceptions to the snacking rule; however, if you want to stay healthy and fit, better eat a proper dinner before you indulge in the goodies.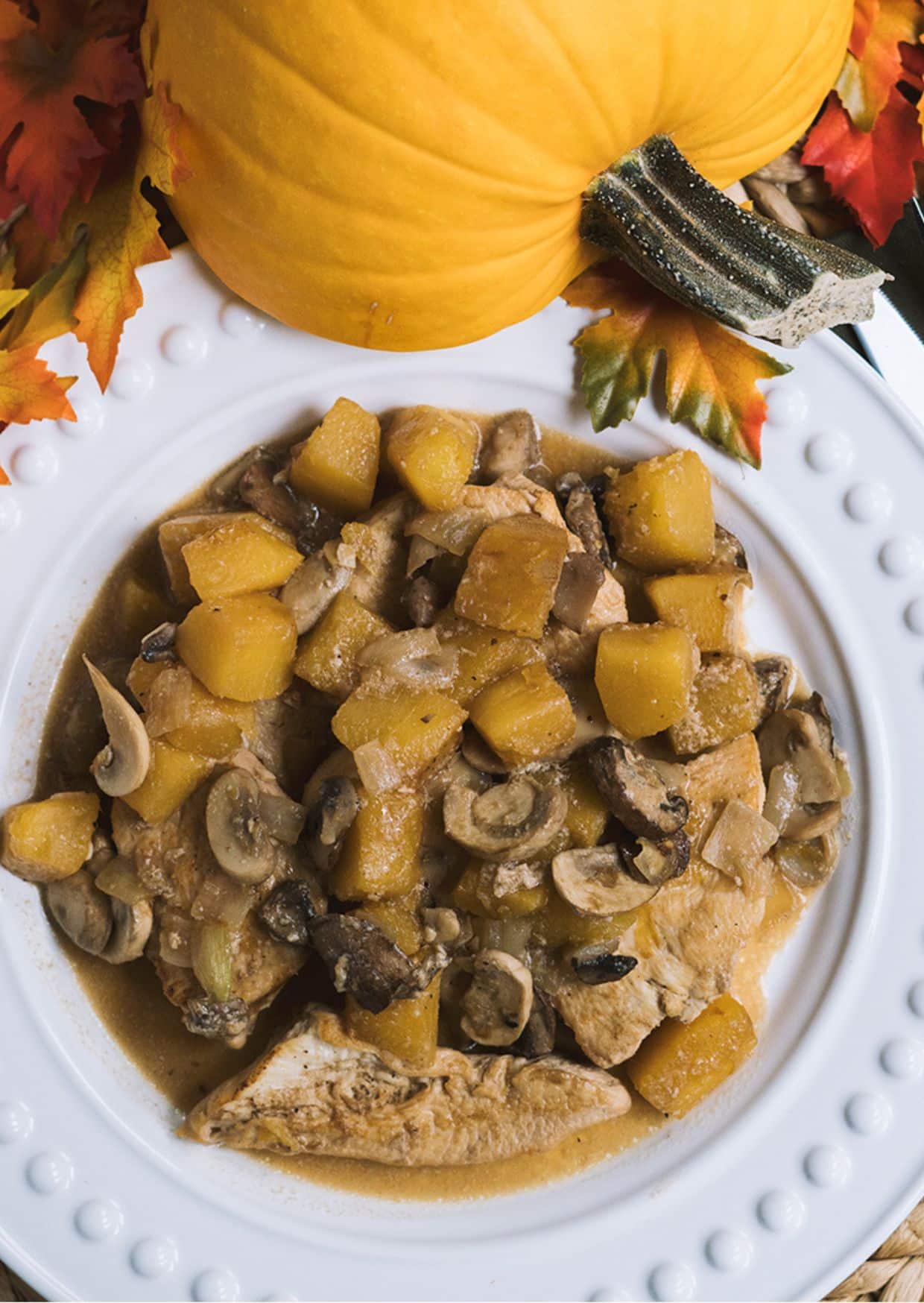 So, on with the dinner preparation. It is a one-pot meal, which makes clean up nice and easy, not to mention that it simmers patiently on the stove while you make the accompanying pecan and endive salad.
This recipe is also a wonderful incentive to eat more mushrooms in your diet, and wild mushrooms are about as Paleo as you can get!
Forage out in nature if you know exactly what kind of mushrooms you are looking for; otherwise, forage at the market and diversify the flavor of this dish with some fall-harvested shrooms such as hen of the woods, puffballs, oysters, or wood-ear mushrooms.
Store-bought varieties - button, portobello, shiitake, or enoki mushrooms will do nicely.
When all is said and done, this dish epitomizes the abundance of fall. When the pumpkin harvests are bountiful, grab a bunch and store them for later in the season, as you never know when the craving for a Paleo pumpkin pie will arise.
In the meantime, if you haven't chosen a dessert yet, perhaps a pumpkin spice cashew latte will hit the sweet spot - after dinner, of course.
Creamy Chicken With Pumpkin and Mushrooms Recipe
Serves: 4 Prep: 25 min Cook: 30 min
Ingredients
2 chicken breasts, boneless and skinless
2 cups pumpkin, diced (sugar or pie pumpkins work best)
8 oz. mushrooms, sliced
1 onion, diced
2 garlic cloves, minced
2 cups chicken stock
½ cup coconut milk
1 tbsp. fresh thyme, minced
1 tbsp. fresh parsley, minced
2 tbsp. ghee or coconut oil
Sea salt and freshly ground black pepper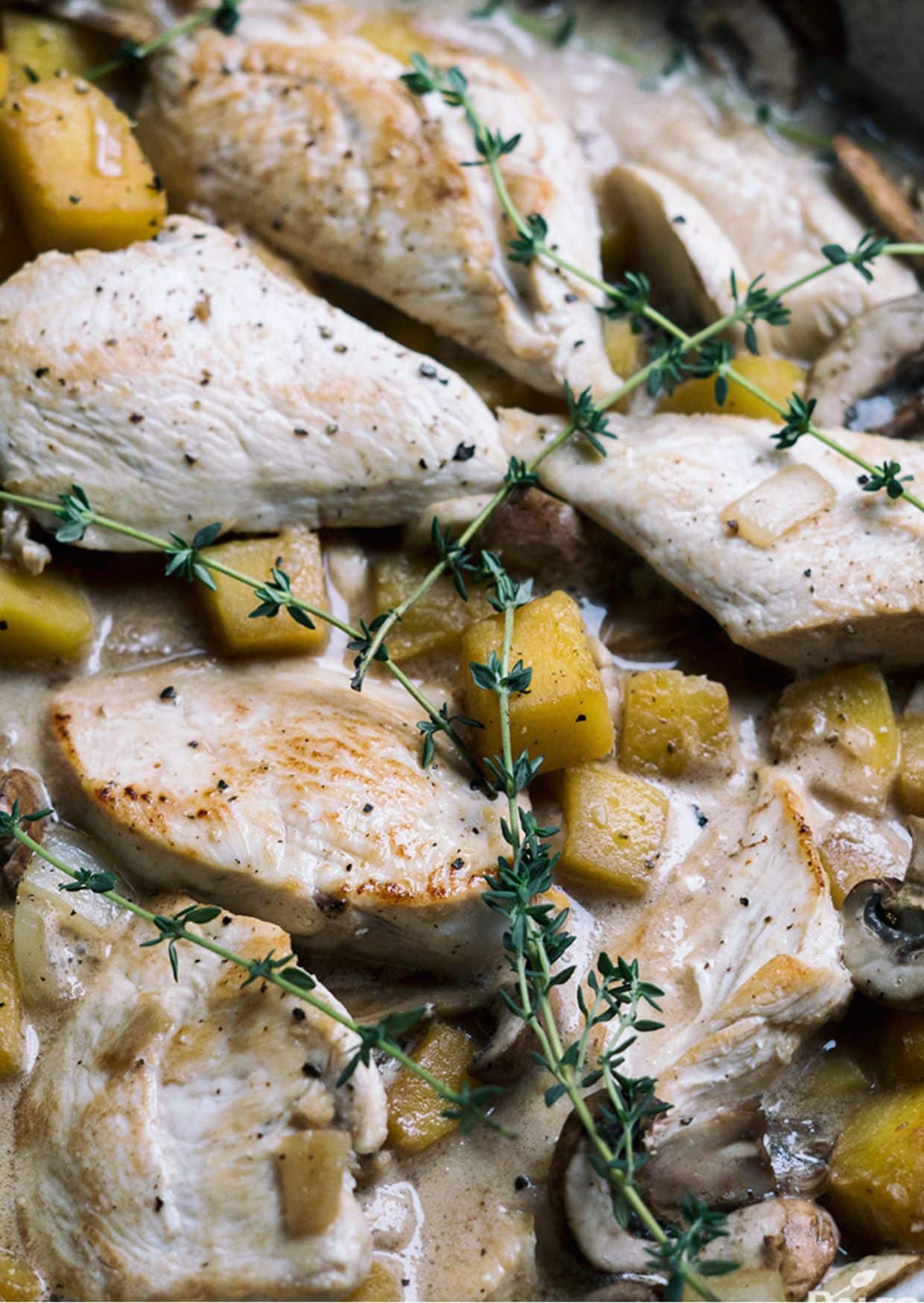 Preparation
Season the chicken breasts with salt and pepper, then slice into strips.
Melt cooking oil in a skillet over medium-high heat.
Brown the chicken on both sides until nicely colored, about 2 to 3 minutes per side. Set aside.
Add the diced pumpkin to the skillet, stirring until perfectly cooked, about 3 to 4 minutes.
Add the garlic, onion, and mushrooms, cooking for another 2 to 3 minutes, or until the onion is soft.
Pour in the stock, bring the chicken back to the pan, sprinkle with the thyme, cover and simmer over medium heat 15 to 20 minutes.
Pour in the coconut milk, adjust the seasoning, and serve topped with fresh parsley.
📖 Recipe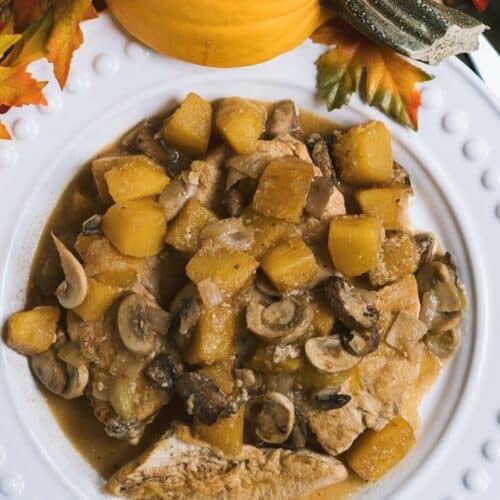 Creamy Chicken With Pumpkin and Mushrooms Recipe
A simple and thoughtful dish that uses the best ingredients of fall? Creamy chicken with pumpkin and mushrooms will invoke the magic of autumn.
Instructions
Season the chicken breasts with salt and pepper, then slice into strips.

2 pcs chicken breasts,

Sea salt and freshly ground black pepper

Melt cooking oil in a skillet over medium-high heat.

2 tablespoon ghee or coconut oil

Brown the chicken on both sides until nicely colored, about 2 to 3 minutes per side. Set aside.

Add the diced pumpkin to the skillet, stirring until perfectly cooked, about 3 to 4 minutes.

Add the garlic, onion, and mushrooms, cooking for another 2 to 3 minutes, or until the onion is soft.

1 pcs onion,

2 cloves garlic,

8 oz mushrooms

Pour in the stock, bring the chicken back to the pan, sprinkle with the thyme, cover and simmer over medium heat 15 to 20 minutes.

2 cups chicken stock,

1 tablespoon fresh thyme

Pour in the coconut milk, adjust the seasoning, and serve topped with fresh parsley.

1 tablespoon fresh parsley,

½ cup coconut milk
Nutrition
Calories:
205
kcal
Carbohydrates:
12
g
Protein:
6
g
Fat:
16
g
Saturated Fat:
11
g
Polyunsaturated Fat:
1
g
Monounsaturated Fat:
4
g
Cholesterol:
23
mg
Sodium:
189
mg
Potassium:
636
mg
Fiber:
2
g
Sugar:
4
g
Vitamin A:
5109
IU
Vitamin C:
10
mg
Calcium:
54
mg
Iron:
9
mg